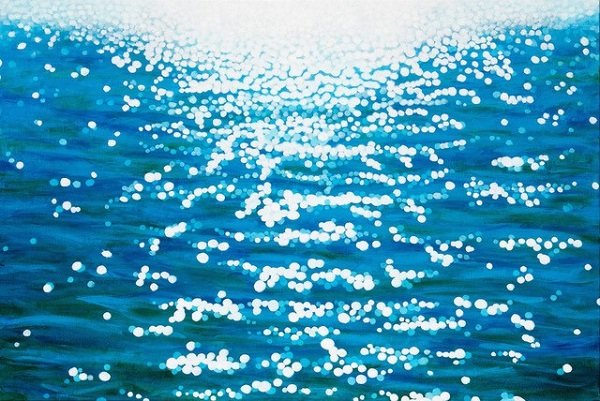 First Friday Opening Reception: Friday, May 6 from 5pm to 7pm
Gallery Underground's Focus Gallery in May presents Dancing Diamonds, a solo show by Jean Offutt Lewis. Jean Offutt Lewis' exploration of light on water was inspired after her move to the Northern Neck of Virginia. There, at a certain time of year, dependent on the Earth's relationship to the Sun, "Dancing Diamonds" appear; single points of light, each a tiny reflection of the sun or the full moon, create kinetic light shows atop windswept water. Using acrylics, a water-based medium, Offutt Lewis reduces this natural phenomenon into an interplay of color, line, and circles in a series of abstracted waterscape paintings.
Additionally, their Main Gallery features new works by our gallery members, in media including oil, acrylic, pastel, watermedia, sculpture, glass, and ceramics.
About Gallery Underground
Located in the Crystal City Shops at 2100 Crystal Drive, Arlington, VA 22202, this visual arts venue showcases the work of established and emerging regional artists.
Each month the gallery changes its entire exhibit and presents both a special solo, group or juried show in the Focus gallery and a new show from its talented members in the main gallery, in many forms: mixed media, paintings, sculpture, wood, glass, and ceramic work.  Gallery Underground anchors the visual arts component of Crystal City's Art Underground, and on First Fridays (first Friday of every month), it hosts an opening reception free and open to all from 5-7pm.
In addition to monthly rotating exhibitions, Gallery Underground hosts a variety of community events, like lunchtime paint-ins and dance and musical performances.  Gallery Underground is sponsored by the Arlington Artists Alliance (AAA), in partnership with the National Landing Business Improvement District (BID), and JBG Smith. Gallery Underground and the Arlington Artists Alliance are supported in part by the Virginia Commission for the Arts, the National Endowment for the Arts, National Landing BID, and JBG Smith.  For more information about Gallery events, visit the Arlington Artists Alliance website:   https://www.arlingtonartistsalliance.org/gallery-underground
The Arlington Artists Alliance is a vital, energetic, creative force for visual art in Arlington County.  The organization encourages and supports both established and emerging artists who work in all forms of visual art, without partiality toward style or trend.  Its 150 members also exhibit year-round at a variety of Arlington community local government offices, businesses, restaurants, and cafes.  For more information about Arlington Artists Alliance members, exhibits, and programs, visit the Alliance website at https://arlingtonartistsalliance.org/.
Gallery Hours:
Monday-Friday: 10am – 6pm
or by appointment
Gallery Underground is located at Crystal City Shops @ 2100 Crystal Drive, Arlington, VA.