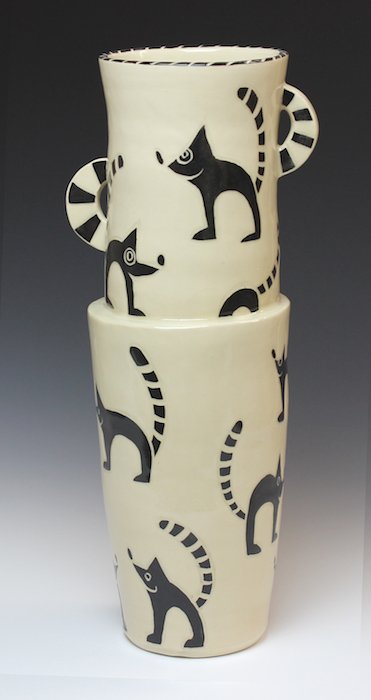 .
Opening: Saturday, November 19 from 6pm to 9pm
.
The District Clay Center will open Washington's first Ceramic Center and Ceramic Gallery on Saturday, November 19 from 6-9 pm as it expands its space from 2,000 to 6,400 square feet at Off the Beaten Track Warehouse near Brookland in northeast Washington DC.
41 outstanding ceramic artists from DC, Maryland and Virginia areas will participate in the DCC Gallery Inaugural Exhibit, "Homegrown Talent."  The exhibit will open Saturday night and run through January 15th and features functional, sculptural and figurative ceramics. The opening exhibit marks the first ceramics gallery in our nation's capital.  In addition to the Inaugural Exhibition, the Grand Opening Party also includes:
A pottery throw-down.
A tile decorating event to create a "Love, not Hate" sign for the District Clay Center.
A Great cups competition.
A Great BIG pots competition.
A sometimes-goofy ceramic quiz that all can help solve.
To sign up for the party (which is free), click here or go to https://www.surveygizmo.com/s3/3168223/Grand-Opening-and-Inaugural-Gallery-Exhibit.  To see examples of the wide range of ceramic work being shown in the Gallery, go to the District Clay's Facebook page.
The NEW! District Clay Center includes a 500 square foot ceramic Gallery, room for workshops and receptions, a community artist, associate artist and studio artist program, including private artist studio space, the most comprehensive offering  of ceramic equipment in the region, a resident artist program for emerging artists and a master artist workshop program.
District Clay has also launched a non-profit arm to support its new Community Clay! Program.  This program will offer free ceramic classes to underserved youth and free teacher training to public and charter school teachers.  This arm, called the District Clay Educational Fund, will also support our guest resident artist program and cultural and educational outreach regarding the ceramic arts and crafts.
Cass Johnson, Executive Director of the new Center, said "It is long past time that our nation's capital had a comprehensive center devoted to the ceramic arts.  The New York Times has called ceramics today's 'white hot' craft and we see increased interested in this wonderful medium only increasing."
On November 1, new DCC launched an Indiegogo Campaign to help fund the new Center.
The District Clay Center and the DCC Gallery both represent "firsts" for Washington DC.  While other large metropolitan areas, including Baltimore and Philadelphia, have large clay centers, the District has never had a comprehensive facility which has something for everyone in the community. This ranges from underserved kids, community hobbyists, artists seeking to become professional artists, young emerging ceramic artists and collectors.
District Clay is located at 2414 Douglas St. NE. For more information visit www.districtclay.com.