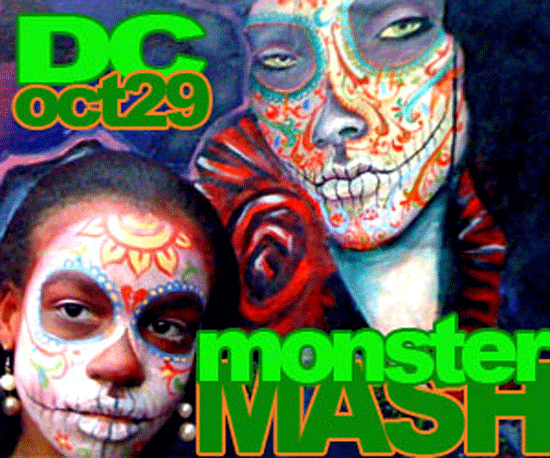 | EVENTS |
.
.
Event: Saturday October 29 from 10am to 5pm
.
Paint a mural. Because of the limited space, Albus Cavus will assign the spots. Please contact Albus Cavus by filling out their contact form here if you would like to paint a large mural. There will be an open community area, where everyone can create a smaller piece.
Featured Muralists include YOU, Alex Merritt, Ben Tolman, Brandon Hill, Chanel Compton, Cita Sadeli Chelove, Arijit Das aka spaceandflow, Colon:y, CON, CRI, DAHM, David Cunningham, DECOY, DELVE, Dennis Toy, El Toro, HKS181, Jay Hudson, JAZI, Joe Meier, Khadijah Wilson, Dana Moor, Brea Ellis, Sebi Harrigan- Labarca, Juan Lopez, Julian Strodel, Kelly Towles, Leon Rainbow, Lisa Marie Thalhammer, NEBSI, Nose Go, PORE, Rosina Teri Memolo, STER, Tim Rodgers, Will Carroll
Dance and have fun with your friends. Urban Artistry will be at Monster Mash with bboys/bgirls, poppers, dancers and performance artists of all types in celebration of this space's revitalization. Music will be spun all day by DJ GOLD.
Skate the spot. The Bridge Spot has ben one of the most popular skate parks for thousands of skaters around the area. It features all rams and equipment built by the skaters. Skaters from Skatepark of Baltimore will be skating at Garfield Park all day.
Dress as a monster. Wear your Halloween costume for the entire weekend. Our friends and sponsors already have candy ready for all of you and a costume contest with prizes!
Play in Garfield Park. The park has a large newly refurbished playground, great for picnics and games.
Bring friends, family, food, play clothes, games, toys, candy and good cheers
Albus Cavus would like to thank the following Partners and Sponsors
Albus Cavus, The Fridge Gallery, Urban Artistry, Skatepark of Baltimore, The Friends of Garfield Park, Utrecht Art Supplies, State Farm on Barracks Row Mike Jones, Matchbox Capitol Hill, CHAMPS Capitol Hill Chamber of Commerce, Councilmember Tommy Wells, Nancy and Norm Metzger (ANC6B), Kirsten Oldenburg (ANC6B), Julia Christian, Nina Liggett, Alex Goldstein
Official Media Partner:
Event location
Garfield Park is located on F Street SE between First and Third.  The nearest Metro is Capitol South (two blocks) which is on the blue and Orange Lines.
.
.
.
.
.