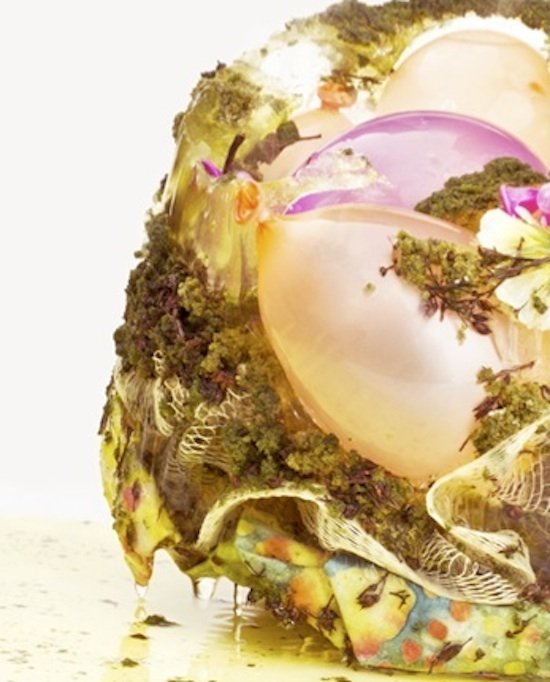 .
On view through June 21, 2014.
.
Artists Sarah Knobel and Amy Boone-McCreesh invite visitors to enter their tumultuous, colorful and delightfully contradictory worlds in Anything Sacred at Hamiltonian Gallery from Saturday, May 17 – June 21, 2014.
In Sarah Knobel's newest body of photographic and video work Icescapes and Cycles, garish dollar-store purchases and contemporary detritus become mysterious and mesmerizing "faux-organic" landscapes. Suspending the synthetic flotsam of consumer culture in ice and water, Knobel's photographs and videos capture the objects in states of flux, manipulating the visual read of the objects from beautiful to grotesque, familiar to foreign and miniscule to monumental. These self-contained universes become Knobel's tongue-in-cheek commentary on the contradictory nature of the art object and the tensions between the natural and constructed world.
Amy Boone-McCreesh, meanwhile, continues her exploration of her celebratory aesthetic, creating an immersive installation with a preponderance of 2D and 3D visual media. Boone-McCreesh's installation, which will cover the walls and floors, is filled with patterns culled and re-mixed from her already extant body of work: previously created drawings, paintings and collages are scanned, cut, re-pasted and combined. The result will be temple to visual excess: a colorful, maximal experience that immerses visitors fully in Boone-McCreesh's visual lexicon through painting, sculpture and drawing.
A 2011 Hamiltonian Fellow, Sarah Knobel is the Assistant Professor of Art at Montana State University in Billings, Montana. She holds a BFA in Studio Art from Texas State University, a MFA in Photography from the Design Architecture Art and Planning Program at the University of Cincinnati in Ohio, and a web development certificate from Boston University Center of Digital Imaging Arts. Her work has been featured in exhibitions national and internationally including Seattle, Kansas City, Belgium, Germany and Washington DC.
2012 Hamiltonian Fellow Amy Boone-McCreesh received her MFA from Towson University in 2010. Recent exhibitions include the 2014 WPA Auction, 2014 CherryBlast, and Ornate Organics at McDaniel College. Sherecentlycompleted a commission for the US Consulate to Monterrey Mexico for the US Art In Embassies Program, was named one of the top 30 artists under 30 by Art Business magazine and was editor's pick in New American Paintings #106: South Edition. She lives and works in Baltimore, MD.
Gallery Hours:
Tuesday – Saturday: 12 pm to 6 pm
Hamiltonian Gallery is located at 1353 U Street, NW. For more information call 202.332.1116 or visit www.hamiltoniangallery.com.
.
.
.
.