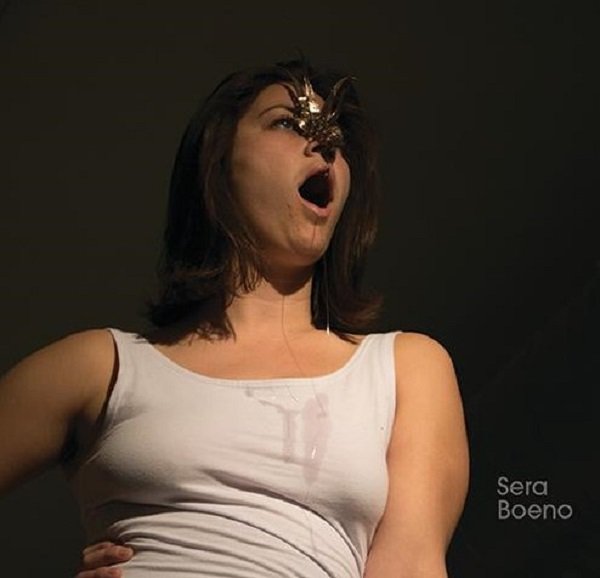 .
Performance: Tuesday, April 16 from 7pm to 8pm
.
Artist Talk: Wednesday, May 1 at 7pm
Join Hamiltonian Gallery on Tuesday, April 16 from 7 – 8 pm for a performance in Sera Boeno's exhibition "Kelimeler Kıyafetsiz (:Words Naked/Are Not Enough)" starring Molly Margulies, Jaimee Shim, Sheya Isabelle Jabouin, Lindsay Chestnut, Rex (Alexandra) Delafkaran and Sheba Newman-Blount.
In this forty-five minute-long endurance performance, six female identifying performers will put themselves on vulnerable display while wearing bronze ornaments of domination and torture that are embellished with delicate patterning found in Turkish illuminated manuscripts and textiles. Taking choreographic cues from the contra-posto stance of the six female "pillars" that form the Caryatid Porch at the Erechtheion, the performers will transition from object to subject through gaze and subtle shifts in pose.The performance in "Words Naked / Are Not Enough" calls into question ideas of authority and subjecthood, and the gaze's role in female subjugation, domination and power.
The performance in "Kelimeler Kıyafetsiz (:Words Naked/Are Not Enough)" was made possible through the financial backing of the Foundation for Contemporary Art Emergency Grant, production assistant Molly Rose Shulman and performance consultant Jeramie Bellamay.
Sera Boeno is a sculptor and installation artist from Istanbul, Turkey. Her praxis is research-based and heavily influenced by the socio-politics of her motherland. Narratives of and around women in historically silenced topics – politics, sex, religion, trauma – are central to her work. Boeno holds a B.A. from Dartmouth College with degrees in Neuroscience and Studio Art, and an M.F.A from the Rinehart School of Sculpture at Maryland Institute College of Art with focuses in curatorial practice, critical studies and art education. She is the recipient of several awards and grants including the Baltimore Jewelry Center Fellowship, Leslie King Hammond Award, and Amalie Rothschild '34 Rinehart Award for her work. Boeno has worked in various creative projects between Turkey, Japan and the United States, and is currently based in Baltimore, MD. @seraboenostudio
Hamiltonian is located at 1353 U Street NW. For more information visit www.hamiltoniangallery.com.