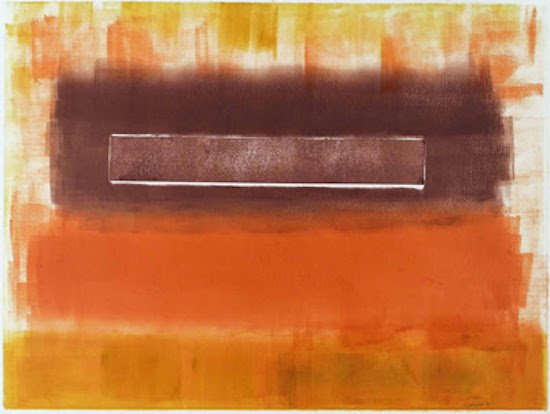 .
On view through August 19, 2016
.
A poignant abstraction unifies the work of the three artists presented in concert for this summer exhibition: Jacob Kainen, Thomas Nozkowski, and Sean Scully. The geometric simplicity of monotypes by Jacob Kainen and etchings Sean Scully complement Thomas Nozkowski's gestural paintings and span the course of three decades.
Jacob Kainen (1909 – 2001) was an American painter and printmaker, keeping a studio in Kensington, Maryland from 1942 until his death in 2001. Primarily an abstract expressionist painter, Kainen employed a distinctive style that translated into his work as a printmaker. His work is included in the collections of the Smithsonian American Art Museum, Washington DC, the Museum of Modern Art, New York, the Yale University Museum, New Have, CT and the Whitney Museum, New York, NY among others.
Thomas Nozkowski (b. 1944) is an American painter known for working in brightly colored paint and inventive pattern. The works in the exhibition include both oil on paper and oil on board, each exploring highly refined abstract motifs in an intimate scale. His work is included in the collection of The Museum of Fine Arts, Boston, MA, The Phillips Collection, Washington, DC, the San Francisco Museum of Modern Art, and the Metropolitan Museum of Art, New York, NY among others.
Sean Scully (b. 1945) is best known for oil paintings on multiple panels placed together in a sort of geometric puzzle. Undeniably sculptural in form, his paintings have reinterpreted the genre. Scully's prints maintain a sense of dimensionality through the layering of inks and use of color, closely mirroring the environmental and physical effects achieved in his paintings. His work can be found in collections internationally, including the Metropolitan Museum of Art, New York, NY, the Art Institute of Chicago, the National Gallery of Art, Washington, DC and the Tate Modern, London, UK.
Gallery Hours:
Note there is no opening reception for this exhibition
Tuesday–Saturday: 10am–5pm
and by appointment
HEMPHILL is located at 1515 14 St. NW. For more information visit www.hemphillfinearts.com.