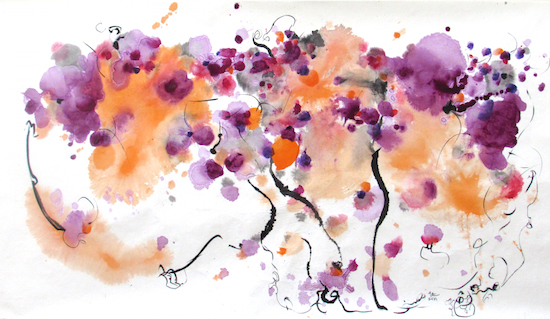 .
Opening Reception: Wednesday, January 14 from 6pm to 8pm
.
Thirty-six artists from the Capitol Hill Art League show a wide array of works in the Capitol Hill Art League Juried Exhibition at Hill Center.
Featured Artists:
Cathy Abramson
Mary Ellen Abrecht
Kasse Andrews-Weller
Stephanie Bianco
Donna Breslin
Kimberley Bursic
Marilyn Christiano
Paula Cleggett
Naomi Taitz Duffy
Fierce Sonia
Brian Filipowich
Jill Finsen
Nancy Freeman
Kay Fuller
Judy Giuliani
Indrani Gnanasiri
Tara Hamilton
Barbara Johnson
Eric Johnson
Karen Komar
Eileen Leahy
Karen Leath
Wan Lee
Cherie Lester
Aina Nergaard-Nammack
Charlene Nield
Linda Norton
Rindy OBrien
Carolyn Rondthaler
Lynne Schlimm
Dick Schneier
Judy Searles
Stu Searles
Patricia Smith
Joseph Springer
Karen Zens
Saya Behnam
"Three cultures have influenced my work: Western abstract expressionism, Chinese 'Literari' free ink style, and Persian calligraphy.
Accident, chance, and anarchy in nature are not labels for right or wrong, beautiful or ugly. They are unbiased truths. By surrendering to or guiding them, we respect the beauty and truth of their existence. In my pieces, I follow natural law and respect chance and accident. Dripping colors, organic shapes, and ripped and crumpled paper are external systems out of my control that co-create with me. This process allows me to show their beauty, their truth. Certain visual elements keep repeating in my work; these include organic shapes, varying layers of transparency, the word "To Be" (Hasti) in Farsi, and crumpled or ripped papers with the word "To Be" on them."
Peggy Fox
"I have been developing this work for over twenty years in conjunction with series varying from narrative to abstraction.
I first began working on aluminum in 1989 because of the reflectivity and malleability of the surface as a ground, as well as its ability to hold both photographs and paint. I can draw into it, paint on it and collage images on top of it. It reflects the ambience of its surroundings as well as the contents of its surface.
The bulk of this material is from "Morality Tales" which are experiences and narratives on the dilemma of being human. The particular quality of the photographs is integral to, and is the dominant feature of the images.
The work begins with my black & white photographs. It grows out of a desire to personalize and elaborate on these initial images by joining them, collaging them, painting on them, and using aluminum as my ground. The aluminum reflects the surroundings to the picture as well as providing a surface that can be worked with paint, engraving and sanding.
I work from a library of my own photographs, combining images that employ an eclectic subject matter. These constructions are narrative in their point of view, and are personal and experiential in nature.
Collage traces it's roots to surrealism and it is this use of the surrealistic discourse from a contemporary point of view that engages me."
Anne Bouie
"I reference universal spiritual principles found across time, space, peoples and places, particularly as articulated by pre-conversion peoples and cultures. My work acknowledges and incorporates ancient symbols, colors, placement, shapes, and directions. The sequence and quantity of any given combination of objects, artifacts and components is always intentional and conveys multiple messages that offer connections to spirit and traditional wisdom; as manifested through the tangible. I begin with observing the cycles, rhythms, and offerings of the Earth, and being present in day-to-day doings. Adopting a birthing approach, I actually make the work come as bursts of insight and inspiration, or simply starting a piece and having it guide its manifestation. This requires respect for the components, their sources, along with patience and a great deal of faith and trust in the process."
The Galleries Hours:
Monday through Friday: 10am – 7pm
Saturdays: 10:00am – 5pm
Sundays: 12pm – 5pm
Please call Hill Center to confirm availability.
Hill Center Galleries are located in the  renovated civil-war-era Old Naval Hospital at 921 Pennsylvania Avenue, SE. For more information, visit hillcenterdc.org or call 202-549-4172.
.
.
.
.