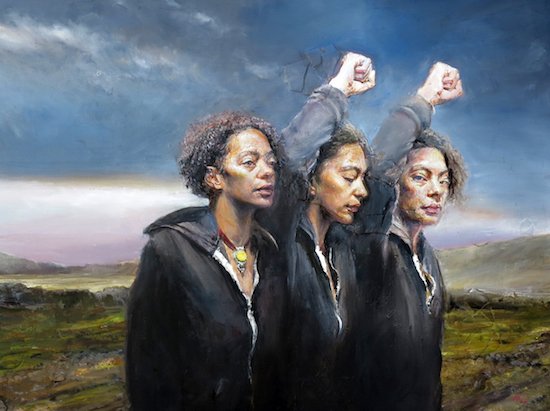 .
Opening Reception: Wednesday, June 28 from 6pm to 8pm
.
Hill Center Galleries presents their annual Hill Center Galleries Regional Juried Exhibition from June 28-October 1, 2017. Featuring over 100 artists from DC, Virginia and Maryland, the exhibition was judged by Claude L. Elliott, Curator and Arts Consultant. An opening reception with the artists will be held on June 28, from 6-8 p.m. At the opening reception, three cash prizes of $1000, $750, and $500 and five honorable mentions will be awarded.
According to Elliott, "My goal is to create a compelling and exciting exhibition that features as many works as space allows. The selection criteria include artistic sensibility, personal vision, execution, soulfulness and insightfulness. Most important is the power of the image and its emotional impact."
More than 120 artists responded to the call with over 550 pieces.
Artists included are:
Mary Ellen Abrecht – Kasse Andrews-Weller – Nancy Arons – Ken Bachman – Anne Barnes – Walter Birkel – Ralph Blessing – Rachael Bohlander – Madison Bolls – Anne Bouie – Alan Braley – Sally Brucker – Judy Buelow – Christopher Buoscio – Adjoa J. Burrowes – Kimberley Bursic – Sally Canzoneri – Adam Chamy – Greta Chapin McGill – Anne Cherubim – Marilyn Christiano – Paula Cleggett – Pat Coates – Karen Cohen – Ron Colbroth – IBe' Bulinda Crawley – Pamela Crockett – Sally Davies – Timothy DeVenney – Sam Dixon – Pamela Drobnyk – Sean Dudley – Elizabeth Eby – Cheryl Edwards – Nereide Ellis – Justyne Fischer – Kate Fitzpatrick – Christopher Fowler – Rik Freeman – Laurance Frierson – Bob Fuller – Kay Fuller – Abbie Fundling – Ric Garcia – Claudia Gibson-Hunter – Susan Goldman – M. Alexander Gray – Elizabeth Halper – Tara Hamilton – Robin Harris – David Harris – Nicol Hockett – Warren Jackson – Barbara Johnson – Wayson Jones – Alex Kasten – Gediyon KIfle – Judith Kim – Stana Kimball – Gloria Kirk – Lauren Kotkin – JoAnn Lamicella Laboy – Kevin Leonard – Addison Likins – Rachel Mann – Jane Mann – Aline Martinez – Kevin Milstead – Kathryn Mohrman – Morgan Monceaux – Nicholas Moses – Jenny Nordstrom – Linda Norton – Rindy OBrien – William Olexik – John Pacheco – Stacey Lane Patterson – Luis Peralta Del Valle – Ann Pickett – Atousa Raissyan – Karl Rudd – Rick Ruggles – Dana Saxerud – Wil Scott – Judy Searles – Stu Searles – Sherry Selevan – Gail Shaw-Clemons – Anne Shields – Wendy Sittner – Alex Tolstoy – Maria Valle-Riestra – Carol Waite – Thomas Walsh – Richard Weiblinger – Joyce Wellman – Corinne Whitlatch – Bobbi Wolcott – Ju Yun – Lis Zadravec – Karen Zens
About the juror: Claude Elliott, arts consultant, has served on review panels for the National Endowment for the Arts, Arts Humanities Council of Montgomery County, DC Commission on the Arts and Humanities, and Rhode Island State Council on the Arts. In 2013 he retired from Step Afrika! as Deputy Director. Prior to moving to Washington, DC, he was a Program Officer with the Rhode Island Foundation where he managed a fund for the creation of new works and fellowships for visual artists, writers, and music composers. He interned at the Metropolitan Museum of Art, Library of Congress and National Gallery of Art. He has a Master of Arts in Art History from the University of Mississippi.
Gallery Hours:
Monday – Thursday: 8am to 7pm
Fridays: 8am to 6pm
Saturdays and Sundays: 9am to 5pm
Occasional closings for special events—please call 202-549-4172 for confirmation of open hours on a particular day.
Hill Center Galleries is located at 921 Pennsylvania Ave. SE.