.
Opening Reception: Friday, January 25 from 6pm to 9pm
.
Open Studios: 6-7 PM
Artist Talks: 7-9 PM
Johnny Adimando: The Devil Of Unapologetic Mirrors
January 16 – March 3, 2019
Gibbs Street Gallery
Manipulating and reassembling a wide variety of appropriated and original motifs and symbols, Johnny Adimando develops highly detailed sculptures, drawings, photographs, and printed matter. Complicated symmetries and coordinated patterns form elaborately encoded constructions and networks.
About the Artist: (b. 1982; Bronx, New York) Johnny Adimando's work has been defined as "art that speaks to a constantly shifting material reality", as well as "miraculous, encoded, and labyrinthine." He has developed an artistic practice that is defined by a focus on intense detail, technical proficiency, and the harmonious mixture of various mediums. Adimando bridges a dedicated engagement with various print media processes into areas of performance, photography, sculpture, and video. His work does not subscribe to one specific convention. A major focus of his overall studio practice is the development of new materials and alternative processes.
He earned his B.F.A. from the Tyler School of Art at Temple University (2005) and M.F.A. from the Rhode Island School of Design (2009). He is currently Critic in Painting and Printmaking at the Rhode Island School of Design, where he also serves as the print shop manager, and has been nominated for the "John R. Frazier Award for Excellence in Teaching."
Adimando's work has been exhibited nationally and internationally and is in public and private collections including: The Philadelphia Free Library, Samek Art Gallery at Bucknell University, Tower Investments Gallery, The Lyman Allan Museum, as well as various print exchange projects and flat file collections. Adimando is represented by Yellow Peril Gallery.
He is the recipient of awards including a two-year fellowship at Bucknell University, the Temple Rome Grant, Frogman's Print and Paper Workshop scholarship, Professional Development Funding Grants from the Rhode Island School of Design, Ruth Katzman Fellowship to the Art Students League Vytlacil residency, an individual artist fellowship to the Chulitna Lodge in Alaska, 2016 RISCA Fellowship in Drawing and Printmaking, 2017 RISCA Fellowship in Three-Dimensional Art, and most recently the Berkshire Taconic Artist's Fund Fellowship Grant.
2018 Bresler Resident Artists in Sound, Video, New Media, and Photography
January 18 – March 10, 2019
Common Ground Gallery
Kaplan Gallery
2018 Fleur and Charles Bresler Resident artists –  Heloisa Escudero, Liz Donadio, and Kanat Akar – present their recent projects completed at VisArts. The three artists were selected for four-month studio residencies to focus on photography, video, new media, and installation.
Liz Donadio set out on foot during her residency to investigate and document the natural habitats and human-made structures of a section of Rock Creek Park close to Rockville. Working both in the park and the studio, she documented with digital and analog photography, video, and audio field recordings. She consulted scientists and ecologists directly engaged with stream health, watershed management, stormwater runoff, erosion, and environmental mediation. Her multi-media sensory installation adds to an evolving historical and geographical record of a major watershed running from Maryland through the District of Columbia. Donadio considers how photography, video and sound can transmit both the facts and qualities of place.
Through photography and video, Turkish artist Kanat Akar focuses on socially and politically driven contemporary issues, exploring larger ideas through people's everyday stories and experiences. Akar presents a series of photographs of the back of his head, shot daily over 21 days — the same period of time as his upcoming mandatory military service in Turkey. A second piece features a two- channel video projected on large canvases that lean against the wall like large photographs. The video juxtaposes street photography shot by a young Syrian boy, a refugee from Aleppo to Ankara, Turkey, with a painstakingly slow trip down a road that opens to the area where the boy lived, but was never the subject of his photographs. It is a haunting, poetic meditation on displacement, temporality, and cultural ambiguity.
Heloisa Escudero presents new work featuring video and interactive performances that convert negative thoughts into positive affirmations. Using inventive rituals and humor, Escudero gently invites viewers to participate in activities that derail current cultural obsessions, anxieties, and fears.
About the 2018 Bresler Resident Artists:
Liz Donadio is a Baltimore-based photographer and video artist whose visual practice is centered on the nexus of art, ecology, and architecture. Her photographic prints and immersive installations conjure meditations on the natural and human-made world. Donadio received an M.F.A. from Towson University in 2012 and her work has been exhibited and screened across the US and Canada. Donadio is a Lecturer of Photography and Art History at Towson University and runs Color Wheel Digital, a fine-art print studio in Baltimore.
www.lizdonadio.com
Kanat Akar is a photographer and a visual artist from Ankara, Turkey. Using photography and electronic media as a communication tool for the visual investigation of the human experience, he aims to tell effective stories about people in the politically and socially loaded environment that we are living in. He received his M.F.A. degree in Photographic and Electronic Media from the Maryland Institute College of Art (Baltimore, Maryland) in 2018. He also has a B.A. degree in Economics (2014) from Bilkent University, Ankara, Turkey.
 Heloisa Escudero grew up in São Paulo, Brazil, but relocated to the United States in 1987. She obtained a Bachelor of Fine Arts from the Massachusetts College of Art and a Master of Fine Arts from the San Francisco Art Institute. She holds American, Italian and Brazilian citizenships. She is interested in conceptually based art that is both tactile and interactive. Her most recent art projects focus on art that emphasizes the participation of the viewer. Her work, performances, and collaborations have appeared in numerous national and international exhibitions and performance festivals including the Highline Park, New York City; SOMArts Gallery, San Francisco; Supernova Pink Line Festival, Rosslyn, Virginia; Dumbo Arts Festival and Governors Island Art Fair in New York City; Arlington Art Center, Arlington, Virginia. She is the creator of the BackPack Gallery Project and collaborated with DJ Spooky (Paul D. Miller) in the project Terra Nova: Sinfonia Antarctica. She is an Exhibit Specialist at the Hirshhorn Museum in Washington, D.C.
www.heloisaescudero.com
FRAME & FREQUENCY: FANTASTIC BODIES
January 11 – February 24, 2019
Concourse Gallery
In an era dominated by digital technology, Fantastic Bodies explores themes of the real and the virtual, the organic and the artificial, moving between the physical world and the screen and back again. Today, desktop and mobile screens are becoming the primary sources of visual information, effectively blurring the lines between three-dimensional space and the two-dimensional image.
This exhibition presents a diverse group of artists representing multi-generational and cultural backgrounds, nationalities, and personal histories. It demonstrates the artist's impressive command of video and new media technologies, while exploring the ways in which the photographic, televisual, and digital can change how we perceive the human body and everyday life.
Fantastic Bodies brings together artists such as Maggie Hazen and David Politzer whose works encompass performance, sculpture, and the moving image conflating the physical world and its experiences on screen. For some artists, such as Joe Hambleton, Benjamin Rosenthal, and Jonathan E. Baker, the lens of the camera creates a space to rethink the representation of sociopolitical identities and to question the structures that govern our understanding of ritual, gender, and sexuality. For others, such as Florine Mougel and Mariam Eqbal technology offers opportunities to consider the body as malleable, fragmented, and at times even impossible.
Charting the embrace and manipulation of technology across varying generations, Fantastic Bodies examines how the screen has increasingly shifted the ways in which we picture ourselves and understand our place in the world today.
Artists include: Jonathan E. Baker, Constantinos Chaidalis, Mariam Eqbal, Joe Hambleton, Maggie Hazen, Deborah Kelly, Colleen Keough, Shon Kim, Florine Mougel, David Politzer, and Benjamin Rosenthal.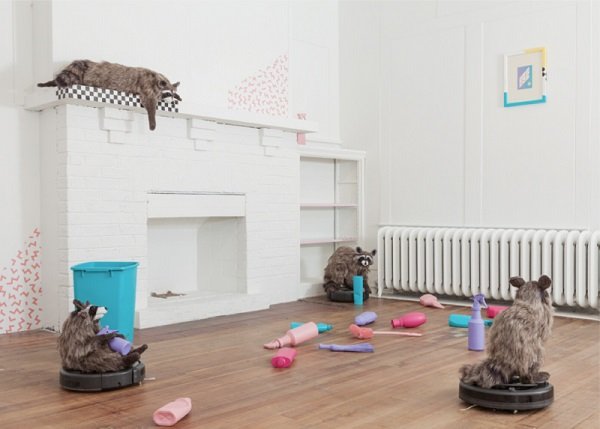 Maria Lux: Dominus
January 16 – April 14, 2019
355 Pod Space
Maria Lux's installation, Dominus, considers resistance—in both animal and machine—against the human force to domesticate and dominate. Raccoons (notoriously impossible to domesticate, but known for their fondness for human trash and their misunderstood propensity for washing things) and Roombas (self-driven robotic vacuum cleaners that often make bigger messes than they clean up) join forces to create chaos in the gallery space, emphasizing their perversely pleasurable defiance of human will.
About the artist: Maria Lux is a research-driven artist who makes installation-based works centering on the way animals are used to generate human knowledge and understanding. She works across disciplines, building projects around existing research and stories from fields such as evolutionary biology, medicine, agriculture, history, literature, film, and anthropology. While Lux's background is in traditional drawing and painting, her current work includes a variety of materials and processes, ranging from dioramas and museum-style display cases, collage, and large-scale carving, to casting, stop-motion animation, or sewing. She places herself within a context of both art-worlds and scholarly discussions, and sees her work as part of a larger dialogue (connecting to the field of animal studies) that investigates the unique qualities of both animals and art-making.
Lux earned her B.F.A. from Iowa State University in graphic design and studio art in 2006 and her M.F.A. in painting and sculpture from the University of Illinois at Urbana-Champaign in 2012. She has shown work throughout the United States including solo exhibitions in Portland, Oregon; Raleigh, North Carolina; and Rockville, Maryland. She has been an artist in residence at several residencies including the Prairie Center of the Arts in Peoria, Illinois, the Center for New Art at William Paterson University in Wayne, New Jersey, and the Enos Park Residency in Springfield, Illinois. She is an Assistant Professor of Art at Whitman College in Walla Walla, Washington.
The installation includes: Faux raccoons, Roomba vacuum cleaner robots on loan, household cleaning supplies, custom-made wallpaper in Memphis style patterns, three drawings referencing social-media posts about robots and raccoons.
Raccoon names: Melanie (named after the internet-famous pet raccoon trained to use a broom), Rebecca, (the pet raccoon of Calvin and Grace Coolidge during his presidency), Pepsi, and Twizzler (boy-scout camp pets of the owner of one of the Roombas).
Roomba names (names given their owners): Roomby, Roomba, Brave Little Baby, and Rosie (a back-up robot in case another is broken, named after the robotic maid on the Jetsons cartoon show)
VisArts at Rockville is located three blocks from the Rockville Metro station at 155 Gibbs Street, Rockville, MD.