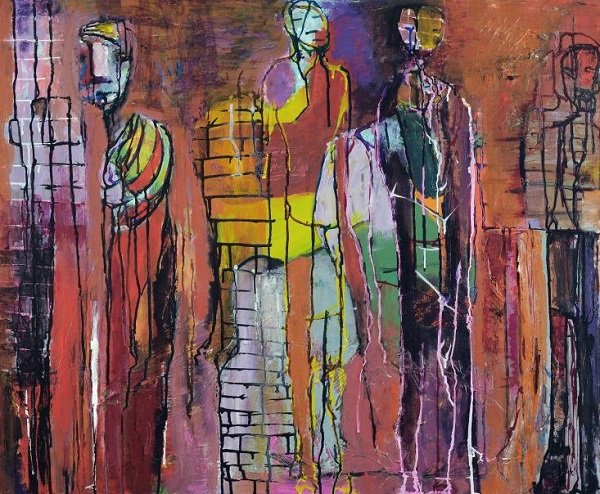 Opening: Friday, June 3 from 4pm to 7pm
Tribes by Makda Kibour
May 6 – July 3, 2022
Makda Kibour spent a lot of time studying indigenous tribes of the Omo Valley of Ethiopia. After a long and difficult journey, she was able to see through her own eyes how people unaffected by the outside world rely solely on nature to fulfill their wants and needs. Astounded by their way of life, especially of the Surma and Mursi tribes who share the use of body painting and elaborate decorations—all of which derive from the nature that surrounds them. 
In her own words Kibour describes: "Vibrant berries, crushed rocks, mud, plants, and flowers are used to adorn their black, slender and strikingly beautiful bodies. Body piercing symbolizes their life's different events and class status. The flesh becomes a raw material on which decorative fantasies can be played out. If in reality one has to find a reference for this art form, it would have to be in its mimicry of nature and animals.''
Through these series Makda Kibour found her voice – inspired by the indigenous people that led her to a stronger connection to her birthplace. The use of thick layers of acrylic paint and liquid ink create a drip effect and highlight soft delicate lines. Oil pastels, acrylic spray paint and collage are added to achieve the desired results. Focusing primarily on the presentation of their bodies and facial expressions; evoking a gutsy, natural, innocent and mysterious feel all at the same time. Kibour utilizes abstract painting as visual language to shape and form color and line.
Finding inspiration in other artists and continuous education. She studied at the Vanderzee school of painting and has been a regular at Deanna Schwartzberg's painting class at the Torpedo Factory Art Center for more than a decade. Above all, her art is characterized by its introspective quality; drawing images of the innermost self. Kibour believes that art is something that can only come from the depth of the soul. In her life, looking inward helped her depict raw human emotion into the canvas. Makda Kibour's philosophy is to live, see and experience everything—something that has led her toward a journey of peace and fulfillment through abstract art.
Kibour describes the paintings as gutsy, natural, mysterious and innocent all at the same time. A poem by the artists which describes the people that inspired her work is attached.
Africa Unmasked
Come explore me
I am as you left me untouched frozen in space and time
Come and see me
I am one with the spirit of earth running deep inside the veins of the red hot volcano
Flowing and running long like the stretch of the river omo
I am as you left me untouched wild and uncharmed
Come find me
I am kept deep within the earth womb, cushioned
Come uncover me
I am the rich spirit that flows deep like the hot lava, laying beneath volcano
I merge running fast with the river omo
Come find me
I am at the horizon, to a place of my ancestors, take a "glims"
I am adorned with nature's pink
I drip my skin with the earth inks
My skin is burned red with the shining sun blue and -black
I am the hunter and warrior uniting with nature's bursts
I exist in east Africa, look for me in the south border of Ethiopia, Abyssinia
Look for me, I drowse on the warmth of the red clay sand
Come watch me while I build my hut With my bare hands
Laying here in the wet clay
Dancing my soul in the rhythm of the earth play
My turf is wild green with thorn flower wild and brutal painful but real
Tribes love and unity survived here.
Beautiful.
by Makda Kibour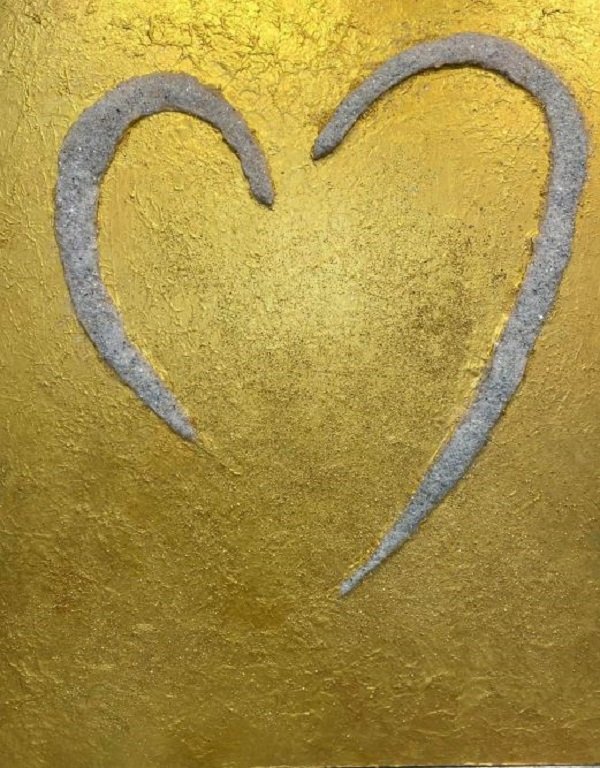 SUPERLOVED by Heather Lynn
June 2 – June 26, 2022
Heather Lynn's SUPERLOVED exhibition at Touchstone Gallery is an exploration of emotions and societal constructs around happiness.
"It has been studied and found that most people have a base level of happiness that can fluctuate and change with positive and negative events but almost always resets itself with time back to its baseline," Lynn states.
But what is happiness? What really makes people happy? What factors contribute to sustained joy and peace? Lynn wanted to explore if she could recalibrate her natural baseline—to operate at an even higher frequency; creating a personal culture of positive peace psychology. How does one increase one's natural resting state of happiness? Her quest for these answers led her toward working with the natural elements—crushed crystals, stones, sand, clay and glass.
"Sourcing and manipulating these materials has provided me and my work with great energy and holistic healing," says Lynn. "My resting state of happiness is enhanced—feeling productive and fulfilled creatively, allowing me to share my healing and energy in the world."
The pieces in her exhibition, composed of earthly natural elements infused in paint; never glitter, glue or resin, all share a maximalist energy where the crystal, stones, and glass are present in such excess that they almost overwhelm the paint in which they are infused. The elements and design work collaboratively to create a healing and mesmerizing effect. 
"It is my core belief that even in darkness, in pain, in confusion; if we lead with love; if we assume the best; forgive the worst, and put love first in all things, that we can indeed walk through this planet SUPERLOVED. First we must give love, then we can be love, and then we can receive love," Lynn explains.
Heather Lynn is a contemporary fine artist living and working in Washington, DC. Her SUPERLOVED body of work made its debut in February at the Palm Beach Show, and was also featured at Artexpo in April. Later this year, she will be exhibiting at Volta, the Art Market in the Hamptons, and Art Miami. Her previous solo exhibition at Touchstone Gallery was Untamed—The Death of my Domestication.
New Gallery Hours: Starting June 2, Touchstone will be open Wednesday – Sunday from 12:00 pm – 5:00 pm.
Touchstone Gallery is located at 901 New York Avenue NW.