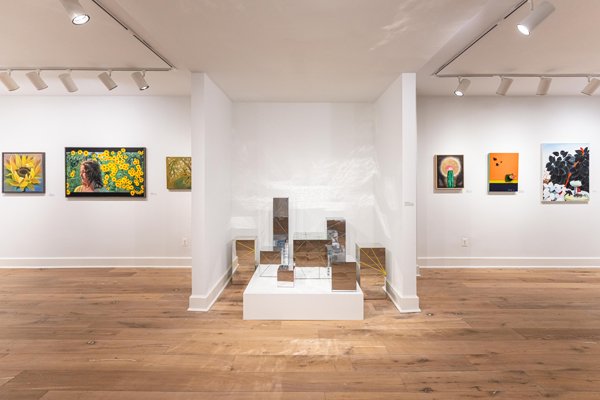 Korean Cultural Center Washington, DC (KCCDC) proudly presents Boundless, a new in-person exhibition featuring a wide-ranging collection of works by 46 Korean-heritage artists from the Han-Mee Artists Association of Greater Washington (HMAA), spanning painting, sculpture, craft, and installation. Based on each artists' individual experiences and perception of society, Boundless seeks to collectively describe and transcend the invisible mental boundaries that permeate everyday life.
In the words of the artists, the desire to go beyond boundaries and limitations ironically stems from the restrictions that are imposed upon us. Within society, intentionally and unintentionally, norms and traditions often limit what we find acceptable. Individuals, however, with their own experiences, perspectives, and imagination, inevitably push and expand society's boundaries.
The exhibition is divided into three thematic sections—Identity, Space, and Spirit—based on the stylistic approaches and personal experiences of the 46 featured artists. Through this exhibition, the artists hope to encourage viewers to think creatively, break through mental barriers, and continually challenge the invisible confines of society.
Boundless in Identity features works of art that explore the self within the context of language, art, and existence. These artists reflect on their lives and the in-between spaces that shape both identity and the surrounding world. Identity is not constant but rather always evolving as individuals move forward, build relationships, and experience life's defining moments.
Boundless in Space features works of art that engage the relationship between the individual and the environment. The environment can be a particular place, the natural world around us, or even a work of art itself. These artists explore ways in which one can carve out a space for existence that is not bound by natural or created limitations.
Boundless in Spirit features works that express thoughts and concepts that cannot be precisely articulated in words. These include pieces based on notions of reflection, memory, and translation. Color and media often provide a vehicle to express the inexplicable and the emotions that extend beyond the limitations of language.
Boundless will remain on view from April 8 through May 16, 2022 (walk-in hours are 10 a.m. – 5 p.m., excluding 12 – 1 p.m., Monday – Friday). The virtual guided tour video, offering an inside look at each artist's creative themes, processes, and inspirations, will release through the KCCDC YouTube and Instagram channels (@KoreaCultureDC). For complete information about the exhibition, please visit the KCCDC website at washingtondc.korean-culture.org.
About the Han-Mee Artists Association of Greater Washington (HMAA)
HMAA is comprised of Korean-American artists who have immigrated to the Washington, DC metropolitan area during the last half century. Founded in 1975 by 15 local artists, HMAA helps artists of Korean heritage to exhibit their creative works and encourage one another as they pursue their shared passion for art. HMAA members have exhibited their works through individual and group exhibitions at museums and galleries in the DC region as well as internationally over 42 years. Members are encouraged to showcase their vision, commitment, and individual creativity in order to share the spirit and culture of Korean-Americans living in the Capital region. HMAA strives to pass on cultural heritage to the next generation, to enrich the community with cultural diversity, and to increase awareness of Korean-American culture. For more information, visit the HMAA website at www.hmaagw.org.
On View:
Monday – Friday, 10am – 5pm, closed 12-1 pm
(No reservations required)
Korean Cultural Center Washington is located at 2370 Massachusetts Ave. NW.