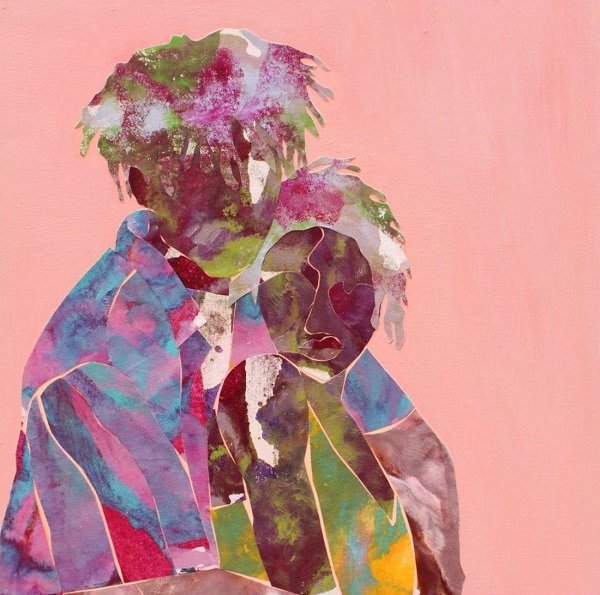 Future Memories III: Stargates and Celestial Beings proposes a quantum understanding of the relationship between people, time and place, in hopes to inspire a collective understanding of community and home.
Jean-Pierre mixes two styles of art that represent larger series in his artistic practice: Stargates and Celestial Beings. The juxtaposition of the two, visually woven one after the other, allows the viewer to dimension leap between people, time and place. Abstract in form, Stargates represent a universal move to hem the tattered fabric of our past here in the physical realm and cut through the nebulous present to a spiritually aligned future. Celestial Beings represent figurative subjects that command presence and take up space, and are visual manifestations of "being in the moment".
Inspired by Haitian vèvè symbology, extensive travels and stained glass design found in North African and Roman Catholic architecture; colorful collaged fields are transfigured throughout the exhibition. All artworks were made using the monoprint technique, a printing method in which the image being produced can be made only once, and then collaged together. To Jean-Pierre, this method of physically joining many pieces together into one visual representation is parallel to looking back at a summary of experiences, which in many ways also informs our understanding of the now and the lens in which we approach the future.
Ultimately, Jean-Pierre asks the viewer to consider their place within the fabric of the collective consciousness.
About the Gallery
The Silva Gallery x Latela Curatorial at the Silva provides additional exhibition opportunities and curated promotion to local artists in the Greater Washington, DC area. The art gallery is located in the building's reception area and open to the public on Monday through Saturday from 10 a.m. through 5 p.m. and Sundays from noon until 5 p.m. For updates on exhibition openings and other art related events, visit www.latelacuratorial.com/the-silva-gallery.
About the Artist
Charles Philippe Jean-Pierre is a Haitian American interdisciplinary artist groomed in Chicago's south side. He creates works that uncover our past at the intersection of community, spirituality, and systèmes socio-politiques. He draws inspiration from his Caribbean heritage, international travels, and academic research.
Jean-Pierre is an adjunct professor at American University and U.S. State Department Art in Embassies Artist. His works are featured in the U.S. Embassy in Benin, Malawi, and Niger. He also serves as a guest curator for exhibitions at The Embassy of Haiti. He has been featured in three Smithsonian exhibitions and was a Barack Obama invitee to the White House to speak on the role of the arts in youth justice. In 2021, he was an invited featured artist for the 2021 Atlantic Festival.
His collaborations include: Alvin Ailey, Boys & Girls Club, DC Commission on the Arts, International Monetary Fund, Inter-American Development Bank, Minnesota State Arts Board, Something In Water Music Festival, and West Elm, among many others. His works have been featured in The Atlantic, Black Enterprise, BET, Ebony Magazine, NBC, Netflix, The New York Times, and The Washington Post.
Jean-Pierre's public art has been displayed in Cape Town, Pretoria South Africa, New York, Chicago, DC, Istanbul, Panama, Port-au-Prince, London, and Paris. Jean-Pierre holds a Master of Arts from Howard University. Jean-Pierre's atelier & galerie d'art is located in Washington, DC.
About Latela Curatorial
Latela Curatorial is a full service art advisory firm and curatorial office based in Washington DC, specializing in mid-emerging women artists. LC provides contract curatorial services for a variety of organizations. Founded in 2014. In 2015, Latela Curatorial opened as a curatorial office/gallery in Brookland, which has been voted Best Commercial Art Gallery in Washington DC for four years consecutively since its opening. In 2019, LC was highlighted as one of the "5 Art Destinations Changing DC's Creative Scene". Passionate about supporting the arts ecosystem in the nation's capital, LC excels in working with art collectors as well as architects/developers in an ever-gentrifying area and underrepresented art market to augment the area's artistic currents and talents.
Located at The Silva DC 1630 Columbia Rd NW, Washington, DC 20009. Open Mon-Sat 10am-5pm and Sun noon-5pm.