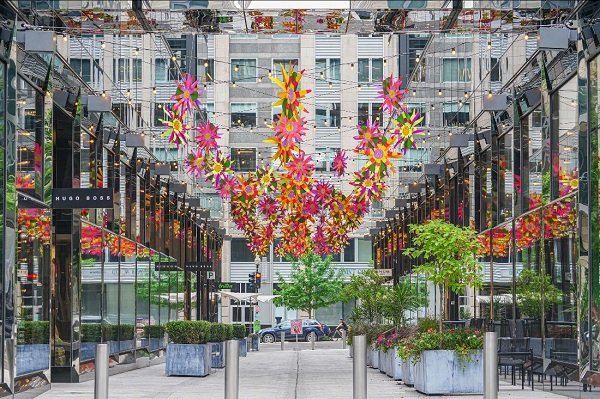 Coneflower Canopy is a climate intervention and sculpture installation by artist Phaan Howng, curated by Latela Curatorial for CityCenterDC.
Howng's practice brings attention to the critical role native plants play in local ecology, as well as the consequences of their removal. To do this, she often creates surreal, future versions of local flora that have learned to camouflage with synthetic colors as a survival tactic.
A fantastical canopy of 230 neon coneflowers, Coneflower Canopy invokes a future world in which coneflowers have climbed to the canopy layer of their biome and assumed neon colors to warn other species about increased development and plastic use.
The coneflower is a drought-tolerant, endangered species native to the mid-Atlantic region also known as echinacea. Echinacea's iconic aesthetic–bright petals and a cone-shaped center–serve a biological purpose within the larger ecosystem: to attract pollinators. Pollinators come for the colors but stay for the nectar. As songbirds, goldfinches, bees, and butterflies move from flower to flower collecting nectar, their movement of pollen enables a habitat that both humans and animals rely on for survival. Worldwide, we can thank pollinators for one of every three bites of food humans take, as well as more than 1,300 plants we use to make food, beverages, medicines, spices, and fabric.
Plants that inhabit the canopy layer are known as leaders in their plant communities; they maintain diversity, resilience, and functioning. Modeled after this important position and echinacea's intelligent use of beauty to promote mutual survival, Coneflower Canopy attracts attention by design, seeking to pollinate the minds of the public. It asks us to consider the responsibility that comes with our privileged place in the local ecosystem and the ramifications of the removal of native plants. But however uncomfortable this reflection may be, the coneflowers also offer easy, tangible steps we can all take to be plant allies: to plant more coneflowers and other local flora, and to protect the local native species that are still in their original homes.
The creative team behind Coneflower Canopy presents this intervention humbly, recognizing the reminder to prioritize the health of the earth and local ecology is as necessary for us as anyone else. We also acknowledge that Washington, DC is the ancestral territory of the Nacotchtank, Anacostan, and Piscataway people. We honor and uplift the Nacotchtank, Anacostan, and Piscataway people's roles as land protectors and leaders in the climate movement.
Phaan Howng's work centers around various narratives and landscapes that show the planet thriving in a utopian post-human future, or what she terms an "optimistic post-apocalypse." Howng places the viewer in an idealized or satirical imagined future to encourage reflection on current environmental conditions fostered by extractive global capitalism. Explorations in current philosophy, anthropology, and history, ground these investigations that interrogate Western concepts of nature, the human, and time. Through painting, sculpture, installation, and performance, her work speaks to issues of environmental, political, and social exploitation.
For more information visit www.latelacuratorial.com/coneflower-canopy
Coneflower Canopy will be on view June 14-August 31, 2022 in CityCenter's Palmer Alley located at 934 Palmer Alley NW, Washington, DC 20001