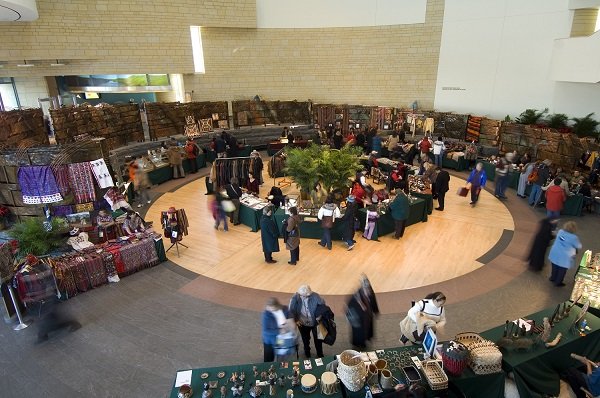 Market: Saturday and Sunday, December 3 – 4 from 10am to 5:30pm
The National Museum of the American Indian annual Native Art Market at the museum in Washington, DC, features works by more than 30 award-winning and innovative Indigenous artists from the Western Hemisphere. The weekend event offers visitors a unique opportunity to purchase traditional and contemporary handcrafted artworks—including beadwork, jewelry, paintings, photography, pottery, and sculpture. The Native Art Market invites art lovers of art and craftsmanship to meet Native artists and learn about traditional Native arts and contemporary Native creativity.
Participating artists include:
Jolene Bird (Santo Domingo Pueblo) | Peter Boome (Upper Skagit) | Jared Chavez (San Felipe Pueblo) | Phyllis Coonsis (Zuni Pueblo) | Sam Dimmick (Inuit) | Neeko Garcia (Navajo) | Wayne Gaussoin (Picuris Pueblo/Diné) | Porfirio Gutierrez (Zapotec) | Susan Hudson (Navajo) | Donald Johnston (Qagan Tayagungin) | George Levi (Southern Cheyenne) | Halcyon Levi (Southern Cheyenne) | Heather Levi (Kiowa) | Katrina Mitten (Miami Tribe of Oklahoma) | Morris Muskett (Diné) |  Jhane Myers (Comanche/Blackfeet) | Madeline Naranjo (Santa Clara Pueblo) | Earl Plummer (Navajo) | Gerry Quotskuyva (Hopi) | Tessa Robledo (Comanche/Kiowa) | Rain Scott (Pueblo of Acoma) | Penny Singer (Navajo) | Marvin Slim (San Felipe Pueblo/Navajo) | Courtney Smith (Chickasaw) | Naomi Smith (Chippewas of Nawash) | Matagi Sorensen (Yavapai Apache Nation) | Wanesia Misquadace Spry (Minnesota Lake Superior Chippewa) | Eugene Tapahe (Diné) | Arielle Tsinigine (Diné) | Darrick Tsosie (Jemez Pueblo) | Felix Vigil (Jicarilla Apache) | Kathleen Wall (Jemez Pueblo) | Regina Waters (Otoe-Missouria) | Kathy Whitman-Elk Woman (Mandan-Hidatsa-Arikara Nation)
The National Museum of the American Indian is located at 4th St SW.