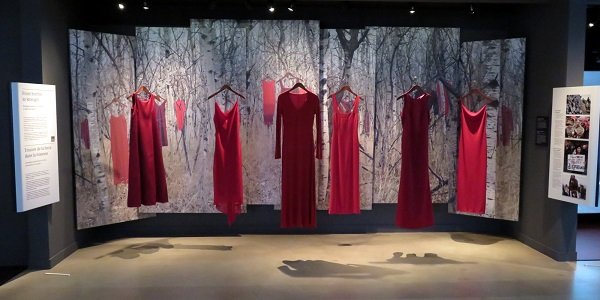 .
On view March 1 through March 31, 2019.
.
To commemorate Women's History Month, the National Museum of the American Indian presents The REDress Project, an outdoor art installation by artist Jaime Black (Métis). Showing in Washington, DC for the first time, the installation of red dresses hung in public spaces symbolize the issue of missing or murdered Indigenous women. In her artwork, Black seeks to create dialogue around social and political issues, especially through an exploration of the body and the land as contested sites of historical and cultural knowledge. The REDress Project positions the Indigenous female body as a target of colonial violence. Black hopes to draw attention to the gendered and racialized nature of violent crimes against Native women and to evoke a presence through the marking of absence. The dresses, collected through community donation, have been installed at several Canadian galleries, museums and universities since 2011.
Artist bio:
Jaime Black, a Métis multidisciplinary artist based in Winnipeg, Canada, is the creator of The REDress Project, which focuses on the issue of missing or murdered Indigenous women. The powerful art installation piece serves as a visual reminder of the staggering number of women who are no longer with us, evoking a presence through the marking of absence. Black studied English literature at the University of Manitoba and has an education degree from The Ontario Institute of Studies in Education. She is currently a mentee with Mentoring Artists for Women's Art (MAWA). She is particularly interested in feminism and Aboriginal social justice, and the possibilities for articulating linkages between and around these movements. Black's 2016 installation, Conversations with the Land, activated elements of land art, performance, and installation to attend to relationships between the land and the body.
The National Museum of the American Indian is located at Independence Ave. SW.