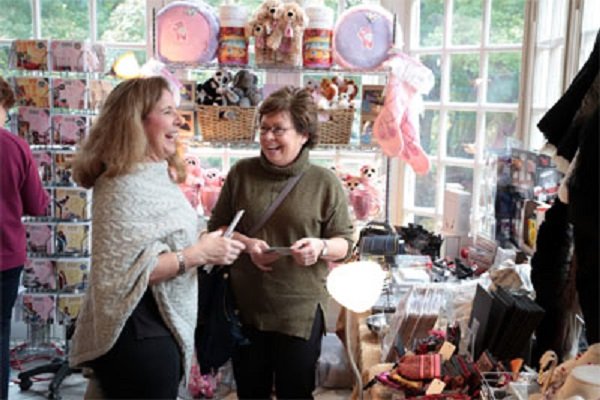 November at the Mansion at Strathmore offers a wide variety of opportunities for everyone, from workshops and performances to special shopping events that will help you find the perfect holiday gifts for your loved ones.
Looking for unique handmade or art-inspired gifts for the holidays? Join them at MUSEUM SHOP HOLIDAY MARKET (November 7–10). The community favorite event celebrates its 30th anniversary of bringing together nearly 20 of the area's best loved museum shops, including the Kennedy Center, International Spy Museum, and the Philips Collection, for a pop-up shopping event that takes over every corner of the Mansion. It's a festive way to get ahead on holiday shopping for unique gifts from toys and textiles to jewelry and more. Another unique annual shopping event is the PLEIADES JEWELRY SHOW AND SALE (November 23 & 24). A one stop shop for jewelry lovers, this show features a stunning selection of beautiful, high-quality, hand-crafted jewelry and metalwork created by over 30 local artisans.
30TH ANNUAL MUSEUM SHOP HOLIDAY MARKET
Thursday, November 7, 10AM–8PM
Friday, November 8, 10AM–6PM
Saturday, November 9, 10AM–6PM
Sunday, November 10, 10AM–5PM
Your one-stop shop for fabulous finds that make marvelous gifts!
This holiday season, give amazing gifts that give back! Strathmore's Museum Shop Holiday Market brings together the area's best museum and cultural shops for a festive four days. Every present is part of a larger purpose as your purchase supports nonprofit museums and arts organizations in our community.
Suggested donation of $10 at the door.
Featuring unique gifts from the shops at:
Strathmore
Audubon Naturalist Society
Brookside Gardens
The Jewish Museum of Maryland
The GWU Museum & The Textile Museum
Glen Echo Park Galleries
Hillwood Museum & Gardens
International Spy Museum
The Kennedy Center
National Building Museum
National Geographic Museum
National Museum of Women in the Arts
The Phillips Collection
President Lincoln's Cottage
Tudor Place Historic House & Garden
The United States Capitol Historical Society
Supreme Court Historical Society
FINE ART IN MINIATURE
Active for over 85 years, The Miniature Painters, Sculptors, and Gravers Society (MPSGS) of Washington, DC, was created by renowned miniaturist Alyn Williams. He first established the Royal Miniature Society in England in 1895 and came to Washington to teach at the Corcoran School of Art.
Today more than 700 mini masterpieces in stone, oil, pastel, and print come from countries around the world for MPSGS' prodigious juried exhibition. From the size of a postcard down to a postage stamp, portraits, still lifes, sculptures, and collages capture the world in miniature. These tiny marvels aren't just about making small art. They are about the ability of the miniaturist to create art that captivates, enchants, and invites you to move in for the closest possible look.
TWO VISUAL ART EXHIBITIONS:
November 16, 2019–January 5, 2020
Opening Reception: Sunday, November 17
2PM
Tickets: FREE
SHADES OF PASTEL
The Maryland Pastel Society returns to Strathmore with their biennial juried exhibition featuring pastel artists from around the nation. Soft pastels have a high concentration of pigment, resulting in intense hues in an extensive range of colors from earth tones to vibrant shades. The Maryland Pastel Society is devoted to promoting the art of soft pastel and the professional development of pastel artists.
PLEIADES JEWELRY SHOW & SALE
Saturday, November 23, 11AM–5PM
Sunday, November 24, 11AM–5PM
Tickets: Free
Launched 34 years ago by seven local artisans, Pleiades is named for the brilliant and beautiful star cluster known from ancient times as the Seven Sisters. Since then, Pleiades has grown, and its selection of unique, high-quality, hand-crafted jewelry and metalwork remains exquisite. Now there are more than 30 artists, all women, offering one-of-a-kind silver and gold pieces with gemstones, dichroic glass, beads, paper, and enamels, as well as gorgeous silver flatware, vessels, and table sculptures. Pleiades' show and sale at Strathmore will leave you starstruck!
The Mansion at Strathmore is located at 10701 Rockville Pike, North Bethesda, MD.