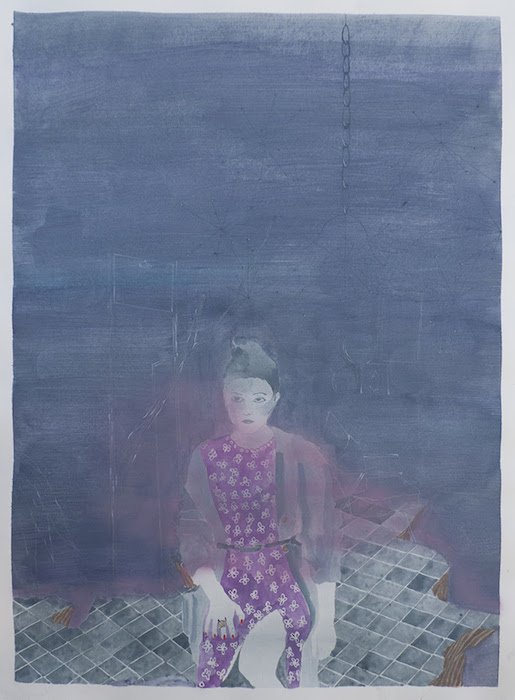 .
Opening Reception: Saturday, June 14 from 4pm to 6pm
.
The exhibit runs June 14 to July 12, 2014.
RandallScottProjects announces our next exhibition of new work by Los Angeles based, Ruby Osorio Reverie opening June 14th-July 12th with an afternoon reception on Saturday, June 14th from 4pm-6pm.
Ruby Osorio's wistful paintings evoke the sense of fragmented memories, experienced through the mind and senses of a female protagonist, while exploring the notions of the poetic in their representation of femininity and myth.
Influenced by the work of writers such as Julio Cortazar, Jorge Borges, and most recently the poet, Wislawa Szymborska, Osorio's visual narratives hinge on memory, fantasy and literary references. Her characters are engaged in uncanny, or enigmatic scenarios imbued with a sense of longing and search for that transcendent moment or experience.
Osorio's work has been exhibited internationally in cities such as London, Tokyo, Mexico City, Athens, Los Angeles, and Washington DC. Her exhibition, Story of A Girl (Who Awakes Far and Away) traveled to the Contemporary Art Museum St. Louis and Laguna Art Museum. Her work has been reviewed by Los Angeles Times among other publications, and resides in notable collections such as Eileen Norton Foundation and Hammer Museum.
This will be Osorio's first solo exhibition in Washington DC.
Gallery Hours:
Wednesday through Saturday: 11am to 7pm
RandallScottProjects is located at 1326 H Street NE, 2nd Floor. For more information call 202.417.4872 visit www.randallscottprojects.com or contact them at info@randallscottprojects.com.
.
.
.
.