.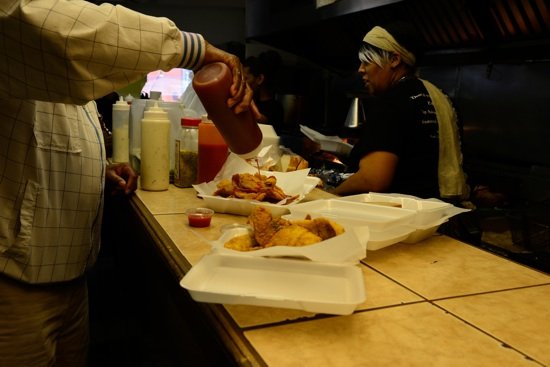 .
Opening Reception and Party: Friday, April 5 from 6pm – 10pm
.
On view through April 21, 2013.
Continuing in its tradition of coordinating gallery exhibitions with DC's world-class museum shows, Contemporary Wing presents, MUMBO SAUCE, in conjunction with the Corcoran Gallery of Art's Pump Me Up – D.C. Subculture of the 1980s, currently on display at the museum. MUMBO SAUCE is a survey of artists with deep roots in Washington, D.C., and explores how such factors as Go-Go, graffiti, punk, hardcore, graphic design and fine art have shaped and influenced the work of these artists. MUMBO SAUCE is curated jointly by Roger Gastman, curator of the Corcoran's Pump Me Up show, and Lauren Gentile, founder of Contemporary Wing.
Mumbo Sauce is a red, sweet, and tangy sauce, akin to barbeque or plum sauce. Indigenous to Washington, DC, the condiment is found in carry outs throughout DC and the surrounding metro area. Mumbo Sauce is endemic to Washington DC's African American culture, and it is the flavor of home for many DC natives.
Just as Mumbo Sauce conveys a rich texture and flavor that is distinctively DC in the cultural arena of food, the art works in the MUMBO SAUCE exhibit reflect the living, breathing soul of the city. MUMBO SAUCE explores how living and working in the District has shaped the artistic evolution of the featured artists.  Participating artists include BORF, Richard Colman, Cynthia Connolly, Tim Conlon, COOL "DISCO" DAN, Clark Fox, Globe Poster Archive, Mark Jenkins, Rosina Teri Memolo, Mingering Mike and Robin Rose.
To preview the works please contact info@contemporarywing.com
Opening Reception and Party: Friday, April 5
Press Preview 4pm – 6pm
Opening Reception (artists in attendance) 6pm – 10pm
Music by DJ Stereo Faith 7pm – 10pm
Limited space so please RSVP to info@contemporarywings.com or call 202.730.5037.
BORF was a graffiti campaign celebrating youth liberation that was seen in and around DC during 2004 and 2005, by John Tsombikos while he studied at the Corcoran College of Art and Design. The four letter word, BORF, was ubiquitous in the Northwest quadrant of Washington, and ranged from simple tagging to complete sentences, and from two-color stencils to the massive pieces visible from the Metro's Red Line and on overhead exit signs.
Richard Colman hails from Bethesda, MD and currently lives and works in Chicago, IL. His work explores the intricacies of everyday life – power struggles, personal interactions and the relationship between human beings and the surrounding environment. Painted as monuments to nothing in particular, and hosting a violent cast of characters, Colman's work illustrates the conflict experienced by human beings living in a society of relentlessly centered on progress, with little time and appreciation for small things. Colman has exhibited extensively in galleries and museums throughout the U.S. and around the world.
Cynthia Connolly is a photographer, graphic designer, and artist. She graduated from Corcoran College of Art and Design and worked for Dischord Records and d.c. space. In 1988 she published Banned in DC: Photos and Anecdotes From the DC Punk Underground (79–85) through her small press Sun Dog Propaganda. Her photographic work, postcards and books were exhibited in Beautiful Losers which toured in the United States and Europe from 2004–2009 and was reviewed in Art in America in January 2005.
Tim Conlon is a graffiti artist living and working in Washington. He grew up just south of DC, and is best known for large-scale murals, graffiti art, sculpture and works on canvas. He was one of two aerosol artists featured in the Smithsonian National Portrait Gallery's 2008 exhibition, RECOGNIZE! Hip Hop and Contemporary Portraiture. In 2011, he was featured and had a small curatorial role in the Los Angeles Museum of Contemporary Art's, Art in The Streets exhibit. Conlon has also shown at the Corcoran Gallery of Art in Washington, DC and during Art Basel in Miami Beach. He is represented by Contemporary Wing.
COOL "DISCO" DAN is the most famous and storied graffiti writer in Washington, DC history. He is the subject of the 2013 documentary "The Legend of Cool "Disco" Dan," a star of the Pump Me Up exhibition at the Corcoran Gallery of Art, and was prominently featured in the 2011 book The History of American Graffiti. He has been drawing with markers since his youth.
Clark Fox (aka Michael V. Clark) is a Native American artist who worked with Washington Color School painters Gene Davis and Thomas Downing in the 60's. He became an advocate of street art in the mid '70's and collaborated in DC with iconic artists such as Ron English, Shepard Fairey, Daniel Johnston, Big Al Carter, and more. His works belong to more than 35 museum collections including the Corcoran Gallery of Art, the National Gallery of Art, the Metropolitan Museum of Art, the Philadelphia Museum of Art, the Smithsonian American Art Museum, among others. His signature portraits of George Washington now appear in a book published by the Smithsonian Press called Handmade Holiday Cards from 20th Century Artists.
Globe Poster Archive, located in Baltimore, M.D., was one of the nation's largest showcard companies and has been telling the story of R&B and all forms of American music and entertainment through bright and iconic posters since 1929. Globe began by printing posters for vaudeville acts, movie theaters, burlesque houses and carnivals, and later became known for its work with R&B and soul performers-including James Brown, Ike and Tina Turner and Solomon Burke-and later hip-hop acts. Big, bold, fat type, Day-Glo colors and distinctive lettering were hallmarks of the Globe style. When Globe closed in 2010, 75 percent of its archive was acquired by MICA.
Mark Jenkins is most widely known for the street installations he creates using packing tape. He works with Sandra Fernandez and together they create characters ranging from clear cast objects such as ducks, dogs and babies to hyper-realistic anthropomorphic beings based casts of his and her body that are installed in ways to interact with the surrounding space. He currently lives in Washington, DC.
Rosina Teri Memolo is a fine artist and commercial photographer who lives and works in the SE quadrant of Washington, DC. She will present selections from her two series, "Corner Stores and Carry Outs" and "Just Shoot Me," which document the disappearing landmarks, and changing diaspora of the city.  Her images are intuitive, sometimes even happy accidents. Her work is included in the Pump Me Up Corcoran exhibition.
Mingering Mike is a fictitious funk and soul recording artist created in the late 1960s as the subject of works of album art by a young Mike Stevens. Mingering Mike released more than 50 album covers in 10 years. All of the work took place in Mike's imagination, and in the vast collection of fake cardboard records and acapella home recordings that he made for himself as a teenager in Washington, DC. The Smithsonian American Art Museum recently acquired The Mingering Mike Collection (c. 1968 – 1976) which included handmade LPs and record covers, handmade 45s and covers, real 45s with handmade labels, various pieces of ephemera, reel-to-reel mix tapes and original recordings on 8-track cassettes. He is represented by Hemphill Fine Arts.
Robin Rose is a master of encaustic painting. Rose presents concepts ranging from the latest technological advancements, to archeological discoveries, to systems analysis. Rose's work has been exhibited in New York, California, and Washington DC and is included in the collections of the Hirshhorn Museum and Sculpture Garden, the Smithsonian American Art Museum, and The Phillips Collection, among other private and public collections. He is represented by Hemphill Fine Arts.
About Roger Gastman: 
Roger Gastman began writing graffiti as a teenager in Bethesda, Maryland.  Since then, he has founded and published the pop culture magazines "While You Were Sleeping and Swindle, with Shepard Fairey", and authored a dozen graffiti art books including The History of American Graffiti (with Caleb Neelon;  Harper Collins,  2011).  In 2011 he curated, with Jeffrey Deitch and  Aaron Rose, the exhibition Art in the Streets at the Museum of Contemporary Art, Los Angeles. Gastman's film production credits include Banksy's  Exit  through  the Gift Shop, and the graffiti documentary  Wall Writers, and he is currently directing a documentary for Sanrio/Hello Kitty on the history of the brand and its fans.
MUMBO SAUCE  exhibit is at 906 H Street, NE.  For more information please contact info@contemporarywing.com and to RSVP contact info@contemporarywings.com or call 202.730.5037.
.
.
.
.