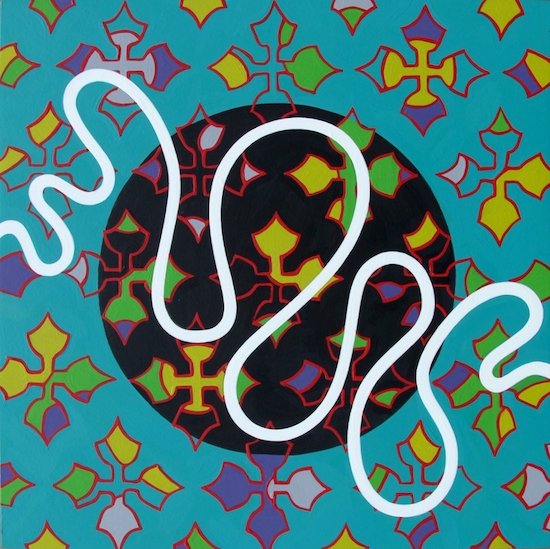 .
Artist's Reception: Saturday, August 12 from 2pm to 4pm
.
Closing Reception: Saturday, September 16 from 2pm to 3pm
The Rachel M. Schlesinger Concert Hall and Arts Center is honored to display the art exhibition Zip Infinity, a series of acrylic paintings by artist Maremi Andreozzi. The show will be on display in the Forum Gallery of the Schlesinger Center from Aug. 7 to Sept. 17 with an artist's reception from 2 p.m. to 4 p.m. Saturday, Aug. 12. A closing reception is scheduled from 2 p.m. to 3 p.m. Saturday, Sept. 16.
In this series Andreozzi said she's studying the movement of a single white line moving through a patterned space. Her interest in "colors, lines and shapes are realized in patterns that create visual theatre."
"I love to explore the harmony and disconnect between the organic and geometric, symmetrical and asymmetrical, cool and warm, fast and slow, dense and airy. I seek out the dichotomy between all these elements," Andreozzi explained. "In the series, I am studying the movement of a single white line zipping and looping through a patterned space. I love how one white line can convey so much energy and character, and am fascinated by how something inconspicuous can dictate the speed and the read of the image. Similarly, I am interested in how your eye identifies pattern and corrects for inconsistencies."
Andreozzi grew up in Alexandria and earned a Bachelor of Fine Arts from Cornell University in 1994 and a Master of Fine Arts from Clemson University in Clemson, South Carolina. In previous years, she has been selected for solo exhibitions in various galleries in the DC metropolitan area and Pennsylvania. She has also shown in group exhibitions in West Virginia, New York City and the Washington, DC area.
Galler Hours:
Monday through Friday: 10am to 4pm
The Forum Gallery is located on the lower level of the Schlesinger Center, which is located at 4915 East Campus Dr., Alexandria, VA. For additional information about art shows and concert hall events, contact the Schlesinger Center at 703.845.6156 or visit https://www.nvcc.edu/news/media-alerts/schlesinger-andreozzi.html.