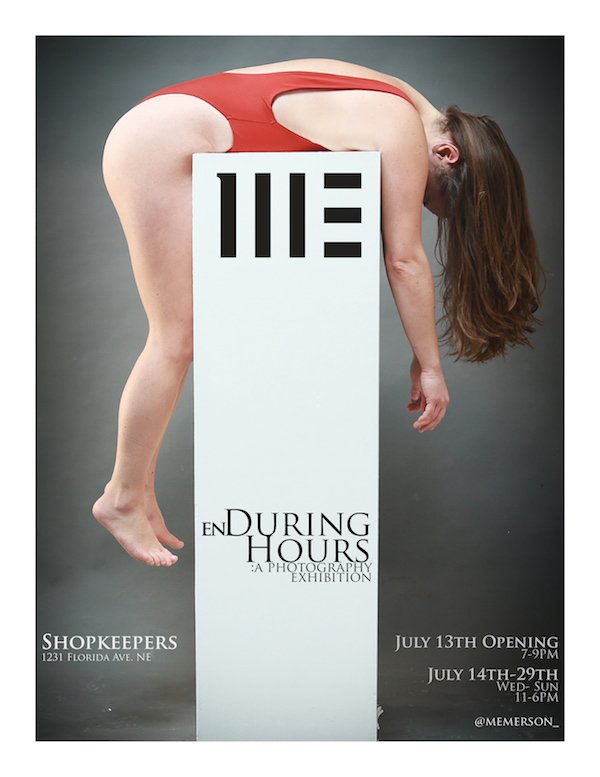 .
Opening: Friday, July 13 from 7pm to 9pm
.
It has been almost one year since Marie Emerson's photography exhibition After hours, and in that time, what has happened? After hours explored the time spent after the hours of 9-5 and the lives we wish to lead outside the mandatory demands and asks of life.
Working backwards in a continuing volume, enDuring hours, explores the time spent during the hours of 9-5, when autonomy over time is not always granted. The exhibition is a collective voyage of women, each of whom took the camera and who each, leaned into their own pain of remaining present during strenuous times. A journey together, through each of their individual darkness with one flashlight, to transform further during a time of unknown.
This exhibition allows viewers to dance in the labyrinth rollercoaster of the subconscious, where, the transformation of human, happens, during the hours spent when time is not always in our favor. All pieces are originals and are for sale, and will not be duplicated or replicated in any shape or form. The display conveys the evolution of human realities and emotions, but not in a lineage fashion. The pieces are displayed sporadically demonstrating the ebb and flow of emotions and how humans exist in time.
enDuring hours creates an environment for participants to vicariously project themselves into each photographic piece. For during the 9-5, sometimes we are presented with the skeletons in the closet and accompanying of emotions. A time, when it's especially inconvenient. No matter where we go or time of the hour, we bring our whole lives with us.
The exhibition will be on display from Friday, July 13th until July 29th at Shopkeepers at 1231 Florida Avenue NE DC, in H Street Corridor.
The opening will occur at the same location from 7-9 PM on Friday, July 13th, along with a closing and an inclusive conversation event on the relationship between socioeconomics and politics and women during the two-week-long time period. All hours including the opening are free for the public. Shopkeepers is a space and boutique seeking to inspire and share creativity, collaboration, and inclusiveness in the DC community.
Marie Emerson is a photographer based in the Washington metropolitan area. Her artistry primarily focuses on the socioeconomic and political circumstances of societies, illustrating the multi-facets of human emotions as they exist in nature.
In addition to art photography, Emerson practices a variety of other genres of photography such as: events, black and white, landscape, portraiture, street, still life, fashion, commercial, and journalism. Emerson is also trained in data visualizations, website and graphic design, cinematography, musical composition, and writing.
Shopkeepers is located at 1231 Florida Avenue NE.