Opening Reception: Saturday July 7 from 7pm to 11pm  
.
The notable Washington, DC art couple Dana Ellyn and Matt Sesow are keeping it local with their latest exhibition Stocking The Fridge. Known internationally for their whimsical, politically charged, and allegorically satirical paintings, Dana and Matt will "stock" the gallery with nearly 100 fresh, locally grown and reasonably priced paintings.
Stocking the Fridge will feature a selection of the best works from the couple's past 31 Days in July projects and include a painting from the first week of the 2012 edition. Matt and Dana's annual 31 Days in July began in 2003. The artists create 31 unique paintings inspired by the morning news from July. Each painting is a reflection of current events, mostly political, and showcases each artist's unique approach to painting.
The exhibition will also be peppered with choice selections from the artist's freshly created inventory of bright and flavorful paintings. The artist's iconic imagery which includes birds, bulls, chickens, and blasphemy will be available at their well-known affordable prices.  The exhibition runs July 7 – July 29, 2012.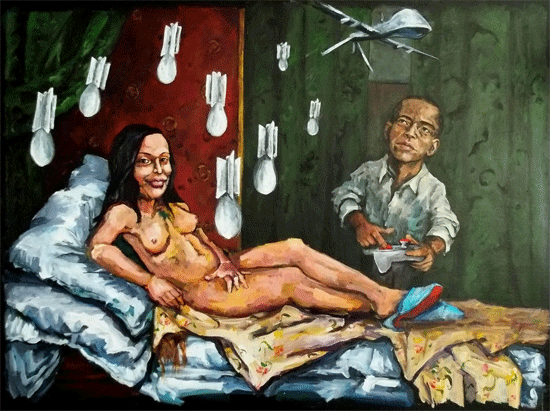 About Dana and Matt
Dana's internationally collected paintings embody a fearless, self-exploratory portrait of modernity. Her sly humor and painterly skill entice the viewer to reinterpret our contemporary zeitgeist. Matt's widely collected paintings have been an influential component of the Outsider and Folk Art movements world-wide since 1995.
.
.
.