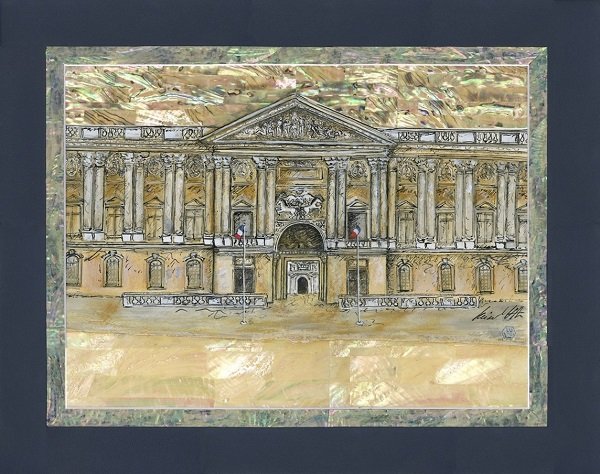 Opening Reception: Wednesday, November 3 from 5:30pm to 7:30pm
At 5:45pm Remarks by French Cultural Attaché Denis Quenelle and Dr. Ori Z. Soltes, Professor, Georgetown University
"Paris will always be the city of my dreams.  It is the city where I am forever getting lost, and then finding myself again, my whole being enriched.  Oh, how many discoveries there are hidden there. I need to visit Paris in the next lifetime too. As for now, I cannot stop painting Paris." – Simonida Perica Uth
Gallery founder Robin Strongin explained that "I share Simonida's sentiments when it comes to Paris, La Ville-Lumière.  In that spirit, Strongin/Collection is pleased to bring Paris to the Potomac. Through a variety of events, including speakers, a virtual reality visit to Paris, wine, and of course art, we hope everyone will join us and celebrate the wonder that is Paris."
About Simonida Perica Uth
Simonida Perica Uth comes from a long line of artists, graduating with a BA from the School for Industrial Design, Graphic Department at the University of Fine Arts in Belgrade and an MA in Byzantine Monumental Art. After moving to the U.S. she designed and executed large events including the Annual Bastille Day Celebrations at the French Embassy in DC. She was a mosaic artist at St. Sophia Cathedral, Washington, DC., serving as the last apprentice to the Master Mosaicist Dimitry Dukas. For two years she worked at Dumbarton Oaks, Washington DC, transferring bibliographical data on Byzantine studies to microfiche, a Harvard-Oxford collaboration. Simonida was an exhibit designer and curator at The Historical Society of Washington DC for the exhibit "Wages of War: Bonus Army to Baghdad." Simonida lectured at Goucher College on Jungian psychology and symbolism in art and for the last two decades, spent much of her time as art director and executive producer of documentaries shown on PBS from which two were awarded National EMMY awards.
Uth Artist statement
Paris will always be the city of my dreams.  It is the city where I am forever getting lost, and then finding myself again, my whole being enriched. My favorite thing to do each day is to head out on a different exploration. One day I'm walking through the churches around Quartier de St. Paul trying to discover frescos of Nicholas Flamel and his wife making the Philosopher's Stone all in indecipherable symbols. Or going to the Tea Museum in Marais, or seeing a museum of my spiritual ancestor Gustave Moreau, his incredible paintings of Salome and the unforgettable wrought iron spiral stairwell, a marvel, designed by no other than Gustave Eiffel. Oh, how many discoveries there are hidden there. I need to visit Paris in the next lifetime too. As for now, I cannot stop painting Paris.
Open by Appointment.
Strongin/Collection is located at 1631 Wisconsin Avenue NW. For more information, visit www.strongincollection.com.