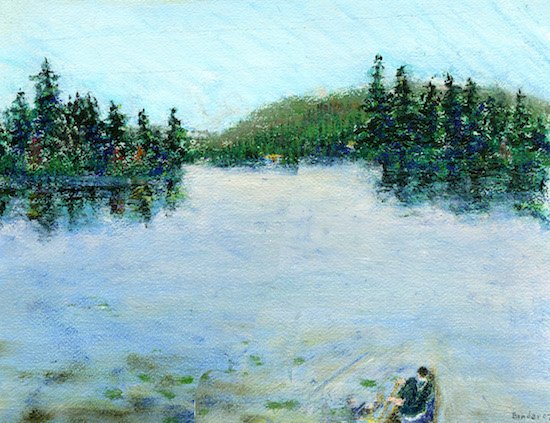 .
Reception: Friday, December 1 from 6pm to 8pm
.
Studio Gallery's all member year end show, Common Ground, opens Wednesday, November 22 and runs through Saturday, December 16. Gordon Binder is showing a few paintings, reflecting his take on the places we share in common, beaches, lakes, and the like.
First Friday reception: December 1, 6 to 8pm
Closing reception: Saturday, December 16, 4 to 6pm
Binder's art records images of the world around him. In the 1990s, he took painting and other courses in the Open Program of the Corcoran College of Art and Design, working with Washington artist William Christenberry. In 1996, he was awarded the Corcoran's Linda Rosenbaum Scholarship for "talent and artistic excellence." His artwork is in collections in the Washington area, New York and San Francisco, Los Angeles, North Carolina, Sanibel, Aspen, Boston and elsewhere in New England. Binder has lived in the Dupont Circle neighborhood for nearly 45 years. By day, he works in the environmental field. He has an architecture degree from the University of Michigan and was a Loeb Fellow at Harvard's Graduate School of Design. (For further background, see www.BinderRawsonArtworks.com.)
For more than 50 years, Studio Gallery, a cooperative gallery with about 40 members, has showcased the work of local artists in a variety of media, animating the vibrant Dupont Circle art scene.
Gallery Hours:
Wednesday – Friday: 1pm to 6pm
Saturday: 11am to 6pm
Studio Gallery is located at 2108 R St. NW. For more information and all other inquiries about the Studio Gallery, visit their website at www.studiogallerydc.com.