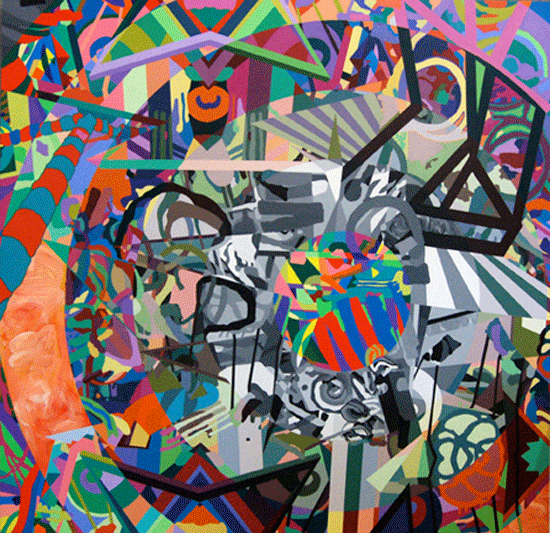 .
| OPENINGS |
.
.

.
Artist's Reception: Saturday November 5 from 6pm to 8pm
.
Read Eric Hope's interview with Steven Pearson by clicking here
We are all subject to a flood of information on a daily, if not hourly, basis via a variety of technological means- emails, text messages, Facebook, Twitter, online newspapers, countless websites, as well as television and radio. With such a wide array of information from so many sources, one is obligated to discern what is true, verifiable, and good; and what is false, speculative, inflammatory, and bad.
Steven Pearson is interested in how our ability to receive and assimilate a myriad of information on a constant basis can be reflected in a 2-dimensional format. In his paintings, he employs complex compositions and an autobiographical visual language consisting of codes and symbols. Each painting possesses a layered history- as new statements are juxtaposed next to or on top of earlier ones, the paintings begin to suggest the manner in which we store memories or assimilate and make sense of information. Some shapes are strong and vivid, while others become broken and incoherent, only suggested by the pentimenti left as a visual reminder of their previous existence.
Each of the larger paintings in Amalgamations is created from tracings of earlier paintings. Pearson traces their compositions in random areas, and pieces it back together in a new arrangement. After each painting is completed, he repeats that process, tracing the newest completed painting to compose the next. With each painting the original source is broken down and altered, eventually becoming unidentifiable. The breakdown and reorganizaton of that original composition from painting to painting is a representation, or metaphor, for information sharing and social networking.

About Steven Pearson
Steven Pearson is a Painter and an Associate Professor in the Art & Art History Department at McDaniel College in Westminster, MD where he has been teaching various art courses since 2004. He is also the Director of the college's Rice Gallery.
Steven was born in Johnstown, NY. He received his Bachelor of Science in Studio Art from the College of Saint Rose in Albany, NY, and his Master of Fine Arts in Painting from the Hoffberger School of Painting at the Maryland Institute College of Art in Baltimore, MD.
Steven has exhibited both nationally and regionally and has been an Artist in Residence at the Vermont Studio Center in 2010, 2006, 2003, as well as the Ragdale Foundation in 2005. He has received several grants, including an Individual Artist Grant from the Maryland State Arts Council (2010), Artists Grants from the Vermont Studio Center (2010, 2006, 2003), and Faculty Development Grants from McDaniel College (2009, 2008, 2005).
Steven's work can be found in several public and private collections including: Schenectady Museum, University of Mary Washington, Siena College, College of Saint Rose, Fulton-Montgomery Community College, Prologue Inc., FTI Consulting, Hilton Baltimore Convention Center Hotel, The League For People With Disabilities, Baltimore, MD.
Steven currently lives in Westminster, MD, and works in his studios on Campus at McDaniel College, and at the Area 405 Building in Baltimore.
Studio H
Studio H is located at 408 H ST NE, second Floor, Washington, DC 20002.  Visit the gallery online at www.studiohdc.com.  Gallery hours are by appointment. The exhibition runs through November 30, 2011.
.
.
.
.