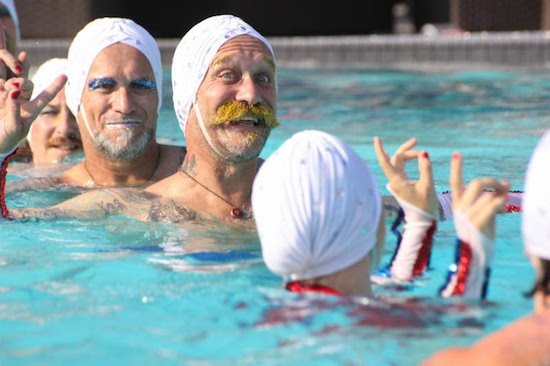 .
Event: Saturday, August 15 at 5pm
.
DC's performance art explosion is taking it to the pool for SynchroSwim 2015, WPA's synchronized swimming performance art competition. Typically, synchronized swimming demands advanced water skills and requires great strength, endurance, flexibility, grace, artistry, and precise timing, as well as exceptional breath control. At WPA's SynchroSwim, you'll just need creativity and enthusiasm.  Past performances have included a biting critique of BP's role in the Deepwater Horizon Oil Spill, a battle between pollution and Captain Planet's Planeteers, a patriotic excerpt from Fluid Movement's Star Spangled Swimmer, and even a performance by a real live Synchronized Swimming team.
This year's performances will be judged by: Dr. Melissa Chiu, Director of the Hirshhorn Museum and Sculpture Garden; Lauren Landau, Host of Art Beat on WAMU; and Doug Yeuell, Director of Atlas Performing Arts Center.
Synchroswim 2015 will feature performances by:
AETHER ART PROJECTS, led by team captain Eames Armstrong, with team members Mandy Lineweber, and Rania Hassan performing Bermuda Love Triangle.
DCFIT-TASTICS, led by team captain Mary Flamingo Greer with team members Coach Deana Cordova, Pilar Weiss, Ruth Gata Katz, Ruth Einsenberg, and Pam Larson. They will be performing A Flamingo Fantasy.
EMZKI, led by team captain Emma Goodman O'Rourke and featuring Renee Regan. They will be performing My Life in the Sunshine with music by Roy Ayers.
THE FLIES, with team leader April Pink and team members Marta Zoeliner, Mark Cameron, Joe Meduza, Barbara Wilgus, Sydney Pink, Paul Wilson, Caitlin Bouxein, and Laura Knapp. The Flies will be performing The Human Fly.
FLUID MOVEMENT with team captain Patty Gallivan and team members Ellen Jenkins, Katie Garber, Laura Smith, Mary Watkins, Amanda Barrett, Mile Sauria, and Jessica Hartman. Fluid Movement will be performing Unbreakable Dance Party!
INTERGALACTION with team captain, Rebecca Ennen and team members Marcel Estevez Montero, Sharon Goldtzvik, Yonathan Goldtzvik, Torie Partridge, Sylvie Shaffer, Keeli Sorensen, Farhan Syed, Nava Szwergold, and Donte Tates. Intergalaction will be performing Space Medley.
SYNCHROWAVE with team leader Ekaterina Zharinova and featuring Giselle Ruzany. Synchrowave will be performing Last Day in Chaloklum.
THICKER THAN WATER, led by team captain DeLesslin George-Warren, featuring Julie Rubin. Thicker Than Water will present Blue Lips, a Regina Spektor remix.
SynchroSwim 2015 is free and open to the public and takes place at the Capitol Skyline Hotel Pool, 10 I (eye) Street SW following the Capitol Skyline Pool Party. Free admission to SynchroSwim 2015 will begin at 4:30pm.
.
.
.
.