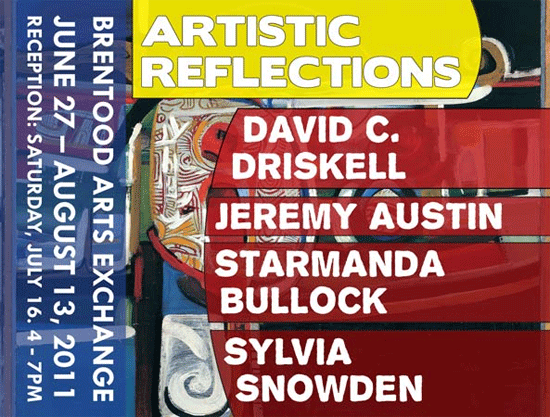 |OPENINGS |
.
Opening Reception:  Saturday, July 16 from 4pm to 7pm
Artistic Reflections- An Exhibition in Honor of David C. Driskell's 80th Birthday featuring the following artists:
David C. Driskell
Jeremy Austin
Starmanda Bullock
Sylvia Snowden
Over the course of nearly six decades, Dr. David C. Driskell has created an unquestionable and profound impact in the arts through an extensive body of artwork, scholarship, curating, and teaching. World-renowned as a leading authority on African American Art, Dr. Driskell's own artwork is collected by several major museums, including the National Gallery of Art, the High Museum of Art, and the Yale University Art Gallery. Having served as a Professor at Fisk University, Howard University, then at the University of Maryland beginning in 1977, it should come as no surprise that Dr. Driskell's legacy extends through several students who have built impressive careers as artists, teachers, and scholars in their own right. Artistic Reflections celebrates that legacy by featuring Dr. Driskell's work alongside that of three of his former students: Jeremy Austin, Starmanda Bullock, and Sylvia Snowden.  Artistic Reflections is presented with the generous support and cooperation of the David C. Driskell Center for the Study of Visual Arts and Culture of African Americans and the African Diaspora.
The Exhibition runs from June 27 – August 13, 2011
Brentwood Arts Exchange at the  Gateway Arts Center is located at 3901 Rhode Island Avenue Brentwood, MD 20722. Contact them by phone at 301-277-2863/ tty. 301-446-6802 or visit them online at arts.pgparks.com
Gallery Hours are as follows:
Monday through Friday: 10am – 7pm
Saturday: 10am – 4pm
Closed Sunday