.
 |OPENING|
.
Opening Reception: Saturday, February 4, 4-7pm
Rivers and Memories features highly developed explorations into the expressive potential of color, space, and metaphor. Visually engaging, the exhibition's two and three dimensional works play on a careful balance between fluid and static motion that gives the viewer a sense of deep meanings created through time and place. Each of the works carries a sense of anticipation, excitement and nostalgia for what is, what was, and what is to come. Timed to coincide with Black History Month as well as Women's History Month, Rivers and Memories brings together these two influential artists to form an exhibition and talks that cannot be missed.
Conversations with the Artists
E.J. Montgomery – Saturday, February 25. 3:00pm
Lilian T. Burwell – Saturday, March 3. 3:00pm
Hear the artists in person and in their own words. The Brentwood Arts Exchange continues our lecture/discussion series with two prominent, powerful artists. Each shares with us her unique perspective on decades-long practices of living, working, and creating internationally-exhibited art.
About E.J Montgomery
Evangeline Juliette Montgomery, or E.J as she is more widely  known, received her BFA from California College of Arts & Crafts in Oakland. Aside from her work as a print maker, metal smith, and textile artist Ms. Montgomery has worked as an arts administrator, curator, lecturer, collector and cultural activist. Her works have appeared in a number of group exhibitions on a national and international scale and she is represented in a number of private and public collections such as Howard University Gallery, Oakland Museum in Oakland, California, The Museum of the National Center for African American Artists in Boston and the Paul Jones Collection at the University of Delaware. Ms. Montgomery has also been a recipient of several awards.
About Lilian Thomas Burwell
Lilian Thomas Burwell attended the Pratt Institute in Brooklyn, NY and the Arts Students League in New York City. She received her BA from DC Teachers College and her MFA from Catholic University. Formally trained as a painter, Ms. Burwell taught for a time at the Duke Ellington School of the Arts as the Design and Painting instructor. She also worked as the Master Art Teacher in the DC Public Schools. Aside from her work as an educator, Ms. Burwell has also worked as a curator, director and activist in the arts. Ms. Burwell's works appear in numerous collections here and abroad including the David C. Driskell Center, W. Phillips Collection in the District of Columbia, Hampton University Museum in Hampton, Virginia and El Paraiso Collection in Huelva, Spain.
Front Window Featured Artist: Susan O'Brien
In the Craft Showcase January 30 -March 24, 2012
About Susan O'Brien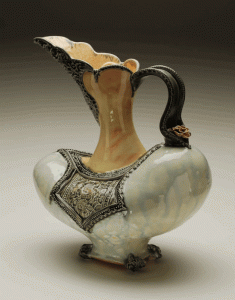 Susan O'Brien teaches as an Associate Professor of ceramics at the University of Wisconsin, Eau Claire. She did post -baccalaureate work in ceramics at the Nova Scotia College of Art & Design, Halifax, Colorado University, Boulder and subsequently received her MFA from Louisiana State University. She has recently exhibited work at Lill Street Art Center, Chicago, The Clay Studio, Philadelphia, The Northern Clay Center, Minneapolis Kholer Art Center, Kentucky Museum of Arts & Design, and The Signature Shop, Atlanta. Lectures and workshops include Suny Brockport, New York, The University of Minnesota, Minneapolis, University of Arkansas, Fayetteville, Southern Illinois State University, Carbondale, The University of Wyoming, and Ohio Wesleyan University. Her work is included in collections at the University of Arkansas Fulbright College, Berea College, and the Archie Bray Foundation and has been cited in The Art of Contemporary Pottery, The Contemporary Potter, Ceramics Art & Perception, and Ceramics Monthly, among others.
Susan O'Brien is the third artist of our Front Window Featured Artist Program. The Front Window Featured Artist Program is a new program is intended to promote exceptional local artists working in small sculpture and/or craft.
Center Hours:
Monday to Friday 10am-7pm
Saturday 10am-4pm
The Brentwood Arts Exchange is located at Gateway Arts Center, 3901 Rhode Island Avenue, Brentwood, MD 20722. For more information call 301-277-2863 or tty 301-466-6802 or visit them online at arts.pgparks.com.
.
.
.
.