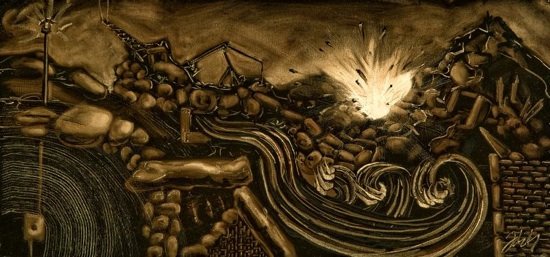 .
Opening Reception: Saturday, May 11 from 5pm to 8pm
The exhibit will run through June 29, 2013.
An artists talk will take place on Saturday, June 8 from 2pm to 4pm.
Ceramic sculptor Christina Osheim, painter Benedict Oddi, and sculptor/draftsman Allen Linder exhibit together for the first time in this exhibition curated by the Brentwood Arts Exchange. Although working in different forms and media, each artist explores the human imagination through contemporary forms that trace their roots back to early-mid 20th century surrealism.
Allen Linder, widely known as a sculptor and represented by galleries across the U.S., will show recent drawings and 2-dimensional work. Benedict Oddi, the head of the Painting Department at Tennessee Technological University, will be exhibiting his rich, monochromatic paintings of fantasy landscapes in the Metro Area for only the second time. Christina Osheim, currently a studio artist at the regional visual arts powerhouse Red Dirt Studios, will exhibit her quirky yet compelling biomorphic sculptures.
Gallery Hours are as follows:
Monday – Friday: 10am-7pm
Saturday: 10am-4pm
Sunday: Closed
Brentwood Arts Exchange in Gateway Arts Center is located at 3901 Rhode Island Avenue Brentwood, MD.
Contact the gallery at 301-277-2863 or tty. 301-446-6802, via email at pgp-brentwood-arts@pgparks.com or visit them online at arts.pgparks.com.
.
.
.
.