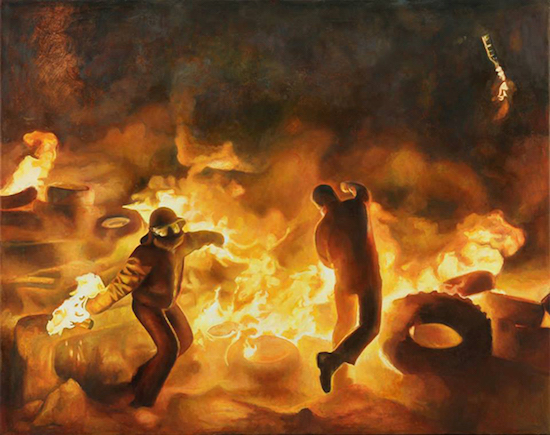 .
Opening Reception: Saturday, December 6 from 7pm to 11pm
.
On exhibit December 6 – January 14, 2015.
This December, The Fridge presents RIOT from Brooklyn-based artist David Molesky. In this new series, the painter begins to envelop people and animals into the boisterous, domineering depictions of natural elements that serve as the visual trademark of his past works.
"The world is at a dangerous tipping point. We are watching riots, wars and the depletion of natural resources. I see these events not as the source of absolute destruction, but as evidence of evolution," says Molesky.
The characters in Molesky's paintings mimic the energetic, expressive qualities of the natural elements. Fire is painted with such elaborate detail that it rivals the actors feeding into it, forcing the viewer to engage with subjects as collaborators sharing equal standing with their surroundings. The artist's obsessive attention to light results in works that appear to be lit from within.
Folding smoke plumes and crawling flames obscure the edges of swaying forms that are captured in near-acrobatic postures. Molesky's disparate, masked figures seem to be caught mid-act – an arm careens back with Molotov cocktail in hand, a fist cuts through the air, the possessor miming victory while standing alone in front of a roaring landscape. The scenes have few identifying features beyond the actors and the fires their actions mimic, placing the viewer as much in Ferguson, Missouri as Kiev, Ukraine.
Molesky's paintings explore the rise of transformation through symbolic and actual acts of destruction. In a process he describes as "painting as alchemy," the artist uses classical techniques including glazing and sanding his paintings to obscure and destroy his brushwork. The result is a leveling effect, enabling the artist to consider no part of his work as precious.
The artist's actions mirror the messages imparted in his works. With each act of destruction, a new perspective emerges.
On View at RIOT
The exhibition features 6 of the artist's newest Riot paintings, including the largest work to this date from this celebrated series. The gallery will also display a few dozen of Molesky's small scale wilderness paintings, depicting owls and an ermine.
About the Artist
David Molesky grew up in Washington, DC, moving west in 1995 to obtain his Bachelor of Arts from UC Berkeley (1999). In 2009, he returned to the US after an 18 month apprenticeship with the painter Odd Nerdrum in Iceland, Norway, and Paris. Molesky's work has been featured in numerous museum exhibitions including: the Baltimore Museum of Art (Baltimore, MD); Pasinger Fabrik (Munich, Germany); and the Cal State Fullerton Grand Central Art Center (Santa Ana, CA). Recently, the Long Beach Museum of Art acquired one of his paintings for their permanent collection. Molesky is also a writer, frequently contributing to the web and print edition of Juxtapoz Magazine.
Gallery Hours:
Thursday – Friday: 1pm–7pm
Saturday: 12pm-7pm
Sunday: 12pm–5pm
If you would like to visit the gallery during non-business hours, please contact Alex Goldstein at alex@thefridgedc.com to make an appointment.
The Fridge is located at 516 1/2 8th Street, SE, Rear alley. For more information visit www.thefridgedc.com.
.
.
.
.