| EVENTS |
.
Event will take place May 14 from Noon to 5 pm .
The Seventh Annual Gateway Open Studio Tour will feature 15 Venues.  70 Studios.  120 Artists. Get up close and personal with legions of local artists in their studios and see the work of this intensely creative community. A Free shuttle bus transportation is available along the Route 1 / Rhode Island Avenue corridor to help get you to all the venues on the tour or  drive, walk, bike your way along this self guided tour (click on map above for more more information).  Additional maps and more information available at www.gatewaycdc.org in advance of the tour or at the Gateway Arts Center on the day of the tour.
Events/Exhibits on the day of the tour:
Several sites on the tour will be holding exhibits or events which include:
• Brentwood Arts Exchange: Big Ideas an exhibition by: Sondra N. Arkin, Susan Finsen and Ellyn Weiss.
2:00pm – Artist Talk: Sondra N. Arkin, Susan Finsen, & Ellyn Weiss will talk about their art work and walk guests through their exhibition.
4:00pm – Join the Community Spirit: A dialogue with the three artists about their installation, Community Spirit, where you are invited to leave your mark.
• artDC: Reception for artDC's Patron's Exhibit
• Joe's Movement Emporium:  Mujeres a new exhibit by Alberto Garcia featuring striking portraits of women in the arts, culture and humanities.
• 39th Street Gallery:  Opening reception following the tour from 5:30-8pm.  BODY curated by Ledelle Moe.
Following the Tour is the After Party!
The Gateway Arts Center will feature an opening reception from 5:30 to 8pm for BODY curated by Ledelle Moe.
.

MOUNT RAINIER MD  20712
Alan Binstock Studio
4218 31st Street
Alan Binstock
Glass, steal and stone
.
Art Works Studio School
3711 Rhode Island Ave.
Mixed media
.
Roberto Devers, Blue Fire Studio
3700 Wells Ave.
Robert Devers,
Ceramic painting
www.musicalstudies.com/visual_arts/slide-show-devers.htm
.
Flux Studios
3708 Wells Ave.
Novie Trump, Laurel Lukaszewski,  Maggie Gourlay, Jessica Beels, Elena Patino
Ceramic Sculpture, Mixed Media, Installation
.
Fountain Framing
3311 Rhode Island Ave. (Storefront)
Group Exhibition
.
Janis Goodman
3702 Otis St.
Janis Goodman
Painting and drawing
.
Arlette Jassel Studio
3700 Wells Ave
Arlette Jassel
Painting
.

Nan Montgomery Studio
3704 Wells Ave.
Nan Montgomery
Oil painting
.
Red Dirt Studio
3706-08 Otis Street
Margaret Boozer, Barry Goldstein, Graham Boyle, Irma Alba, JJ McCracken, Sean Lundgren, Tetyana Wittkowski, Alexa Meade, Siobhan Rigg, Elle Brande, Adam Farkas, Ben Graham-Putter, Lindsay Rowinski.
Ceramics, Sculpture, Installation and Mixed Media
.

Martha Jackson Jarvas
3706 Otis Street (rear)
Martha Jackson Jarvis
Sculpture
.

Joe's Movement Emporium
3309 Bunker Hill Rd.
Community Performing Art Center
.

Emily Greene Liddle Studio
3715 37th st.
Emily Greene Little
Painting
.

Sinel, Stewart, Weiss Studio
3706 Wells Ave. (Rear)
Ellen Sinel, Betsy Stewart, Ellyn Weiss
Painting and Prints (Oil, Acrylic, Encaustic)
.

Laura Thorne and Alec Simpson Studio
3704 Otis St. (Rear)
Laura Thorne and Alec Simpson
Sculpture, painting, monotypes and mixed media
.

Washington Glass Studio
3700 Otis Street.
Michael Janis, Tim Tate, Erwin Timmers, Robert Kincheloe, David Cook, Teddie Hathaway, Sean Hennessey, Gail Kelleher, Betsy McCulskey, Nancy Donnelly, Elizabeth R Mears, Jessica Beels, Chris Shea, Nancy Kronstadt, Joanna Viudez, Matthew Duffy
Glass (Kiln cast), Sculpture, Jewelry, Mixed Media, Mosaics
.

Washington Writer's Retreat
3103 Bunker Hill Rd.
Writing and paper craft
www.washingtonwritersretreat.wordpress.com
.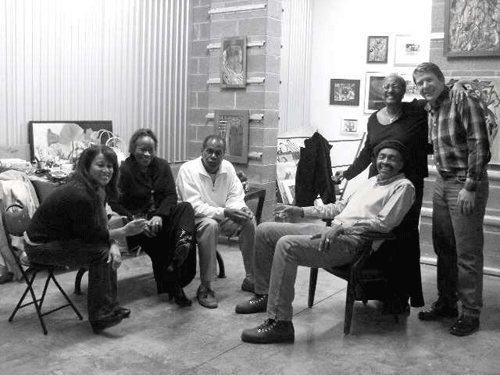 BRENTWOOD MD, 20722
Gateway Arts Center, First Floor
3901 Rhode Island Ave.
Main Gallery, The Brentwood Art Exchange,
Big Ideas Exhibit
www.pgparks.com/page19056.aspx
.

Studio 110, The Prince George's African American Museum and Cultural Center.
Footsteps to North Brentwood Exhibit
.

Studio 111, Anything Photographic, Pete and Allison Duvall, Photography
.

Gateway Arts Center Second Floor (39th Street Entrance)
3901 Rhode Island Ave.
Studio 205A Charles A. Sessoms, Digital Art and Video, www.charlessessoms.com
Studio 205B, Katie Dell Kaufman, Collage & assemblage, www.katiedellkaufman.com
Studio 205C, Tom Cardarella, Painting, www.pelicanarts.com
Studio 205D, Linda Lee Uphoff, Mixed media
Studio 205E, Charles Reiher, Acrylic painting, www.charlesreiher.com
Studio 205F, Milkweed Studio, Hand Made paper, www.milkweedpaper.com
Studio 206A, Ani Kasten, Ceramics, www.anikastenceramics.com
Studio 206B, Joe Hicks, Ceramics, www.joehicksceramics.com
Studio 207A, Laurie Breen, Acrylic painting, www.lauriebreen.com
Studio 207C, David Korte, Photography, www.dkortephoto.com
.

39th Street Gallery & Project Space
"Body" curated by Ledelle Moe
Artists: Jenny Cullinan , Ashley Lyon, May Wilson, and Lu Zhang
Gateway Artist Studios @ EZ Storage
4301-4303 Rhode Island Ave.
Storefront Studios:
Studio C, Indigo's Friends Studio, Textiles, www.indigosfriends.com
Studio D, Meade Art Gallery, Original African Art
Studio E, , Cheryl D. Edwards, Painting, www.fineartamerica.com/art/all/Cheryl+Edwards/all
Studio F, Susan Crane, Painting
POP UP Gallery, Retail Storefront Space
Hyattsville Community Artist's Alliance
Group Exhibit
EZ Storage Rear Studios
Studio 100, Melissa Glasser Bruzera, Painting, www.melissabruzera.com
Studio 101, Karen Hampton, Textiles and mixed media, www.kdhampton.com
Studio 102, Leslie Berns, Mixed media
Studio 105, Denise and Mark Wamaling, Photography and Collage
Studio 108 Annie Compton, Painting, www.anniecompton.com
.

Blake, Forgues, & Lefchick Studios
3804 38th St.
Joanna Blake, Sculpture
Marjorie Forgues, Painting and sculpture
Joshua Lefchick, Mixed media
.
HYATTSVILLE, MD 20781
artDC Gallery
5710 Baltimore Ave., Various artists
.

DC GLASSWOKS AND SCULPTURE STUIOS
5346 46th Ave. (Edmonston)
David D'Orio, Steven Jones, Megan Van Wagoner, Joe Corcoran
Mixed Media
.
A Tangled Skein (Retail)
5200 Baltimore Ave #101
Various Artists
Fiber Arts, Yarn Shop, Studio classes
.

Hyattsville Community Artist's Alliance/ Franklin's Brewery & Restaurant
5123 Baltimore Ave.
Roxanne Ando, Denise Brown, Eileen Cave, Jan Garland, Anroine Goho, Ruth Horlick, Monna Kauppinen, Jim Landry, Mike Lewandowski, Mary Ann Lipovsky, Dana McQuillan, Charles Reiher, Joe Rogers, Nancy Sims, Ronnie Spiewak, Norm Strike, Hillary Theis, Karen Van Allen
.

Zimstone Gallery
4814 Rhode Island Ave.
Sculpture and Paintings
.