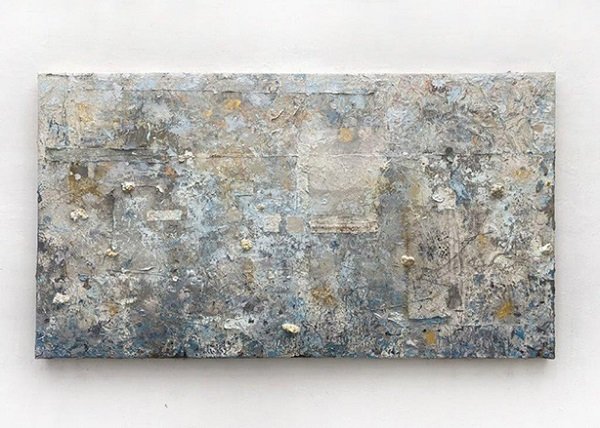 Virtual Opening: Thursday, July 22 6:30pm to 7pm
The IDB Staff Association Art Gallery presents its first ONLINE exhibit from July 22 to October 1, 2021. Visit the exhibition here: https://www.idbstaffassociationartgallery.org/tour/

What We Choose to See is an exhibition featuring 41 new works by Uruguayan artist Eduardo Cardozo.
Cardozo incorporates a variety of mediums in his paintings to achieve the textural surface and dimensional effects in each of his pieces. The artist deconstructs the canvas and transforms it into an organic medium where his shapes and colors interact with its surroundings. He begins with colored backgrounds and then establishes the line through the fracturing of the seam and then recomposes the image into an assemblage where the fabric and thread form the structures and volumes on the surface of the canvas.
Born in Montevideo, Uruguay in 1965, he graduated from the National School of Fine Arts in 1990 and later traveled to Europe to expand his artistic training. Cardozo was awarded the Paul Cezanne grant to study in France and then continued his studies in Italy where he learned engraving techniques under the renowned printmaker and founder of New York Graphic Workshop Luis Camnitzer. His work has been featured in dozens of private and public institutions in Europe and in the Americas and is in collections worldwide.
You may acquire the art by contacting the artist directly. His link is included in each of his artworks.
The IDB Staff Association Art Gallery, located in downtown DC, was established in 1964 to disseminate the various expressions of contemporary art primarily from Latin America and the Caribbean. Now in its fifty-seven year, the Gallery is the oldest in the area to have exhibited the work of more than 500 emerging and renowned artists mainly from LAC. Visit https://www.idbstaffassociationartgallery.org/