Opening Reception: Friday, July 8 from 5pm to 8pm
👀🎨🏜 by Jenny Wu
June 30 – July 31, 2022
👀🎨🏜 by Jenny Wu is a solo exhibition at the culmination of Wu's 2018-2022 Touchstone Foundation for the Arts Fellowship.
Wu transforms materials from their original forms and purpose to present them within new contexts—in this exhibition, she presents sculptural work created from liquid paint. To create this series, she pours a thick coat of latex paint one color at a time on a glass surface, letting each color dry completely, and repeating the process many times. She then cuts the dried paint to reveal the layers of cross-section, which is used to assemble sculptures on a flat surface.
"The cross-section juxtaposes order and chaos: the consistent order of paint from old to new, and the imperfection of subtle differences in thicknesses," Wu says. "Each piece follows a specific pattern, uniting the differences to present a systematic imagery. These works question our basic assumptions about what we consider paintings can be and what sculptures can be."
👀🎨🏜 also includes her ongoing project Art for the People, \'tü\, a participatory art project that addresses diversity and inequality issues. Wu gives away individually made small sculptures, and asks for a photo of where the recipient installs it. Now in its eighth year, she has given away more than a thousand pieces of original art.
"This project is rooted in my family's low socioeconomic background. My parents believed the idea that only the educated can understand art and only the wealthy can afford art, so this project challenges such ideas by making art accessible to a broader audience. It also questions the notion of monetary value as the only measure of artistic success by highlighting the experience one can have with art" says Wu.
Jenny Wu is an artist and educator. She is currently a visiting assistant professor in studio art at Trinity College in Hartford, CT. Wu was born in Nanjing, China and holds a B.A. from William Smith College in Studio Art and Architectural Studies, and an M.F.A. in Studio Art from American University. Her work has been exhibited in galleries and museums across the world, and she has been awarded numerous Artist-In-Residence and fellowship programs.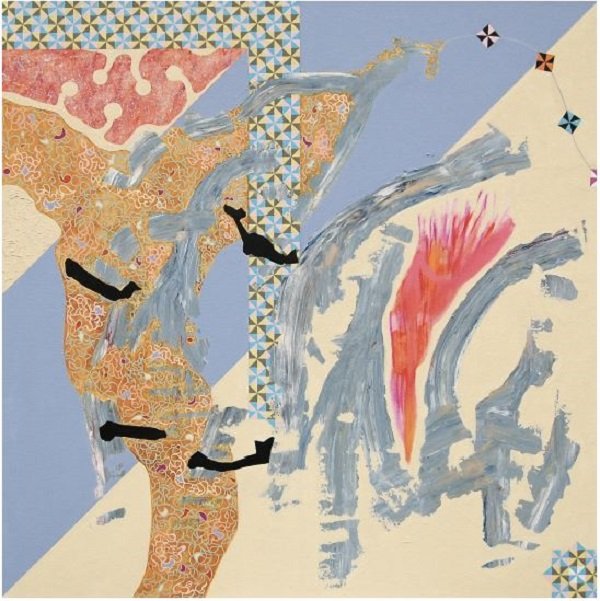 Do it Anyway by Jenny Singleton
July 6 – July 31, 2022
Do it Anyway is the first solo exhibition by painter Jenny Singleton at Touchstone Gallery. Comprised of abstract paintings reflecting her personal vocabulary of calligraphic line and unorthodox color choices, her style shows the influence of a lifelong love of historic and contemporary Mideastern and Islamic art and calligraphy.
"I see my images as contemporary, but linked to antiquity," Singleton says. "They suggest dreams and totems, and sometimes address issues important to me, but refrain from explicit storytelling."
Although her work is abstract, Singleton sometimes uses it to address environmental and societal issues important to her. Explanatory text is included next to several pieces to help viewers decode her intent and meaning.
The show's title derives from Singleton's customary self-admonishment, when facing challenges artistic or otherwise, to look past fear and self-doubt and "do it anyway."
Jenny Singleton is a Maryland-based painter with a background that includes degrees in Near East Studies from Princeton University and Arabic from Georgetown University. Always drawn to art, she began her career as a painter in 2011 and has exhibited widely across the United States. She has been a member at Touchstone Gallery since 2018, previously featured in an virtual solo exhibition, But What Does it Mean?!
Hours:
Wednesday – Sunday: 12pm – 5pm
Touchstone Gallery is located at 901 New York Avenue NW.