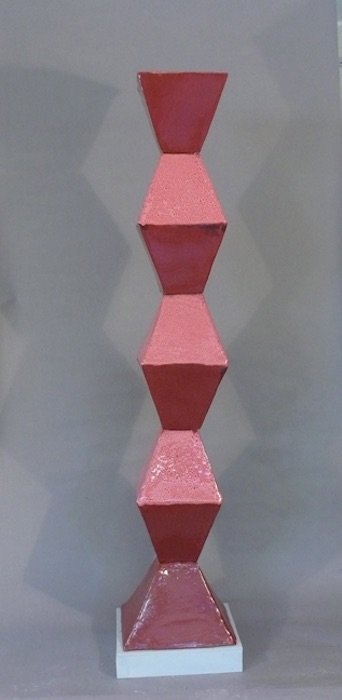 .
Opening Reception: Thursday, October 27 from 6pm to 8pm
.
Washington Sculptors Group (WSG) announces the exhibition LANDMARKS, on view at the King Street Gallery at The Morris and Gwendolyn Cafritz Foundation Arts Center, from October 24 – November 22, 2016, with an opening reception on Thursday, October 27, 2016.
What is a landmark? It may be something built by human hands, or be something that exists in nature. It often connotes the idea of place, of a direction or a turning point. It could be a totem, a flag, or a magic symbol marking a liminal threshold. It could be a mark on the ground or on a wall, or it could be a tall structure. It could be a memorial or a monument. Landmarks can also be understood in terms of time; a moment between one period and another, or historically between one people and another. It can be seen as a sign of the times, a moment of crisis or change such as a "landmark decision" or "landmark legislation." Landmarks are everywhere in our world and in our language. – Claudia Rousseau
The artists represented in this exhibit reflect the broad character of the theme.  Each approaches the subject in a distinct manner and style.  However, it is possible to group their works under a few conceptual headings.
Participating Artists: Jan Paul Acton, c.l. bigelow, Alan Binstock, Nizette Brennan, Jacqui Crocett, Alonzo Davis, Joel D'Orazio, Kate Doyle, Jeffery Cooper, Annie Farrar, Martin Feldman, Mary Annella Mimi Frank, Marilyn Geldzahler, Linda Hesh, Penny Jacoby, Craig Kraft, Ruth Lozner, Rosemary Luckett, Gordon Lyon, Joan Mayfield, Kass McGowan, Rob Muir, Iris Posner, Christopher Romer, Mike Shaffer, Diane Szczepaniak, L. S. Watson, Roy Ysla, Julie Zirlin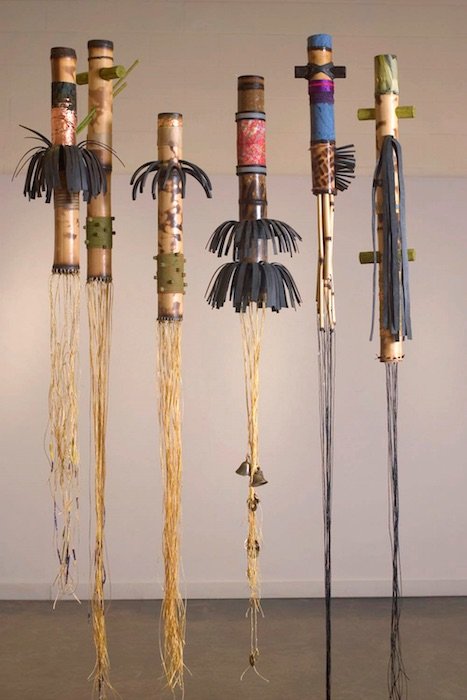 Landmarks as memorial or marker of a change of personal direction
c.l. bigelow contributes a stupa made of found objects in memory of her late mentor. A stupa is a sculptural structure that usually houses the cremated remains or possessions of important saintly figures and is judged to be the most important type of monument in Buddhism. At fourteen inches in height, betty's stupa doesn't contain her remains, but was made of "materials very special" to the artist. Ruth Lozner's piece Home at Last: A Reliquary is also a container of special memories. "The house," she explains, "contains many symbols of my Jewish ancestry and of their journey to the U.S." where they found a safe home. The glass house inside the larger house contains her late father's hair and his prayer phylacteries. The glass is broken, alluding to the 1938 Kristallnacht which was the catalyst for their departure. Jacqui Crocetta's works also fit into this category. Protect, Nurture, Release was created in response to the changing roles of motherhood, specifically at the time a child leaves the nest. The work is made of twigs collected from the grounds of her daughter's schools. Act II marks a change in the artist's perspective and direction, resulting in a flourishing of new creativity.
Landmarks as historical markers
Annie Farrar's Napoleon and Josephine is a pair made of found objects, sisal twine and black spray paint. Topping the collection made for each "figure" are little dolls representing these two individuals whose lives changed the course of the history of Europe. Mimi Frank confronts the viewer with a large key ring on which hang two forged and welded steel keys. The extended title of this work elucidates its meaning: June 22, 1917: Lucy Burns and Katherine Morey Become the First Women Arrested While Picketing the White House for Women's Suffrage. These keys are copies of the original keys from the District of Columbia Jail where they were held for trial. Linda Hesh's Marriage Diorama similarly celebrates the "landmark" legalization of same-sex marriage on June 26, 2015. The ongoing dramatic migration crisis sparked by conflicts in the Middle East in recent years is marked by Julie Zirlin's Remembering the Asylum Seekers in which ribbons of ceramic "waves" hold the faces and bodies of the drowned. And Ruth Lozner's Aftermath is described by the artist as "A Landmark for New Orleans, Post-Hurricane Katrina." In it a broken house structure becomes the symbol of the "time when life became wholly disrupted, severed, split in two, irrevocably changed."
Landmarks of science and technology
Huge turning points in science and technology have come in quick succession in the past century. Iris Posner goes back to ancient Greece with her Birth of Geometry. A structure made of wood, Styrofoam, paper and paint, the work is intended to "honor the science that made the building of our cities and the creation of modern society possible". Similarly, Mike Shaffer's twin Monuments to Microwaves and Radiation and to Spires and Towers abstractly seem to honor these technological landmarks that have become fundamental to our contemporary world. Joel D'Orazio work also seems to celebrate contemporary advances in technology, but perhaps a little more darkly. Monument I is reminiscent of the creative props used in Dr. Who; a monument to scientific creativity in our times, a bit mysterious and not all together for the good. Martin Feldman presents Darwin's Origin of Species as a landmark. In a box frame, his assemblage titled The Origin features a photo of Darwin with tubes and vials suggesting biology and the definitive change wrought by Darwin's theory of evolution. Gordon Lyon's rusted steel Marker has a scientific look, like some old instrument found in a sunken ship or, perhaps, as the artist suggested, "a signal reflector demarking the corner of a claim on some other planet."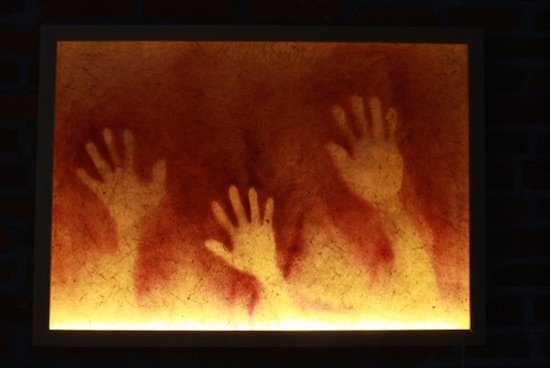 Landmarks of time and of place
Light artist Craig Kraft received a special permit to visit a 40,000 BC prehistoric cave system in southern France. Handprints were a common feature in these caves and may have had a votive purpose. Since their discovery, they have been considered landmarks of time and place. Castillo Hands was inspired by his first-hand viewing of hand prints located deep within the caves. Because they were made by the light of fat lamps or flickering torches, Kraft has lit the image indirectly with a neon light powered by a transformer and a controller to simulate this effect. In a different way, Penny Jacoby also seeks to invoke ancient pictographs carved on stone walls in various parts of the world, their meaning often remaining mysterious. Her Mythic Screen is a group of interconnected panels covered with geometric and organic cutouts that allude to those markings.
Nizette Brennan's Monteggiori is sculpted from a red Italian marble and is intended to evoke the "hilltop villages that are important landmarks in many regions of the Old World." The idea of place is expressed in this work, referring specifically to a village "overlooking an area of Tuscany famous for its marble quarries opened by Michelangelo."  Rosemary Luckett's installation Trail Markers also features a little wooden city perched on a table.  Eight wood tree poles frame it, with a poem on blaze marks on the wall behind.
Joan Mayfield's Topography: River 2 is a wood collage that was made from found wood, including old Venetian blinds and the artist's old screen door, thus a marker of her home.  On a more spiritual note, Marilyn Geldzahler's Heavenly Pearl Grotto made me think of places like Lourdes where a vision of the Virgin has marked the grotto forever after, and Kass McGowan's wooden altarpiece (Anomaly) made from found old wood shaped like a church has a strong sense of marking a place.
Landmarks as signs and totems
Lawrence Watson's small but impressive bronze has a little sign on its steel base bearing the word HERE. While for the artist, it signifies "the importance of every place it may be displayed" it's also like the signpost for one who has been looking and finds the landmark that points to the end of his search. Then Mensah Series by Alonzo Davis signifies the beginning of a 43 year friendship in a meeting with a 13 year-old boy at an arts and crafts market in Accra, Ghana in 1973. Davis writes, "this series of fetish pieces is dedicated to him and his life," which ended with his death in 2016. The poles hang from above in a circular totem form.
Christopher Romer, Jeffrey Cooper and Kate Doyle all seem concerned with the liminal aspects of landmarks.  Romer's Who's There is a "signpost of the crossing from real life into an otherworldly realm."  Cooper's Castle connotes a structure that has "seen kings and queens come and go" while it stands firm as a landmark.  And Kate Doyle's Red Nic, a large red mushroom-like shape seems to me a natural landmark the passing of which might lead you into another world.
Alan Binstock (Totem), Roy Isla (Totem IV) and Jan Acton (Red Tower) have made works with totemic forms.  Standing tall (all over 70 inches), they recall the sacred totem poles of ancient and tribal peoples around the world.  With Dancing Stone artist Rob Muir means to depict "a cairn landmark".  While cairns were typically used as sepulchral markers or as a sign to travelers, and they were made by piling stones, Muir's piece has forged steel "roots" suggesting the antiquity of the practice, going back to pre-historic times, with a single a quartz and granite stone "dancing" on top.  Finally, Diane Szczepaniak creates a personal totem in My Special Tree.  Her installation features a wooden enclosure inside of which a tree branch can be seen to glow.  Like a magic symbol, it may allude to a place where special rites might take place or kind of altar to the sacredness of nature.
As is evident, the concept of a landmark can be understood in many ways, as expressed by the artists in this show.  It has been a wonderful experience to meditate on its meaning, and to see it realized in so many interpretive works.
About the Juror: Claudia Rousseau completed her Ph.D. at Columbia University in New York, and has taught at Montgomery College since 2003. An internationally published scholar, she is also a recognized critic of contemporary art and a curator of art exhibitions in the region. In 2010, she earned membership in the prestigious International Association of Art Critics (AICA) for her writing on art including 11 years of monthly reviews as art critic for the Gazette newspapers, Dr. Rousseau currently serves as a panel member of the Public Arts Trust Steering Committee of the Arts and Humanities Council of Montgomery County, as well as the Art Review Panel for the Maryland-National Capitol Parks and Planning Commission for public art.
Gallery Hours:
Monday – Friday: 8am to 4pm
The exhibition is at King Street Gallery at the Morris and Gwendolyn Cafritz Foundation Arts Center is located at 930 King Street, Silver Spring, MD.