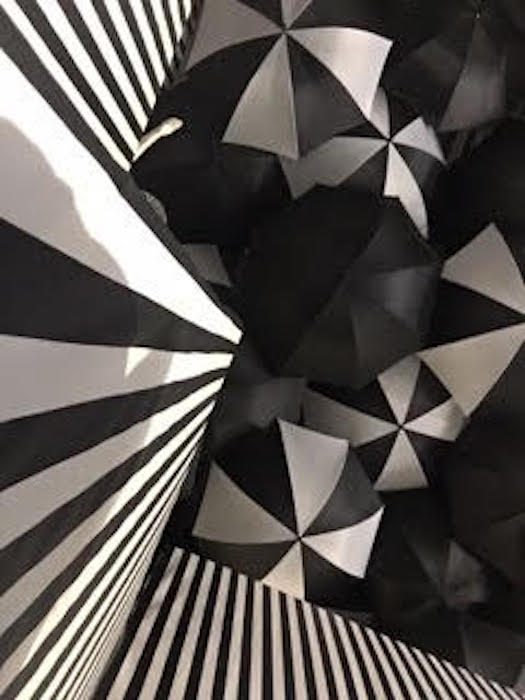 .
Open Studio: Saturdays, March 10, 17, 24, and 31 from 2pm  to 6pm
.
The Wells Ave Studio is hosting Emily's Mind Bending Optical Installation thru the month of March. Every Saturday, Emily Tellez is opening, to the public, her private studio from 2-6 pm. She has transformed her space into a funhouse of aesthetic possibilities where Black and White Meets Infinity.
This museum-quality installation includes:
90 umbrellas suspended from the ceiling
Spinning hypnotic wheels
An anamorphic triangle that pops out when viewed at a special vantage point from the studio loft.
The Four Horses of the Apocalypse
A Pope who follows you everywhere
The Throne Room of Infinity
This is a must-see for the curious and eclectic. What will you discover within parallel linear opposites?
Bring your inner child. In what other installation is the toilet the best seat in the house?
Also on display:
Paintings and photographs by Michael Smallwood
"Lowlife" sculpture and paintings by Ryan Hackett
Monoprints by Charles St. Charles
Drawings by Caroline Storer
The Wells Ave Studio is located at 3698 Wells Ave, Mt Rainier, MD.
NOTE: This is a private studio in the residential area in Mt Ranier, MD, next to RR tracks and the Washington Glass Studio.