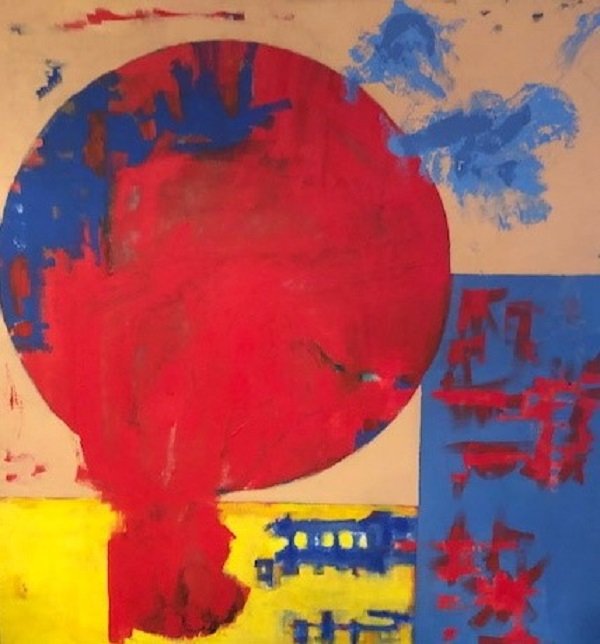 Meet the Artists Receptions: Thursday, February 13 from 5pm to 8pm and Saturday, February 15 from 2pm to 6pm
Closing Reception: Saturday, March 21 from 2pm to 6pm
Few among us have had the pleasure of seeing the color field paintings of artist Carl Alexander, most of which were created in the 1950s. Many of these handsome abstract works were painted when Carl was a student of art at Howard University working under the tutelage of Washington Color School artist Morris Louis. Carl and I shared the rare experience of being among the few students working with Louis in 1953. Importantly, six decades later, Carl's beautifully executed paintings hold their own in the company of the highly regarded color field paintings by other Washington artists done in the 1950s and 1960s. Carl, like his friend and colleague, Kenneth Young, worked quietly as artists/designers at the Smithsonian Institution here in the nation's capitol until their retirement. – David C. Driskell
The 1953 meeting of artists Morris Louis (1912-1962) and Kenneth Noland (1924-2010) set off a new movement known as the Washington Color School. They expanded on Abstract Expressionism with a heavy focus on the role of color and its application. Clement Greenberg promoted it in his landmark exhibit Post-Painterly Abstraction in 1964. The Washington Color School reached international fame.
Carl A. Alexander (b. 1930) a native Washingtonian, attended Howard University in the mid-1950's when Morris Louis was appointed an instructor there. Alexander was exposed to the early stages of the Washington Color School. Through his connection with Louis, he met and socialized with other notable Color School painters, such as: Gene Davis, Howard Mehring, Thomas Downing, Sam Gilliam, Alma Thomas, and Jim Hillary. So influenced, Alexander's paintings, especially the treatment of color, have a certain resemblance to Louis' notable Veil paintings. His friendships with Downing and Mehring are also evident by his use of the circle. After graduating Howard, Alexander worked at the Smithsonian Museum of Natural History until he retired.
Gallery Hours:
Wednesday – Saturday: 12pm – 6pm
or by appointment
Zenith Gallery is located at 1429 Iris Street NW.