Ariel J. Klein, once named a distinguished scholar in the arts by Maryland Governor Martin O'Malley, was an exhibiting artist in East City Art's inaugural EMULSION 2013.
Today, the twenty-four-year-old spends his days painting in a Washington, DC artist studio covered with brightly colored canvases incorporating figures and familiar scenes.
An artist of the millennial generation, Klein has found his iPad to be an essential tool for creation.
"This is like a sketchbook that I can take anywhere," he says. "It's given me the possibility to have a complete range of colors anywhere I go."
Throughout his day, Klein uses the device to sketch people he has seen, cafés he has visited and ideas that come to mind. Once the sketches are complete, he prints them and uses them as models for large-scale works.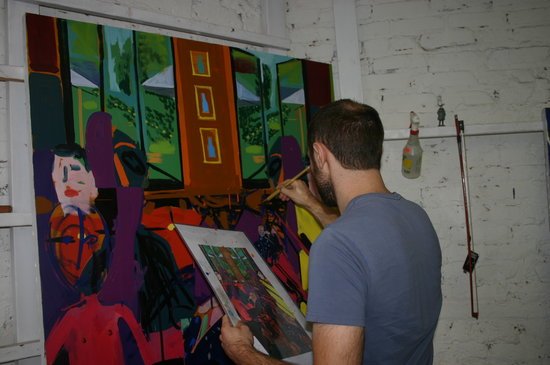 As a full-time artist, his greatest accomplishment is seeing his work come to life. Oftentimes, Klein likes to view his work in retrospect.
"Sometimes it's nice seeing pictures two years later and putting some distance between when you make it and be able to appreciate it," he says.
Looking back further, Klein remembers his first experience finger painting as a child, and being exposed to the craft through his grandmother, an artist who worked in a museum. His formal arts education began at Albert Einstein High School in Kensington, MD, where days were split between academic and art instruction.
"The teachers there were probably the most supportive I've worked with—just teaching me how to paint and encouraging me," says Klein.
After studying painting at the Maryland Institute College of Art, he had a desire to cover new territory. With friends and family in Spain, he studied abroad for a year at Universidad Complutense de Madrid, Facultad de Bellas Artes.
"It was a lot different from the US, I learned a lot about the technical side of painting," he says.
When he returned to the United States, Klein finished his BFA at MICA in 2012; he produced his Baltimore Series, where he applied the palette and style of Spanish art to contemporary scenes in Baltimore.
He continued to his career as a painter in the District, working on Spanish and Latin American stage productions for the GALA Hispanic Theatre. In the summer of 2013, he created the Purple Coconut, a pop-up gallery in South Silver Spring, MD and a venue for his first solo show.
Most recently, he was named artist in residence at Strathmore in Bethesda, MD. During his six-month residency, he shadowed "The President's Own" United States Marine Band to create a new series of paintings that evoke pride and appreciation.
Currently, Klein is seeking new opportunities, sketching and painting daily and getting his work seen throughout the DC metro area as much as possible.
Visit Ariel Klein's website at www.arieljklein.com to learn more about the artist or to contact him.
.
.
.
.