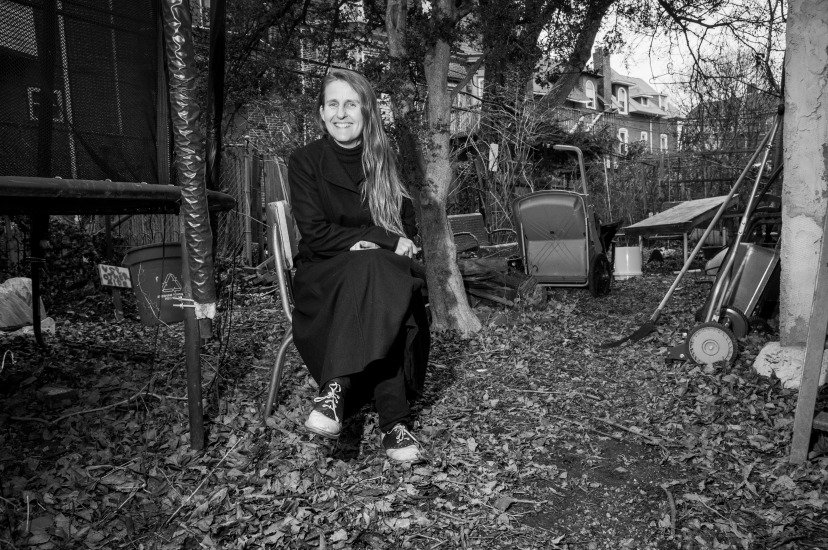 Certain women live with wild spirit in their blood and when they decide to channel it, they make art. In Cynthia Connolly's case, through the 1980s, her medium was a borrowed camera. In the '90s, her inspiration was a letter press.
Inherited from an uncle and stored in a friend's garage in L.A., Connolly drove cross-country from Arlington to recover the letter press and cases of type. On the return trip, she decided to "take photos of everything. I really dove into taking photographs and printing and thinking of myself as exploring what I was interested in through photography."
Connolly's professional success springs from her personality—she infuses artistic insights into her daily life, observing the world through an idiosyncratic lens. Moving to Northern Virginia in 1981 from California, she spent the better part of the decade capturing DC's explosive punk scene taking photos of bands like Fugazi, Black Flag and Bad Brains as they grew from local lore to international fame. In 1988, Connolly with Leslie Clague and Sharon Cheslow compiled the images they had taken along with photos by others into the self-published Banned in DC, now in its seventh printing.
Thirty years later, Connolly approaches her work with the same do-it-yourself curiosity. As Arlington County's Full-Time Special Projects Curator, she instigates public art displays like original artwork on Arlington's transit system, connecting poets and artists at the Jazz Festival on September 10, and, next spring, she will introduce a mobile art truck exhibiting a rotation of local artists. With world-famous museums and galleries just across the Potomac, she works to differentiate Arlington County. Not only is she competing with the museums on The Mall, but she notes a decidedly changed cultural tenor in the area over the past thirty years.  "Visual arts and performing arts are still here but they compete with the restaurant and drinking culture," she says.
Her current work at Making Space , on view from July 23 – August 20 at Fairfax's Olly Olly, is curated by Anne Smith. Connolly's fascination with back road detritus and rural eccentrics emerged in Making Space—a postcard rack displays seven photographs which showcase the peculiar and inexplicable painted crisscross markings scattered across US rural roads from Virginia to New Mexico (see image below).
As full-time curator and fine arts photographer, Connolly now narrows her focus on specific projects. "This year is about getting rid of stuff. I want to keep on doing photography but I'm editing myself really harshly now. I always think I'm working on nothing but then I realize I'm working on three projects and they move from the front burner to the back burner and keep moving around until something happens and it feels like the right thing to do."
How do you deal with harsh criticism? Have you ever had a surprising comment? Where?
I listen to the criticism and think about it.
Do you have any rituals?
I drink coffee every morning and ride my bike 20 miles every Friday.
Quick. First three favorite photographers that come to mind?
Sally Mann, Robert Frank and Ed Ruscha
Your greatest success and worst failure?
Success is that I make a living being an artist.  Not sure what I could say is a failure, probably because I never like to think negatively. I like to see things as opportunities, even when they might be a failure.
Have you ever regretted selling a piece and why?
Yes.  I print in a darkroom and there is some really beautiful high quality paper that does not exist anymore and I regret selling some of those prints.  They are irreplaceable.