New on the DC arts scene is Todd von Ammon's gallery, von ammon co. Located in Georgetown's Cady Design Alley, the gallery opened its first show, MENTAL, this April. MENTAL showcased the work of Tabor Robak.  Robak is an Oregon-born, New York-based artist who is known for his digital works utilizing software programs, multi-channels, and flat screens. This exhibition showcased pieces that pushed new boundaries. Some of these new pieces were more sculptural in nature, hanging from the ceiling such that visitors could walk around them, while others were works that felt more akin to digital assemblages.  Now on view is the exhibition X showcasing artist Jacob Kassay.
So, why debut this new gallery now?
Previously a director of Team Gallery in New York, von Ammon decided it was time for his next challenge.  Being from the DC area himself, and feeling like there was a gap specific to the DC art scene that he might be able to fill, von Ammon decided to make the move.  As he readily admitted about his initial attempts to engage with the DC arts scene while based in New York, "you don't get any results from half measures." The gap that he is interested to fill is related to, as he says, the "connective tissue" that is a gallery. A healthy gallery system within any city is the channel between new artists and artworks, and the works and names that have already made it into institutions. Without a healthy gallery system, a city is hard pressed to generate the spaces in which artists still too fresh and risky to show in museums can use to grow their presence and voice. Von Ammon wants to be this bridge for American and international artists who have not yet been introduced to DC arts audiences. Overall, I was impressed with the intentionality of von Ammon. It was clear that there was a lot of deep thinking on what style of gallery could help build out a new dimension of arts opportunities and offerings in DC.
The gallery will continue to shape its beginning line up of exhibitions according to artists that von Ammon knows quite well, whose works he knows almost by "muscle memory." It will keep its focus on artists that have a noticeable track record of consistent artistic growth and that have a presence on the international biennial scene.  Von Ammon shared that this space "…isn't envisioned as a white box gallery, the space is a means to an end. It is a place where artists can envision something." The goal of all this? Von Ammon is interested  in producing shows that develop conversations about an artist's works in thoughtful and considered ways. The idea is that the exhibitions will not simply be a showing of works, but they will be the outgrowth of an emerging artist being given a new space in which to play.  With his gallery, von Ammon wants to encourage artists to take the risk of pushing their practice to the next level. A valiant, though large goal.
No understanding of a new gallery would be complete without unpacking the space itself. The space is striking. Walking into the gallery one is immediately presented with an industrial chic vibe – dark floors, white walls, white beams, and a quirky skylight.  The gallery feels  as though it was carved out of a bunker,  while sidestepping any claustrophobic energy. The space is a bit overwhelming in its strict adherence to purity:  one desk sits at the entry and is more of a resting  place for selective information than a welcoming committee.  There are no descriptive labels, and there is a tangible sense of focus.  Walking into the space your eyes are pulled immediately to the works of art themselves.  And, nothing gets in your way of doing just that.  In fact, the art is all you get.  This robust sentiment of purity slowly but surely turns into engaged intrigue as you continue exploring inside.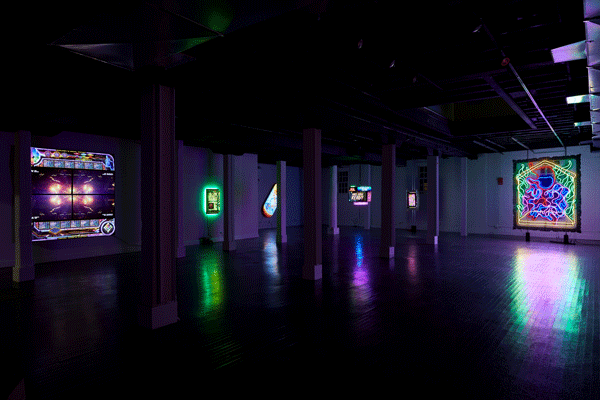 Reflecting on the opening of MENTAL, von Ammon commented on how he was particularly excited with the DC audience. He noted a depth of conversation around the artworks. "No one was just going through the motions, trying to keep up with what they are told is the hottest artist. There is no herd mentality, no proforma." I think it is an exciting moment when a gallerist properly meets  his  audience for the first time. It is this moment when the two entities inform each other, and begin to make decisions according to the other. This is when a constantly evolving and truly transformative relationship begins, a relationship that is site-specific. MENTAL proved to be a promising start. Von ammon co is certainly a space to watch, with an ambitious promise to provide DC with a new and cutting edge pipeline of artistry and contemporary expression.
The next exhibition, X, features Jacob Kassay's work and is now on view through August 31st, 2019.
---
For more information on the visit the gallery's website at https://www.vonammon.co/home
von ammon co. is located at 3330 Cady's Alley NW, Washington DC 20007