What is your process
My work usually starts with an interesting juxtaposition, a combination of materials or objects that I come across and find unexpected and exciting. From there, I'll try to build an environment in which their connection makes sense. The process is really intuitive at this point—I'm just trying out materials in different ways and seeing what happens. Gradually, a sort of narrative emerges, and it becomes clearer which things belong formally and/or conceptually, and which don't. Then I shift into editing mode, trying to be increasingly precise about the details of the piece as a whole.
What medium(s) do you employ?
At the moment, I'm primarily using textiles—which I sew, embroider, weave and knot—wood, paper, tape, metal and photography. I'll use anything that calls to me, though, so my list of media can be very long.
Who has influenced you work?
Lately I've been looking at Eva Hesse, Senga Nengudi, Betye Saar, Vivian Maier, Katharine Bradford and Chris Martin. Artists I always go back to are Nicole Eisenman, Philip Guston, Charles Sheeler, Jacob Lawrence, and Edouard Manet.
Have you shifted the direction of your work and if so, why?
My work changed direction dramatically about five years ago, when I realized I was interested in systems rather than individuals. I had been feeling increasingly limited by my practice at the time—figurative oil painting—and had begun "cheating on my paintings" by making collages and taking pictures. Eventually I realized that I needed to be making different work, work that explored the systems of my life, rather than the individuals in it. Since then, I have allowed my practice to expand, and I now routinely use a wide range of materials and techniques.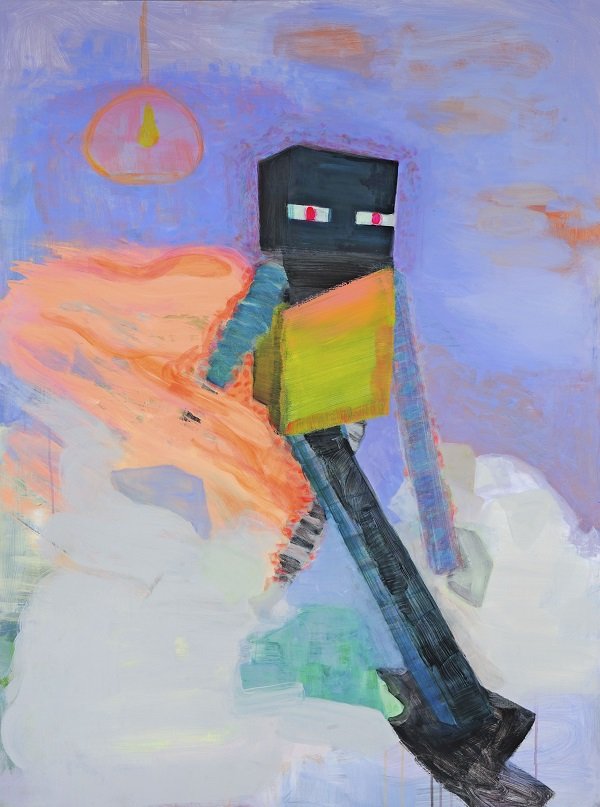 When you are not in your studio, what serves as inspiration for your work?
Books and podcasts, particularly Science-Fiction. I am a narrative addict!
Discuss your color palette—how does it inform your work?
I have been a landscape painter for a long time, so I find I come back to a traditional Western landscape palette, as a way of creating and describing light. I also love deeply unnatural color—fluorescents especially—and I'm interested in the way that color is so closely tied to cultural trends, so I like to combine these different color systems in my work. When I use a color, I'm aware of it's optical relationship to its neighbors, how it affects the composition as a whole, as well as what kind of associations it might have for the viewer—1980s couch pillow? College dorm room?
---
It was all a dream with Roxana Alger Geffen, Rives Wiley, and Dave Eassa opens at Carroll Square Gallery Fri., June 23.  For more information, click here