I have always argued that athletes and artists could learn a lot from one another.  Both professions require a lot of mundane practice and repetition- witness the professional athlete running drills or the artist drawing gestures –over and over again until they hit their mark. These exercises shape the athlete and the artist so that they can master their craft.  Both disciplines use the right side of brain according to neurologists so, scientifically speaking, linking athleticism and artistic talent is not that farfetched.
When an athlete understands the execution of a particular play, it cannot be taught.  At some point, the athlete must understand what to do and move forward.  The same goes for the artist- when drawing a still life, an artist has to understand the proportions of what s/he is seeing in order to draw it accurately.  Thus a coach or an art instructor can only facilitate- you cannot memorize hitting a home run or shading an object- the act has to be experienced and then realized by the athlete or the artist.
Using this analogy to start off our conversation, Chris Cooley understood fully well what I meant.  After all, he attended Utah State where he played football and majored in art, something that few people know about him.  Admittedly, he found it very difficult to both play a collegiate sport and dedicate time to creating work as both require- you guessed it- a lot time to practice to achieve mastery.  Something else few people know about Cooley- he originally saw himself teaching High School art after college and never imagined his college football career would take him to the pros.
Today, retired from professional sports, Cooley is a gallerist, a patron and a practicing artist. For Cooley, running a gallery has been one of the "great experiences" of his life.  The Cooley Gallery is located in the heart of historic Leesburg, Virginia, a quaint little town laid out in a grid surrounded by bucolic countryside and the rapidly approaching sprawl of the Northern Virginia exurbs.   Where King and Market streets meet, in the heart of the grid, a wooden row house with a large glass storefront houses the work of potters, painters and photographers from all over the region.  The 3,000 square foot gallery also exhibits Cooley's work, mostly functional pottery.  He has made and sold 9,000 of his best-selling cups in the past three years.
So what's in a name?  Naturally, I had to ask the indelicate question concerning the irrefutable link between his name, made famous by football, and his success as an artist. Cooley readily admits that "a name in art is everything" and that he feels lucky to have one that is so widely recognized.   However, Cooley is an artist is his own right and has worked hard to earn that distinction.  He is also generous with his name.  He has gone out of his way to share his name recognition to the benefit of other artists.
Cooley's name draws in foot traffic to his gallery, as interested onlookers (read- sports fans) hope to catch a glimpse of the owner.  Yet, as I witnessed, something changes when people walk in.  Once they step inside they are drawn to Cooley the artist and also begin to consider the other artists' work on display- just as Cooley intended.  In this way, Cooley has been instrumental in drawing in audiences and helping the career of his represented artists, most of whom are local.  Cooley points out that many have regularly received commissions by walk-in customers seeking customized work.
Cooley's love affair with pottery goes back to his childhood; he remembers with great fondness his father's potter's wheel.  So, while still playing professional football five years ago, Cooley went ahead and purchased his own potter's wheel and got started.  True to his fiercely independent nature, he taught himself to throw, practicing over and over again until he created vessels- cups, bowls and jugs.  However, unlike football practice which he dreaded, he loves the repetitious nature of making pottery.  For Cooley, the process helps him relax and "forget the world."
Ceramics made by Cooley, by friends and other objects he purchased along the way fill his kitchen cabinets and countertops.  He also possesses an extensive collection of art on the walls of his home.  For Cooley "art is not just something you just hang on the walls" but rather something which "affects you on a daily basis."  He believes that everyone should take time to buy hand-made objects and derides our society's reliance on mass produced, readily available products sold at big-box discount stores.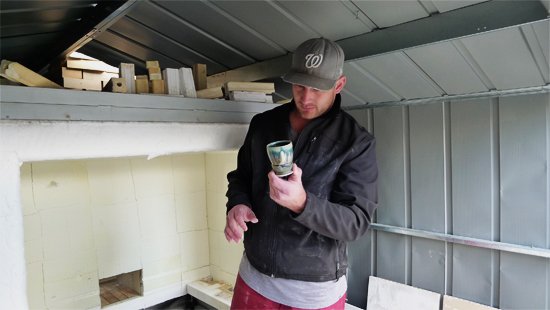 In his home studio, he works with a wide variety of kilns to achieve his desired results including an electric kiln and a gas kiln which he keeps in his driveway.  He had a wood burning kiln which shot up flames 15 feet in the air but he has since dismantled it as it drew too much attention from the local fire department and panicked neighbors!
Cooley's most recent work is strongly influenced by Matt Long.  Long is an associate professor at the University of Mississippi where he teaches ceramics.  Cooley met Long at the Archie Bray Foundation for the Ceramic Arts in Helena, Montana.  The Bray Center is a nationally renowned center for ceramics where they manufacture clay, exhibit work and host artist residencies.  When discussing Long's work, Cooley could hardly contain his enthusiasm for Long whom he invited to spend time at his Leesburg studio.
Local artist Bill Van Guilder, represented by the Cooley Gallery, has also spent time with Cooley helping him master his craft and showing him various techniques and shortcuts.  Dan Finnegan, whom we profiled on East City Art last year, imparted his vast technical knowledge of kiln reduction to Cooley so that he could improving his glazing and firing techniques.
After discussing his experiences working with Van Guilder, Long and Finnegan, Cooley circled back to my original comment about the similarities between sports and art.  While his auto-didactic method of learning served him well at the beginning, he admitted that these artists brought in that "coachable moment" helping him avoid common pitfalls either in throwing, glazing or firing.
To date, Cooley has shown and sold most of his work at his gallery and recently, he displayed and sold work at the Flying dog brewery in Frederick, MD.  That is all about to change. This year, Finnegan, who curated the first Pottery on the Hill at the Hill Center in 2012, invited Cooley to participate in the 2013 exhibition. Cooley is elated about participating in Pottery on the Hill which he calls his "first real show" and an exhibition considered highly prestigious among potters.  For Cooley, exhibiting at Hill Center is a watershed moment where he can reflect upon his accomplishments as an artist. "I am very proud of how much I have grown as an artist" says Cooley in response to this invitation.  He is also hoping his name will draw in crowds to the exhibition at Hill Center to the benefit of all 15 exhibiting artists just as it does at his Leesburg gallery to the benefit of the gallery's represented artists.
.
.
.