First Place: Erick Antonio Benitez | Baltimore, MD
In my recent work, I have created a series of abstracts paintings that explore the visual relations between chaos and structure. Originally I started out working within figurative representation, but have always been interested in the significance of painting alone as medium. I began this new series called meditations, with the intention of focusing on the alchemy and experimentation of painting as medium. Echoing the ideas of Kandinsky and Rothko's paintings, my work emphasizes the process behind building a surface as well what it could metaphorically convey. Using primarily oil with mix mediums such as charcoal, acrylic, gold leaf and collage, I have created surfaces that explore the chemistry of these mediums in contrast to creating multiple surface layers. The vibrant color and geometric shapes evoke a language that could translate from visual sound to emotional stimulation.
Beauty anchors us to our humanity; it acts as the balance between reality and fantasy. I make photographs as an inquiry into the existential questions of reality, identity, and the beliefs put in place by the individual. Our experience of the world is not static; it is a compilation of layers. As we mature, transforming over time, we become ridged, but never finite. While examining significant transitions where one passes from the known to the unknown, individuals describe the sensation floating, being disconnected from their reality.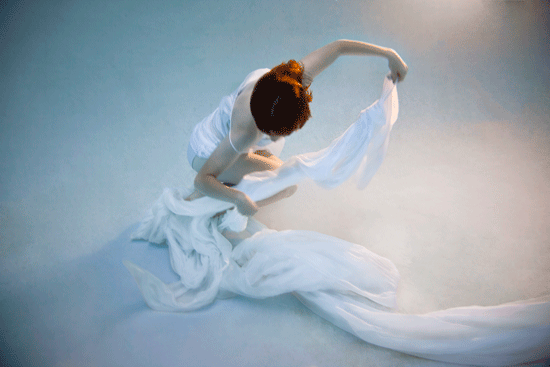 Second Place: Rahshia Sawyer | Sterling, VA
My work contrasts this daedalean journey with figurative floating silk photographs, the subject disconnected from the ground signifying their transforming reality. The photographs dwarf the viewer, recreating a singular struggle with our emotions — an experience we all share
Andrew Wodzianski | Washington, DC
I'm fascinated by personal transformation. Disguise and mask iconography have been a lifelong passion. My earliest memories of watching televised Universal Horror films on Saturday afternoons were a significant influence, and were only complemented by wearing the scariest Ben Moore Halloween costumes from Woolworths. My five-year-old mind shattered during an episode of Mister Rogers' Neighborhood; Bill Bixby and Lou Ferrigno were both interviewed while Incredible Hulk prosthetics were applied to their faces.
Monsters and Super Heroes both share themes of visual and thematic opposition. Dueling ninjas, iron men, and psychopathic vigilantes are a ripe source for exaggerated pairings. These masked warriors from comic books, toylines, and cartoon series are graphic tropes of good and evil. By disguising myself (and friends) in their likeness, I'm not only addressing personality conflict. I'm also tapping into the subversive nature of pop culture's marketplace for adolescent boys; glorifying warfare, jingoism, and kung-fu grip.
The winners were selected by Juror Adah Rose Bitterbaum.  For more information about EMULSION, go to eastcityart.com/emulsion