READ ABOUT EMULSION 2017 ARTISTS F-M HERE
READ ABOUT EMULSION 2017 ARTISTS N-Y HERE
.

John M. Adams
My artwork activates the perceptual connection between artist, object, and viewer. In this new body of work I am continuing my exploration of the art object as a catalyst for contemplation and meditation for the viewer as well as the artist.
The "Deconstructed" series consists of paintings that have been separated into strips and reconstructed in a way to create new relationships by being put into a new context. Fluid marks are juxtaposed with the regulated rhythm of sharp horizontal line breaks, which creates a fluttering vibration and tension in the paintings. I'm interested in what happens when snippets of perception are edited, reconfigured, and compartmentalized to give them new meaning through their relationship to the whole.
---
David Amoroso
As an artist, I am compelled to reflect upon my past and include it in my paintings. My early obsessions – drawing the human form, music, cultural icons, commercialism, and decorative elements –recur frequently in my work. Adopted as a baby, I have never felt a significant connection to the world that surrounded me. Through my art, I had the opportunity to create a two-dimensional world that "feels like home" and connects me to the subjects I portray in my portraits.
I taught myself to paint after a trip to Central America and Mexico. The different cultures and visual assaults of color captured my imagination and compelled me to explore them in painting. I prolifically created iconic, pop culture images to capture the emotion of my experience and began to exhibit my work in the DC Metro Area.
My first foray into narrative portraits shared the intimate stories of undocumented immigrants. Although each painting captured the unique experiences of its subject, I discovered that my own sense of isolation was the driving force behind each completed portrait. Additionally, I felt as if I were able to empower my subjects by creating iconic portraits of them, which documented their presence in the United States.
One of my ongoing themes combines art and music. Using Latino hip hop artists as subjects, I juxtaposed the macho posturing of the rappers against decorative backgrounds showed the dichotomies of each subject. Again, these portraits captured my paradigms while demonstrating my concepts of beauty and masculinity. Using bright colors, which are typically considered happy and upbeat, I offset the sometimes aggressive images I paint.
---
David Bellard
I like to think of my work as photographic tapestries, or celluloid stained glass tableaus, that reveal a dream-like complexity through careful contemplation. They are totems made from light. They are reliquaries for my reflections of the journey I take in this world.
I'm a film photographer, and often times it feels like I use an alchemical process in a digital world. I use film because it is the medium that most closely recreates the imagery of my dreams. I like to capture glimpses of the natural world with the hypnotic aesthetics of film – the murky ambience of twilight, the explosion of mid-morning richness, and the cold embrace of grey skies.
I shoot on transparency film, and once developed I search for the details within multiple images that I can combine to create a larger, more complex dialogs within a single piece. The process is an important part of the context of my work. The physical nature of the pieces – the overlapping film pieces, glue, adhesives, dust particles, and emulsion scratches – demonstrate their existence as a three-dimensional entities.
I enjoy pushing the boundaries of what film can do and how it can reflect our world. These tapestries are multiple glimpses of a complex scene, as stories built from light and shadows cannot be told in a single moment. Like cinema, my work relies on capturing multiple movements and shifts in perspective to give the illusion of motion and memory.
---
Stephen Benedicto
All I can see are mistakes, imperfections, distractions, technical elements, and components. My work is inspired by the challenge of taking unintentional mistakes and visible components and replicating them with precision, and intention. The isolation of a mistakes and elements can shift my perception of them, transforming them from a distraction into a focal point. This perceptual shift allows me to function with these mistakes and elements, as they have overshadowed the subject of work I have created in the past.
As I create each subsequent work, more elements need to be reconciled. This drives me to my perpetual state of discontent, and drives me to continue creating art. As long as there is error, I'll continue to structure technicalities into their most simple forms, distilling information into comprehensible physical objects.
---
Paige Billin-Frye
These botanical objects are from across the country and from as close as my my back yard. I find myself repeatedly coming back to dried seedpods. They are last year's version of the plant, often bearing little resemblance to the way it looked in its prime. To capture these images I slosh through water or plow through leaves with my camera and a white background card (sometimes just a cover torn from a paperback book) OR I bring the specimens inside to shoot under studio lights. Setting the natural objects against white transforms the larger environment into a very small photo studio. Getting up close produces a portrait of fading shells – not a glamour portrait, but a bug-eaten one. Isolating the natural objects from their backgrounds allows me – forces me – to look more carefully at what is there while the angle and cropping of the images can hint at something calligraphic or architectural.
I print the images on green-toned Kitikata, a Japanese gampi paper; not a photographic paper but one usually used for printmaking. Printing the photos on this paper gives me a softened image, a step away from a faithful photographic record. The paper, almost translucent, with its torn and deckled edges, holds its own as an integral part of each piece.
---
Leda Black
Leda Black makes art to highlight and mediate the distinctions and conflicts that arise from the limitations of human perception and understanding. Our minds and societies need to create differences in order to organize and structure our experiences—to create meaning—but these differences are subject to our mental and physical limitations and are open to perversion by the exigencies of power and the forces of history. She has been creating a multi-faceted series of objects and writings called the "Female Power Project" since late 2015. The piece in this exhibition is an extension of this project which relates to recent political events. The theme is the power of presence.
---
Jo Ann Block
Jo Ann Block's work grounded in social justice comments on the complexities and ambiguities of queer identity. She is interested in how inherent intersectionality makes an intelligible identity unattainable. Block explores the effects of marginality and the consequences of difference within the social context of hegemonic normativity. Her projects investigate queer history, sexuality and identity as they are inscribed within historical and contemporary culture.
---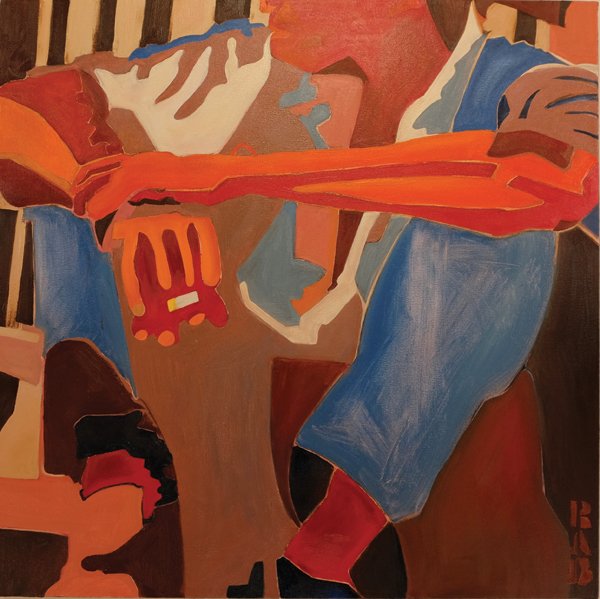 Rachael Bohlander
I want to start a conversation. Inequality continues to worsen, shoving the disenfranchised further toward the outward fringes of economic and social security. Maybe it's the server napping at the bus stop as he waits to go to a second job. Or the man sitting quietly on a park bench for hours at a time, nowhere else to go. Or a young women waiting outside of a free health clinic. All of these individuals are an integral part of our society, but are separate from it, isolated and unnoticed even as we walk past them on the streets.
As a Street Photographer, I focused on capturing images of the daily lives of those individuals most likely to be overlooked. Now, as an artist, I seek to express the moments captured in my photos through painting and collage, combining the external objectivity of documentary photography with the personal experience and subjectivity of expressionism to elicit a response from the viewer, hopefully one that prompts them to take greater notice of those who are struggling and marginalized. Hopefully to begin a conversation about what can be done to ensure no one is left behind.
---
Lori Anne Boocks
My current work explores the gray area between painting and sculpture as well as the concept of concealment. Soft fabrics like velour or velvet invite touch, but they are constricted by excessive wrapping with hemp and rough jute, implying that a painted bundle should not be opened. Playing with textural juxtapositions is not unlike keeping, or telling, a secret. We bind a secret to ourselves or to a confidante. We carry its weight. We delight in the private intimacy shared with a lover, feel relief in unburdening transgressions, or tie up some of our mysteries tighter and tighter until they never see the light of day.
Process is very important to me, and as the artist, I enjoy the variety of tactile materials used in making this work. Foam beneath fabric is molded to near bursting and provides the body of what lies hidden. Acrylic paint and sometimes charcoal play a supporting role on each surface, but their movement is hampered by the fabric's tooth and rapid absorption. Pigment is upstaged by the linear qualities of the twine or the peak of fabric. Making these pieces, even the small ones, is very physical. Repeated circling of string or rope pulled taut becomes ritual. While creating, I am thinking of Chiharu Shiota, Eva Hesse, Anselm Kiefer, and Elizabeth Murray, among others.
Even though my wrapped paintings are about restraint and mysterious things, much consideration is given to their titles. Descriptive naming offers viewers a glimpse into my intentions and invites their personal interpretations on what I've hidden. At the very least, I hope people ask themselves, "When does a painting become a sculpture?"
---
Adam Bradley
My figurative sculpture directly relates to my background in figure drawing and painting. I use the figure's physical gesture as a metaphor for a psychological or emotional state of mind. The narrative is very important to my work, drawing influence from mythology, fables, history, and personal experiences.
I teach at several universities and colleges in the area, and one of the projects I love the most is a collage project. I reference the Surrealist and Dada collages pretty heavily in the presentation and I think over the years of doing demonstration in class, the collage process has soaked into my personal art practice
The current body of work is based on themes of fear, anxiety and loss of control. The figures struggle to maintain a sense of self. They have the heads of birds and fish to symbolize their loss of humanity. They are becoming creatures of instinct more than that of logic. In their isolation, they have forgotten how to comfort one another with human contact and their arms have become vestigial appendages. The figures struggle with loss of physical ability and dementia but cling to ritual to maintain a sense of purpose.
---
Wilfred Brunner
Working with the historically most basic and available aspects of (primarily) the medium of painting is a personal means of exploration to at best resolve, and at least come to terms with, experience.
---
Naomi Christianson
Naomi Christianson is a Vedic investigator, transcriber of messages from the universe, and purveyor of The OMI Collective leggings and Art Lounge. Naomi creates art that reveals her own internal journey while creating universal truths and bliss out of the raw materials of color, emotion and physical experience.
Naomi grew up in a riverside cabin her father built in a rustic, communal environment surrounded by extended family and nature. While working in Australia as an operations executive and diligently practicing less populist limbs of yoga, she started receiving dream and waking vision-messages from an angelic presence she refers to as a Space Angel Consultant. These messages called her to action, both to make art and to change her life. She soon left her job, returned to the United States, adopted a sustainable lifestyle, started a community art space, and committed herself wholly to creating art.
Naomi's art emerges from a belief system received in these messages, in which all of the universe is conspiring on her behalf: apparent coincidences, painful life events, the availability of experiences, opportunities and supplies all make themselves available to Naomi in order that she might introduce these works to the world. With the intimacy of a journal and the scope of myth, Naomi's works combine intense colors, fractured patterns, and images to communicate to the viewer a pursuit of positivity, the criticality of intuitive knowledge, the celebratory power and strength of the feminine form and being, and a joyful acceptance of the journey life puts in front of her.
---
Marion Colomer
Marion Colomer, a French painter born in 1983, has been based in Washington, DC since 2013. She has lived in Paris, New York, and New Delhi, and has had numerous exhibitions in France and India. Colomer graduated from Paris' Ecole Nationale Superieure des Beaux-arts in 2008 with a Masters of Fine Arts in painting. She is currently working as a painting conservator at the US Capitol, restoring the Brumidi Corridor murals. Most recently Colomer was named an S&R Foundation fellow at the residency program for DC artists, housed at the Fillmore School in Georgetown.
In her artistic endeavor, Marion Colomer looks into how figurative paintings can still behold an interpretative vision of the world. Colomer's work is rooted in the question of intimacy portraiture, treated with sensuality and turned towards the "other." Questioning identity, intimacy or womanhood. Colomer's paintings reflect an interest in the hand, know-how and traditionally female crafts, in which ornamentation and beauty are rendered in layers of bitter and acerbic meaning.
Her paintings often use oxymorons, balancing, oscillating in constant tension between the presence of the absence.
---
Joseph Corcoran
My work is about things that are alive from an atomic to a macro level. I am interested in the patterns in the natural world and where those patterns go awry and become chaotic. My goal is to have the sculpture interact with the viewer and its surroundings to become part of the experience of a specific place.
---
Chris Corson
For me, sculpting the human form is exploring the human condition. Our inner emotions are always reflected in our bodies. I love working with the torso, where the essence of who we are gets imprinted on the core of the physical self–and then revealed through shape, contour and gesture.
To build figures that have this unity of form and emotion, I flow my own inner senses of body and feeling through my hands to the clay. Working deeply allows me to tap sources truer than my intellectual mind, and the resulting pieces often surprise me with more honesty and nuance than my initial feeling. The themes that emerge involve growth and liberation.
In ceramics, form must have a complementary quality of surface. Over the years, I have developed raku, electric and wood firing methods to give my pieces evocative ceramic skins. By the time one of my pieces has been built and then put through multiple firings, it has experienced its own life transformation and is able to express my own. And when other people find a part of themselves in my work, I believe I have embodied something of the human condition.
---
Jacqui Crocetta
I am intrigued by the human condition and the energy of physical, emotional and spiritual spaces. Through abstraction I respond to, explore and question the natural world and human experience.
My 3D mixed-media works are typically comprised of commonplace materials that I have manipulated (woven, painted, sewn, pierced, wired, etc.) and arranged into organic forms. Recently, I have begun incorporated monoprints into my sculptures. My abstract paintings are approached without a preconceived plan so that the paintings unfold in unexpected ways and my process is meditative.
While many of my works are purely abstract, some are theme-based. My series, "Protect. Nurture. Release." for instance, centers on the complex mother-child dynamic. I am interested in how the struggle between opposing forces and an ever-changing shift in roles, is what shapes the mother-child relationship. I am intrigued by the 'letting go' that is necessary to realize human potential, and the feelings of both loss and joy that are an integral part of transitions.
Recently, I began creating works in response to the stories of local women who have faced adversity and retained, or returned to, a sense of hope. The sculpture, paintings and prints in my series are inspired by their resilience. I am curious about the practices and sources of inspiration that help my collaborators cope in difficult times. My series is designed to shed light on the strength and wisdom of women in the community with the hope that their experiences will inspire others.
---
Michael Crossett
I grew up in a military family with life always in motion. Living abroad gave me a fascination with different cultures, economic development and time. As a mixed media artist, I see myself as an architect making new structures and compositions with elements of the past, familiar places and everyday life marked with the passage of time and the force of change. Whether on public or private view, my work protects the history of yesterday and today and questions are we ready for the change that will occur tomorrow.
In my most recent work, I continue to pursue my passion for city life which has focused on urban neighborhoods. My work celebrates culture, questions the changes that are occurring and helps to document history.
---
Ellen Delaney
I have worked as an architect in the Washington DC area for many years. It was my interest in design and graphics as an architect that lead to my attraction to painting. While focusing largely on color and texture, my paintings attempt to distill landscapes into simpler abstract forms maintaining a strong sense of place the viewer can relate to. A fascination with what one sees in the landscape at twilight and dusk has become the subject of recent paintings. My paintings focus not only on the dramatic colors of sky and land at this hour but also the manmade elements such at twinkling lights, roads, and buildings. I find the sharp contrast of the hard edge manmade with the fluid natural elements provide an interesting dialogue. Paintings are acrylic, and often punctuated with small painted collage elements.
---
Stuart Diekmeyer
To photograph is yet another, compulsory, creative outlet for me. After a decade long absence from presenting my work, I miss the dialogue.
This work is a major departure from my more traditional landscape work of years past. In this new series of extreme, close-up images, I seek to explore the surreal and otherworldly existence of otherwise ordinary plants and other subjects, all in the hopes of capturing a glimpse of something hidden deep within the subject that has never before been seen.
---
Spencer Dormitzer
Conceptualization of my work mostly comes from an instinctive, trusted place. The true endeavor is carrying out the idea. Scribbling seems so easy; a natural, even simple form of artistic gesture. To carry out an idea through a mere scribble can bring about a strange, and often difficult process, where many emotions rise and fall throughout the completion of a drawing.
I consider myself a broken storyteller, using abstract and inanimate forms to ambiguously unite with a title. This connection results to form an abstruse conversation between artist, the artwork and the audience.
ARTIST STATEMENT AFTERTHOUGHT…
The ellipsis has always stood as the most important punctuation to me. Though the textbook definition states an ellipsis as "the omission of an implied word", I have always used it as a vague continuation of a finished sentence… A trailing off, so to speak. I find myself using this punctuation often (many times incorrectly I assume), maybe because I never want to feel finished with a thought, or more likely, I don't want the person I am corresponding with, through art or letter, to be finished with my thought. When ideas linger, through word, image, or in combination, this is where good things come from…
---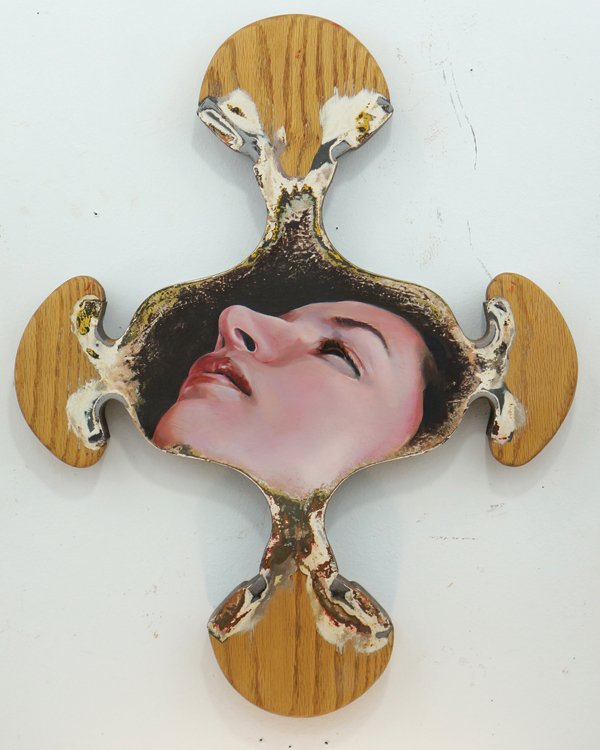 Sean Dudley
Sean Dudley is a painter raised in Tennessee and Arkansas. He graduated with honors from the Rhode Island School of Design and spent years living overseas in Italy and Japan; each place he has lived has had lasting influences on his life and paintings. The primary focus of his work is figurative realism and portraits, particularly that of the female form. He lives and works in the greater Washington DC area with his wife, two sons, and assorted mammalian pets.
---
Cheryl Edwards
My name is Cheryl Edwards. I studied art under Ernest Crichlow at the Art Student League in New York City. I have exhibited both nationally and internationally. I make art because I believe it is the adhesive, which keeps mankind together. I typically work in color because it has a deep subtle emotional effect on the viewer. My art is created to stimulate discussion and educational revelations in the area of culture, history, race and social justice. I use art as my tool of communication in relating to the world and the people that live in it. The subject matter of my work is deeply connected to my experiences and perceptions of my exposure to the world.
---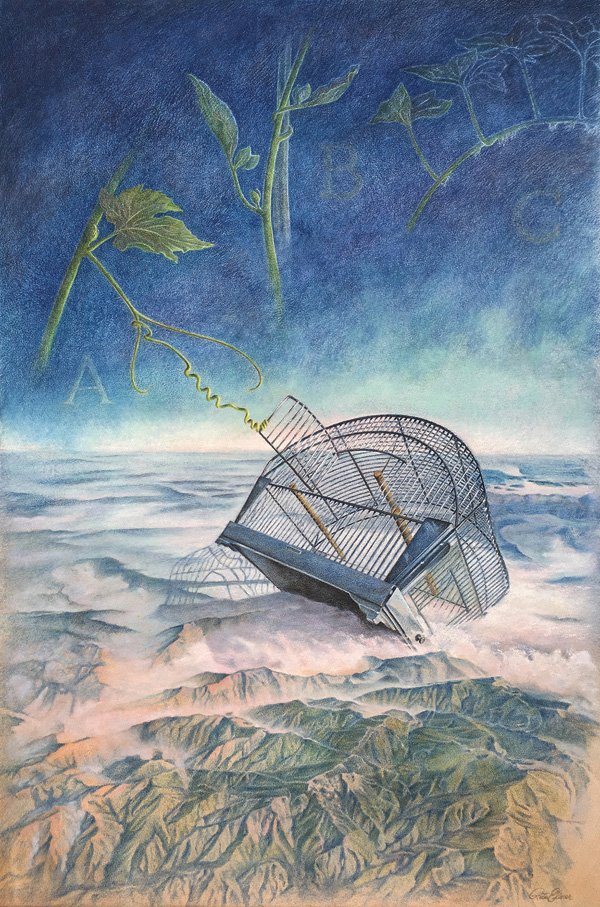 Rita Elsner
I make art to experience beauty in the most direct way that I know how – by creating it. A second, more urgent, reason that I continue to make art is to share my concern for the state of balance between earth's inhabitants and our one collective home, the living earth itself. While humanity has evolved into its role of guardian over earth's safekeeping, we have also developed an ability to see selectively, that is, to ignore the full effects of our individual actions on the welfare of all. I address this blind spot through my art by combining my "earth portraits" (drawn from photographs taken while traveling) with personal references to my life and loved ones. By doing so I hope to create images that act as bridges, that encourage viewers to reconnect their daily lives to a sense of awe and duty towards the preservation of our patient and ultimately vulnerable planetary home.