The origin story of graffiti is the genesis and evolutionary narrative of thinking mankind. Depictions of extinct animals, warring tribes and hand silhouettes have been found in caves on every inhabited continent. The earliest scratches are thought to be from 40,000 years ago. The existence of cave paintings across climates and geographic nationalities shows the primal and universal human instinct to be expressive.
During World War II, American GIs traveling across the world's oceans and far ends of the earth took it upon themselves to mark their place and space by scribbling, "Kilroy Was Here," accompanied by a small drawing. Hidden among the granite and water fountains of the National WWII Memorial is a whimsical stone etching of Kilroy.
If Kilroy had a son, his name would be Cool "Disco" Dan.
Historically, the appearance of street graffiti in New York City in the early 1970s has been associated with the conception of hip-hop. Some advance that modern street graffiti first appeared in Chicago. Many contend that the pioneer of New York City tagging was TAKI 183, a Greek youth from 183rd Street whose name gained notoriety for the volume he produced. Absorbed by what was unfolding before his eyes, the novelist and quixotic mayoral candidate Norman Mailer dedicated a 1974 essay, The Faith of Graffiti, to the phenomenon sweeping across city sidewalks and subway lines. Later that decade, renowned artist Jean-Michel Basquiat began "writing" under the name "SAMO," for Same Old. 
However, this is not New York. This is Chocolate City.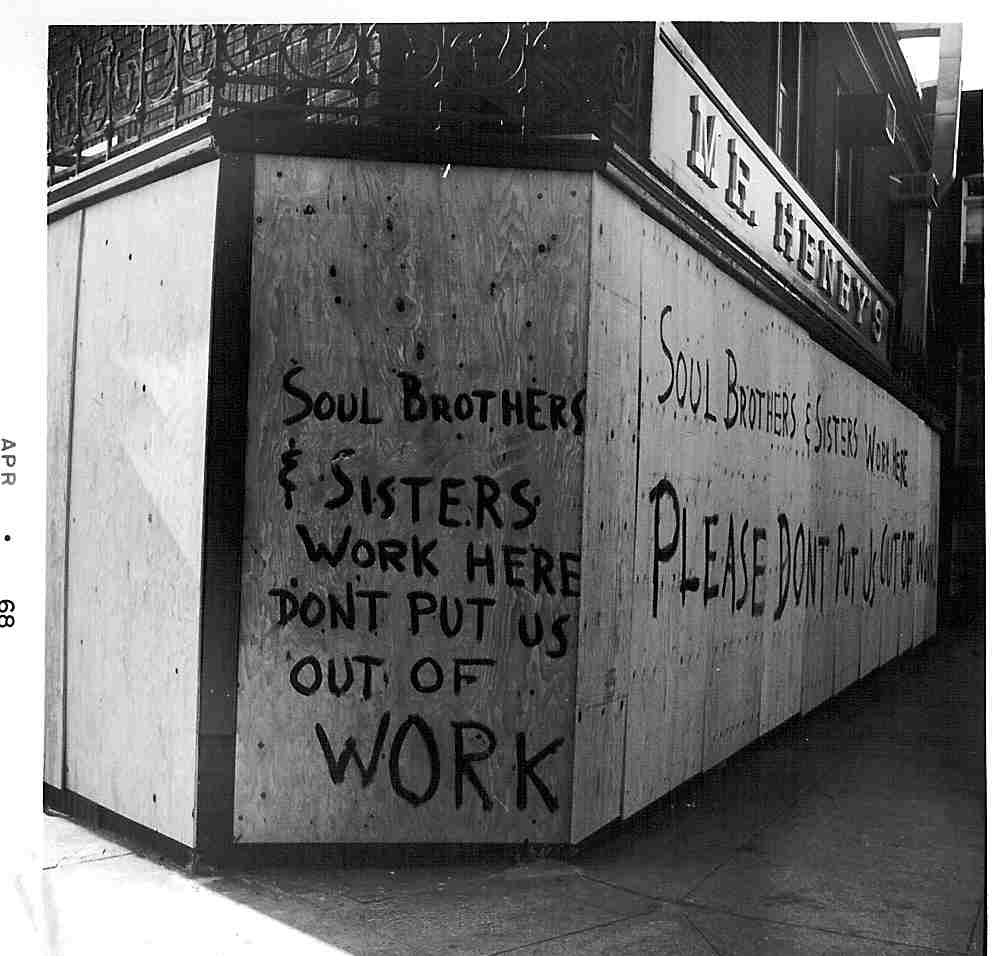 Graffiti in Washington City first appeared en masse in two words: "SOUL BROTHER." Following the news of the assassination of Dr. King, Washington, DC and dozens of other American cities, erupted in riots and civil disturbances. To prevent further looting and arson, African-American owned businesses and merchants which employed locals painted "SOUL BROTHER" on their plywood boards, in hopes a sense of solidarity would provide protection. For many it did.  
Whereas New York City's sound has been international and ethnic, DC's homegrown sound has been go-go and funk. In 1975, Parliament named its third album, Chocolate City, in homage to their popularity in Washington, DC. Out of this milieu emerged Cool "Disco" Dan. At his inception, CDD was a go-go tagger, gaining inspiration from street artists like RE Randy and others who based their tags in the go-go scene and culture of the region.
With crime, drugs, jail and violence claiming the lives and attention of many of his peers by the mid to late 1980s, Cool "Disco" Dan was one of the last go-go graffiti writers left. Around this time a new wave of graffiti artists descended on DC from the surrounding suburban communities, their music of choice being Minor Threat, not Backyard Band.
Instead of quarreling with the new writers, Dan formed an informal alliance furthering his public career across two generations of graffiti writers and "paint can pimps".  Around October of 1991, following a significant article in the independent press, the Washington Post ran a story revealing the identity of Cool "Disco" Dan as Danny Hogg, who also went by "The First Southeast Soldier."
He remained deep in the game for a number of years, earning a rewind moment when the 1996 movie Mars Attacks captured his tag on a vacant Howard Theatre in the mid 1990s. Years later, in December 2013 Dan would attend a biographical screening of The Legend of Cool "Disco" Dan in his honor at a renovated Howard Theatre. The real-time transformation of our city is surreal in retrospective.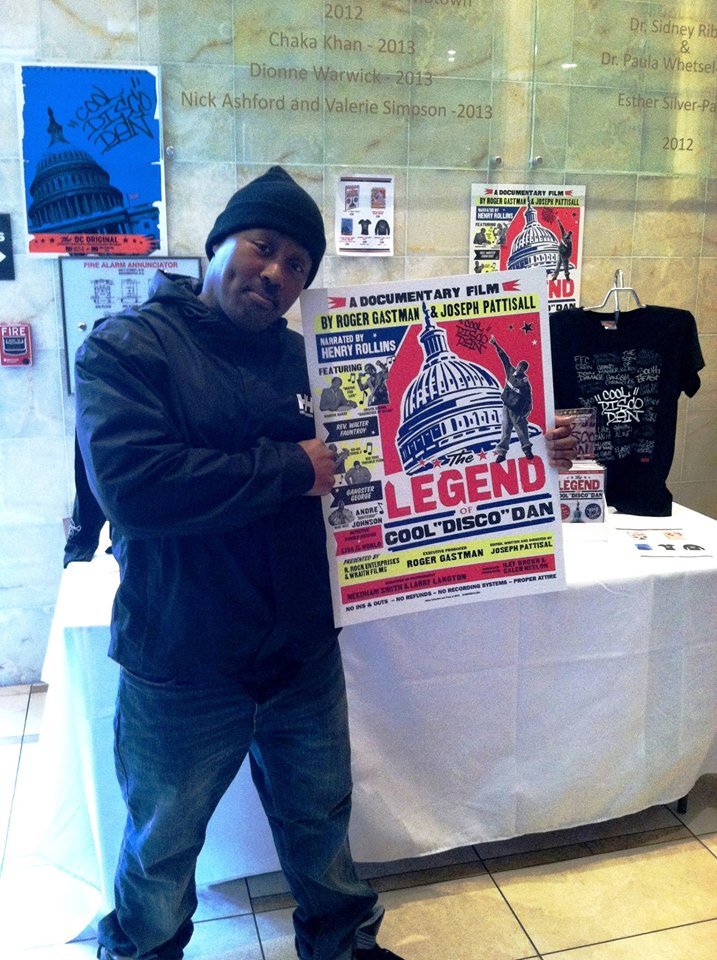 Dan's passing is a sobering reminder the old days are just that—the old days. It has been decades since our football team played at RFK Stadium and was a perennial contender. Paper bus transfers and fare cards are long gone. Rap City afternoons are faded memories. Jim Vance, George Michael, Katherine Graham, John McLaughlin, Chuck Brown, Marion Barry have passed away.  Even MLK Library downtown has closed.  And now, the once ubiquitous mark of Cool "Disco" Dan has vanished from the streetscape and city scenery it once dominated.
While we collectively mourn his memory and legacy through the lens of time, we love Dan because of the intimacy he made us feel for our city and our unique corner of the world. It is why I admired the guy who, in my adolescence, existed as a spirit, an urban mystic who "bombed" the hell out the Red Line. 
I was born in 1984, around the time Cool "Disco" Dan began appearing on walls, benches and bus stops around live go-go performances in south and east Washington. In 1998, when my friends and I commenced exploring the area and taking the Red Line downtown, Cool "Disco" Dan was on the verge of "retirement."
He was out there. Everywhere and anywhere. Down-low, adjacent to the train tracks, under and atop bridges, tin walls of warehouses, fences, electric boxes, storage unit walls, walkways, mailboxes, street signs, pay phones, vacant buildings and on the outside of Metrobuses.
He tagged and "bombed" alongside CERT, SEK, SOME, CLEAR, ULTRA, Gangster George and other notable and fabled artists, but Cool "Disco" Dan of FFC dropped the biggest game.
Some of his works included characters with stick arms and boxing gloves knocking each other out, posted up next to a sun-glassed figure with a detective hat, goatee and vampire collar. The old Uline Arena, known as the Washington Coliseum, where the Beatles played their first American concert, the concert hall became a venue for go-gos in Cool "Disco" Dan's heyday.  In what is now the largest REI store in the country after being vacant for decades, Cool "Disco" Dan once played Spider-Man here and scaled the curved roof, along with other writers, to throw up his name.
Riding the Metro during my early adolescence, Cool "Disco" Dan was larger than life to me and my friends. There was nowhere we went where Cool "Disco" Dan had  not already been first. Down in Georgetown along the water, he was there. On the back of a late night 70 bus, he was right there on the seat and the ceiling stunting for "The First Southeast Soldiers" on an Uptown bus. I remember thinking to myself "whoever the dude is, he has heart."
Experiences as an East of the River Reporter
Throughout the process of screening of The Legend of 'Cool' Disco Dan which began in 2011, I've been a local reporter and journalist covering neighborhood and municipal affairs east of the Anacostia River.
Across the bridge it's a different world. If you don't understand it, you don't need to and won't.
"The Last Frontier" and other cliches aside, southeast Washington east of the river remains largely unknown, undervalued and underrepresented in the larger narrative of the city's founding and present history. Of the many sayings and phrases which accompanied CDD tags, "South Beast," is atop my personal favorites.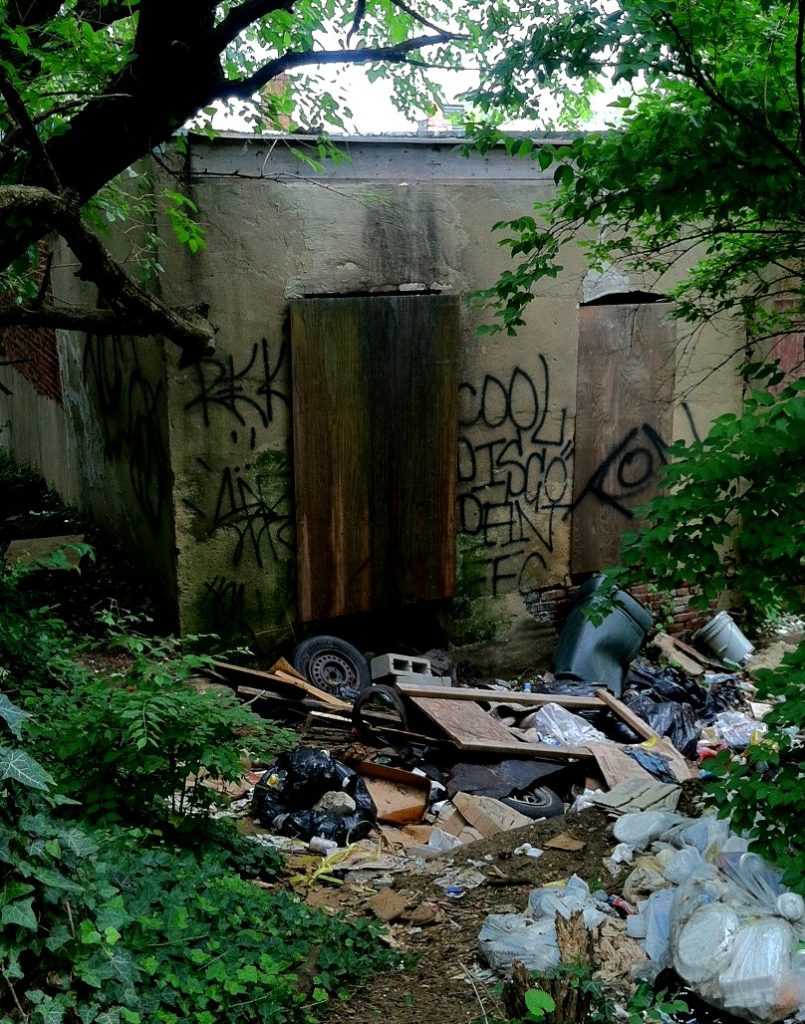 Years ago I was walking in an alley off Talbert Street SE, just outside Historic Anacostia, down to Martin Luther King, Jr. Avenue and the open field next to Bethlehem Baptist Church. Partially obscured by accumulated detritus there it was, a clean Cool "Disco" Dan with the supporting "FFC." I took a couple photos and wrote up a brief article. I subsequently learned the tag was part of the film's cinematography, making the tag less than a decade old.

When I heard of Dan's passing, I thought about the alley. In its seclusion, grit and grime, a rear alley off Martin Luther King, Jr. Avenue SE is a protective canvas of the the last remaining Cool "Disco" Dan tag in the city. Nobody is going to go back there.
Since the news of Dan's passing most of the stories have been hum-drum. Nobody has thought to venture in the back alley so last week I decided to bring a couple friends to see the tags.
Two weekends ago I showed a friend the tag around 1am in the morning, earlier the previous day he'd been at the Anacostia Community Museum to view the documentary on Dan. After leaving the last CDD tag, we came across a shooting scene on Talbert Street SE with blood still fresh on the sidewalk. Some things change and some don't. Southeast DC is still home to what many locals call "headbussas."
Cool "Disco" Dan of SE
Make no mistake, although Dan came up in District Heights, Maryland, he is and was a Southeast dude. He and his paint went wherever he damn well pleased, but his home base was the "Southside" which taggers also write as "$OUFSIDE".
Many years ago when I was a cub reporter walking the cuts and in-betweens in Ward 8, I came upon 1382 Morris Road SE and there was Dan's crew tag "F.F.C." In the 1800s, Morris Road SE was known as "New Cut Road." While the adjacent Anacostia neighborhood was historically a monolithically European bailiwick, the immediate next-door neighborhood delineated by Morris Road was monolithically African-American. These homes on Morris Road are part the old Barry Farm tract of land.
For all the chatter about the importance of the city's indigenous identity and the need for its fading history to be recognized and appreciated, no one cared about 1382 Morris Road except Cool "Disco" Dan of "South Beast."
Invisible in plain view a "F.F.C." tag rested by the front door of the vacant property. How long the home was vacant, I don't know. But in my nearly decade of reporting on Ward 8 the home remained vacant until it was razed. It was demolished about a year ago with Dan's mark still on it.
The home was built in 1895, the same year Frederick Douglass passed. After Frederick Douglass Patterson, former president of Tuskegee University and founder of the United Negro College Fund, received the Presidential Medal of Freedom in 1987, he returned to his childhood home on Morris Road passing by number 1382. Gone are the Harambe House and the Big K, too. If there are no historians east of the river, there is no history to record and document.
Cool "Disco" Dan knew what he was doing tagging 1382 Morris Road in the late 1990s or early 2000s. He hoped his writing would last forever, or at least until the home returned to the earth.
Dan's Death Triggers a Trip Down Memory Lane
Around the corner from the Anacostia Metro, a newly finished mural prominently places Cool "Disco" Dan among go-go luminaries living and deceased like Chuck Brown and Lil Benny. Replica Globe Posters from go-gos at Anacostia Park, the Panorama Room and other local venues cover the entire wall.

If the names William Alston-El, Quique Aviles, Marion Barry, Denise Rolark Barnes, Len Bias, Reginald Dwayne Betts, Kenny Carroll, Eddie Dean, Dews Tribe, Eleanor Dore, Fab Fisher, Steve Francis, Genghis, Brian Gilmore, Marita Golden, Eloise Greenfield, Petey Greene, Marcia Harrington, Hannah Hawkins, Louise Daniel Hutchinson, John Kinard, Kokamoe, Kojo, Rev. Oliver "OJ" Johnson, Terrence Johnson, Edward P. Jones, Bennie Lee Lawson, Ms. Maxine Maye, Ethelbert Miller, Brian Mitchell, R. Kenneth Mundy, Moochie Norris, Victor Page, George Pelecanos, Mitch Snyder, Universal Madness and Adrienne Washington mean anything to you then most likely Cool "Disco" Dan also means something.
In the 1990s, vacant buildings downtown were covered in Cool "Disco" Dan tags among other local writers. 7th & T NW, and many other corners that are now teeming with newcomers, were once open air drug zones. I recall with fondness when Glenmont station opened along with new stations on the Green Line. In Dan's day, Columbia Heights was in the middle of deep gang and crew territory. STC (Street Thug Criminals) and MS-13 gang members would lean on the railings when you exited the Metro. I recall after a late night returning to the station on 14th Street and seeing a victim of violence being loaded into an ambulance, already pronounced DOA at the scene. Back then, there was no Best Buy, Target or water play area for children of all different nationalities; only murals and territory.
Now at thirty-three years old, I know my immediate generation missed the wild days of the 1980s and early 1990s when the city was truly under a daily siege of murder and vice. One of my first memories as a kid growing up in a protective zone of year-round sports and after-school pickup basketball, which acclimated me to the potential for senseless ultra violence in our region, was the June 1997 triple-murder at the Georgetown Starbucks when I was nearing the end of 7th grade.
Marking time with violence is a symptom of growing up in an era of old Washington. My generation was the last to experience it at the end of its run but also its twilight of fading glory—the Waffle Shop downtown, Union Station when it was vacant, the Washington Bullets and as a kid thinking "Mary and Barry" were two people. My childhood, adolescence and formative years of my peers as Washingtonians are near and dear to us and something newcomers to the city and area may not understand. Dan is now eternal, one with the Southside Gods.  A coward dies a thousand times while The First $OUFSIDE Soldier never will.
Rest In Peace, Rest in Power, Rest in Paint, Cool "Disco" Dan.
---
On Saturday, August 19, 2017 friends, family, and fans will gather at the 9:30 Club to celebrate the life of Cool "Disco" Dan from 11 a.m. through 2 p.m. The event is free and open to the public.
---
A previous version of this article attributed the work in the last image (Cool Disco Dan Tag) to Assad Ultra Walker.  The correct attribution is to Andrew Funk and Cory L. Stowers.