Joanna Campbell Blake was a woman who defied easy categorization.  This incredible woman wore the hats of artist, historian, educator, loyal friend, devoted mother and family member. With her sudden and untimely passing on May 22, 2016 while on vacation in Italy, the DC region lost an acclaimed national artist whose works can be found across the United States.  But it was the outpouring of anguish and mutual support in the Gateway Arts District that truly demonstrated the intimate, personal connections she forged.
The 2016 Memorial Day weekend resonated with a special poignancy for the artists and neighbors who gathered together at an impromptu remembrance of Joanna's life and legacy. Beneath her work, Undaunted in Battle, friends, neighbors, fellow artists and even politicians gathered to hold hands and share memories of this artist who touched so many.  Robert Giannetti, co-owner of a Brentwood architectural plaster shop adjacent to her studio, told me about the day 15 years ago when Blake, then newly arrived in the area, walked into the shop and declared, "you guys have to give me a job!"  The Giannetti brothers were charmed by her determination and quickly won over by her expertise in sculpting tiny details.
Time and time again that innate ability to capture the minutia of the moment brought her notable attention and well-deserved accolades. Gary Wagoner, an art instructor at Auburn University where she completed her Bachelor of Fine Arts in 1999, was so taken with her aptitude that he went into business with her.  According to Blake's friend and colleague Margaret Boozer, Wagoner and Blake's Alabama-based company Archimedia was responsible for many works on the Auburn campus and more recently, a 77 foot terra cotta frieze located in Opelika, AL. Here in Brentwood, that precision caught the eye of sculptor Ray Kaskey, who brought her on board (at the Giannettis' insistence) to work with him on reliefs for the World War II memorial which opened on the National Mall in 2004.  In just over a decade since, she has designed monuments throughout the region to critical acclaim.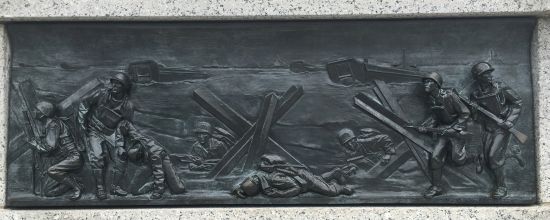 Following the memorial, Blake's friends Ani Kasten, J.J. McCracken, Margaret Boozer and Carol McDonald accompanied me to her Brentwood studio where we had a long conversation about the artist's legacy.  What I came away with from our talk was their profound sense of respect not only for Blake's innate talent, but also her tenacity in focusing on, and reveling in, the smallest details of her work.  Boozer notes that Blake, "knew the language of monuments," and it took me a few moments to understand exactly what she was saying.  Monument-making is in many ways a distinct form of sculpture, with a heavy emphasis on creating a narrative structure that will transcend modern dialogues and tell a unique story for centuries to come.  "Details are important," Boozer notes, because "these [sculptures] will be there forever…. [details have] to be right the first time."
Blake relished telling those stories, but she wasn't necessarily interested in capturing the likenesses of generals or moments of grandiosity.  Rather, the artist focused on envisioning the experience of the ordinary man:  the foot soldier, the baker, the freed slave.  But to draw us in—to make us see ourselves in these likenesses—the details matter.  The way a coat hangs upon a woman's weary shoulders or the precision of a soldier's salute communicates volumes to future generations.
I reflected upon this notion while revisiting the World War II Memorial, where the Kaskey Studio's bronze reliefs line the two walkways leading down to the central plaza and fountain.  The overall architecture of the site is stern and symbolic, with marbled columns representing states and stars standing in for soldiers.  In contrast, the bronze reliefs along the walkways lend a quiet, human dignity to the story.  Some reliefs reflect upon the more mundane moments of the war, as when a family sits by the radio, awaiting news from the front, or new recruits line up for their first boot camp inspection. Others panels capture more complicated emotions, such as the determination of infantrymen racing off ships, or soldiers pausing to mourn their fallen comrades.  In each case, the individuals are anonymous, but the details pull us in; these men could be our fathers, uncles or neighbors.  Surrounding me were young students with workbooks, searching the friezes for clues to questions posed by their texts, and I couldn't help but smile, thinking that Blake would be pleased that her hard work presented a teaching moment in these students' lives.
McCracken noted that Blake, "wanted to portray the ordinary person through the quotidian" details of those figures' lives.  To do so required both extraordinary levels of historical research and an extremely delicate touch with her palette knife; the decade before she passed demonstrated how just far she had come in mastering both these facets of artistry.  With each new commission as a solo artist she displayed an unwavering dedication to grasping both historical nuance and timeless emotions.  Her commissioned work for Alexandria, Virginia's Contrabands and Freedman Cemetery Memorial (dedicated 2014) bears out her devotion to detail.  A panel captioned Learning to read at an Alexandria freedmen's school, featuring 18 schoolchildren—books open reciting verse—seamlessly minimizes the effort that went into its creation.  To create the panel, Blake enlisted children from Joe's Movement Emporium in Mount Rainier, MD to act as live models, and even had nineteenth century clothing recreated to create a backdrop as historically accurate as possible.  With the historical stage set, Blake renders figures so life-like, they literally step out of the wall into three dimensional space.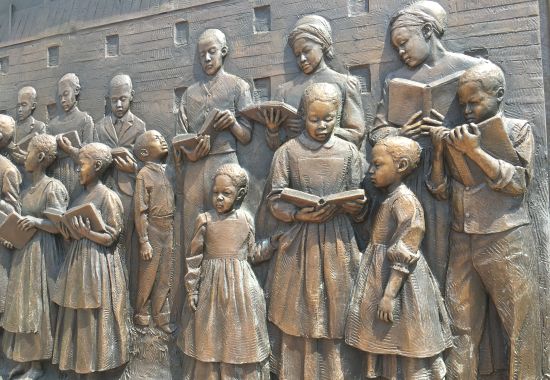 This ability to bring her figures to life—to give them texture, dimensionality and vivid emotion—will undoubtedly be her parting gift to us. One of the greatest examples of this gift is in our proverbial back yard.  Undaunted in Battle, located where Route 1 enters Bladensburg, MD, is one of her final commissions (dedicated in 2014) and commemorates the 1814 battle at Bladensburg during the War of 1812.  Formulating a vision for the monument initially proved a challenge for the artist; in a 2013 episode of the documentary web series History at Risk, Blake posits the question, "how do you commemorate a defeat?"  For Blake, the answer lies in bringing humanity to the battlefield, celebrating the tenacity and valor of the individual soldiers in a mood more somber than other memorials such as Baltimore's Battle Monument.  The relief captures a wounded Commodore Joshua Barney alongside former slave Charles Ball (now part of Barney's flotilla) and an unnamed Marine as they seemingly face an onslaught of stronger British forces.
Monumental in size but human in scale, the final product again belies the planning and preparation that went into the work. Kasten notes that Blake hired military reenactors in correct period costume to pose for the work, snapping hundreds of photos from which to cultivate just the right mannerisms she desired to capture.  From a distance, the monument dazzles with three dimensionality as the soldiers rise off the surface of the relief; note how the Commodore's saber extends fully out into space, barely making contact with the rest of the work.  Up close, the attention to detail, from marine's vest buttons to the bullet wound in the Commodore's thigh, underscores the determination on the soldiers' faces as they face off against a larger, more equipped foe.
Blake quips rather off-hand in the documentary that, "the art is in the storytelling"; I can't shake the fact that her manuscript ends too soon—too abruptly.  While a 12 foot tall sculpture of Theodore Roosevelt on horseback destined for Roosevelt High School in DC is currently in the casting process and will be completed, her studio is filled with design proposals that sadly will never be realized.  "Had she lived to be 80," notes Boozer, "she would have changed the landscape of public art."  Though we can never know what might have been, I hope her friends and family can feel her spirit when they visit these monuments.  As former Edmondson, MD mayor Adam Ortiz noted at her memorial, in her work "she will always speak for centuries to come."
---
Editor's Note:  We recently learned from Margaret Boozer that Blake's family has set up a scholarship fund at Auburn University in her honor.  The Joanna Blake Scholarship Endowment will be part of the Auburn University Foundation.  If any readers care to participate, here is the information you need to know.

Checks should be made out to the Auburn University Foundation, with Joanna Campbell Blake Scholarship Endowment in the "for" line.
Mailing address:
College of Liberal Arts Office of Development
attn: Melissa Hage
317 Biggin Hall
Auburn University
Auburn, AL 36849