Born in Detroit, raised in Los Angeles, and now living in Washington, DC, Jo Ann Block has been working professionally as an artist for about fifteen years. Her portfolio of work draws upon personal experiences and uses social, political, and cultural histories to address the complexities and ambiguities of sexual and gender identity. Her most recent work expands upon these ideas by attempting to, more specifically, give voice and credibility to butch identified women of "a certain age."
From as early as she can remember, Block would draw as a way to express and grapple with her own sexual and gender identity, sometimes drawing things that went "against the grain," defying societal expectations. "I had a crazy youth," she recalls, "and kind of frittered it away. At some point, I pulled myself together, and one of the first things I decided to do was go back to school and major in art." Block acknowledges that she did not necessarily show "promising talent" as an artist but was always attracted to people who were artists, and she enjoyed making things with her hands. She believed that art was something she had to pursue and have in her life and decided to take a chance and see where it would take her. Block likens her path to art in the same way one might go about figuring out who they are. "It's complicated. It's not clear cut," she says. "There's no arrow pointing which way to go."
Block started out as a painter but, now, works primarily in mixed media, especially collage. She believes this to be a natural medium for queer art, especially, as a way of investigating how elements of the past and present contribute to identity formation.
While Block may not have thought herself to show "promising talent" as an artist, her work has received a considerable amount of attention and recognition in Washington, DC. In the past year, Block has had two shows that are representative of the issues and concerns she seeks to investigate through her art. In the summer of 2017, Block exhibited as a Touchstone Foundation for the Arts Emerging Artist Fellow with Touchstone Gallery. Titled, Jane Doesn't Need Dick: Origin of Love, the exhibition was mostly autobiographical and informed by childhood memories, Block's quest for wholeness and her desire to "unify a fragmented self." Her goal was also to create art that put forward and investigated a lesbian identity, believing, as Paul Klee wrote, that "art does not reproduce the visible; rather, it makes visible." Block acknowledges, however, that even the act of naming one's sexual or gender identity is complex.
The title of this show references the Dick and Jane primers of the 1940s and 1950s, intended to help new readers associate words with their meaning. The textbooks' illustrations presented what some would regard as the prototype of a normal American family, white picket fence and all. Block's use of this reference as the title for her show interrogates this narrative of prescribed gender and relationship roles in multiple ways.
For example, Bedroom Fantasies is part of a series of works in the exhibit that address a young girl's identity development and desire for being and becoming. The silhouette at the top represents her desire to be a cowboy. The silhouette on the bottom left represents her desire to pee standing up, while the silhouette on the bottom right represents Davy Crockett, a person she always dreamed of being. These bedroom fantasies take place against the backdrop of an exploding atomic bomb during the Atomic Age, regarded as an age of uncertainty. The bomb serves as a metaphor for an imagined life that may, or may not, be actualized.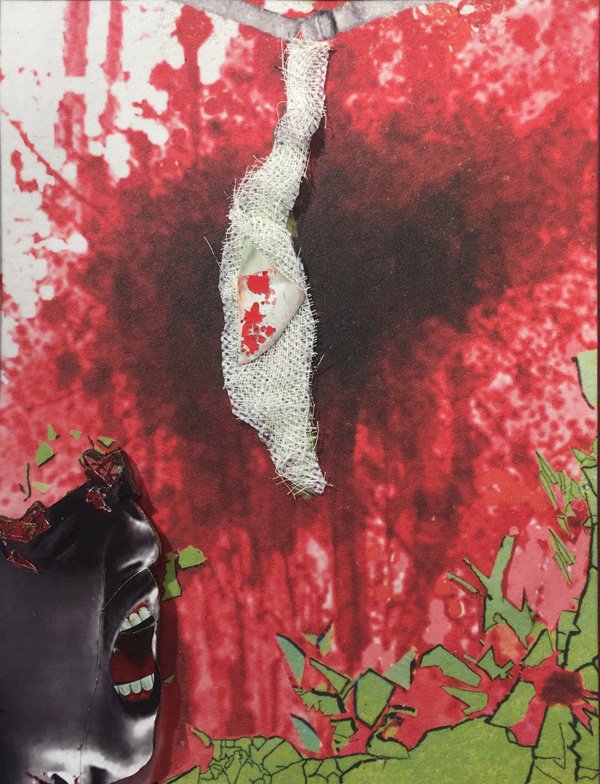 One of the most striking works in the series is The Scream. Here, a young girl has to come to terms with the fact that her bedroom fantasies will not be realized now that she has begun to menstruate. In this moment, Block explains, "she has a real coming to terms with herself in this startled moment of becoming a woman. Realizing that she can't be a boy, she is forced to learn to see the 'female' parts of herself." Block also describes this work as symbolizing the "uneasy embrace of the feminine" even while one presents as masculine or butch.
In another work, Jane Wants Dick's Dick, Block continues to explore a girl's desire to be able to use the bathroom standing up, but also examines a girl's desire to be a boy and to be able to enter this gendered bathroom, designated for boys. In addition to the ways in which this work speaks to current discussions about bathroom politics, this work, and its title, suggests other questions about sexual and gender identity that Block has contemplated. Does one need a phallus to embrace a longing and desire for aspects of male identity and expression?
After the Jane Doesn't Need Dick exhibit, Block said she started to have certain feelings about aging and about how she was being seen by society. She explains that, "throughout my life, I've contended with being marginalized as a lesbian and now I am experiencing the vacant looks and dismissals I get from younger people that, to me, signal my non-value to them as I'm aging." In an effort to "push back" against this, Block created a body of work titled, The Few…The Proud, which was exhibited in February 2018 at Vivid Solutions Gallery in Anacostia.
This work is a critique of American society, specifically questioning the diminishing value of women as they age. Creating collaged portraits using glossy airbrushed pages of fashion magazines, Block presents another way of looking at these women, raising questions about beauty and who decides what's beautiful. Adorning them with accessories associated with youth culture signals that these women are of the moment. Block intentionally made these figures larger than life in order to present them as fierce and a force to be reckoned with, even with physical signs of aging.
Block borrowed the Marines' slogan as the title of her show to celebrate and acknowledge a butch identity she believes is being subsumed and forgotten under the umbrella of current queer and trans identities. "Historically, butch women fought for this identity," Block says, "and it's significant to hold on to." Those who still identify as butch, then, are an "elite group" and represent "the few."
They are "proud," she adds, "Because it takes guts to live ones entire life outside the gendered margins as a butch woman who does not identify as femme or trans but somewhere along the spectrum in between."
In her Takoma DC studio, Block is currently hard at work preparing for a pop-up exhibit in September in New York City at the Leslie-Lohman Museum, the only museum dedicated to exhibiting and preserving artwork that speaks to the LGBTQ experience. Excited about this opportunity, Block says the pop-up will be an extension of the The Few…The Proud. Adding three new portraits, including one of her, and possibly a "home movie" of the women who are the subjects of these portraits, the exhibit will be important in continuing to give credibility and visibility to a group of women whom society might easily deem obsolete and passé.