DEADLINE TO APPLY: FEBRUARY 15 AT 11:59:59 EST
Attention artists—it is time to dust off your portfolios—EMULSION 2016 is right around the corner! Although the exhibition opens in April, the application period for this year's competition is currently underway, closing February 15, 2016. Competition will be intense for the $1,500 top prize (EMULSION 2015 had over 240 entries), and picking the first place winner will be jurist Amy Cavanaugh Royce, Executive Director of Maryland Art Place located in downtown Baltimore, MD. I recently sat down with her to discuss her arts background and approach to jurying exhibitions.
Though her name might be new to some readers, Royce has been intimately involved in the regional arts scene for a number of years. Trained as a classical cellist, Royce spent the early part of her arts career touring and cutting albums. In 2004 when the nomadic lifestyle lost its appeal, she parlayed her skills into a position with Arch Development Corporation as its Vice President and Chief Operating Officer. Among her many accomplishments at ARCH was the opening of the Honfleur Gallery in 2007, the first of its kind in historic Anacostia. While Honfleur's beginnings were humble, "we had the soft opening and still didn't have electricity," Royce reminisces, today, Honfleur has firmly established itself as one of the area's leading galleries showcasing emerging and mid-career DC-based, national and international artists.
During her time at ARCH Royce purchased a home in Baltimore and instantly became another I-295 commuter; you can imagine what her days were like. With a growing family at home, she turned her sights on Baltimore-based employment and in 2012 landed the top executive spot at the Maryland Art Place in the Bromo Tower Arts and Entertainment District. The organization, now entering its 35th year, works to showcase Maryland-based artists through a robust exhibition calendar and a variety of arts-related community programming.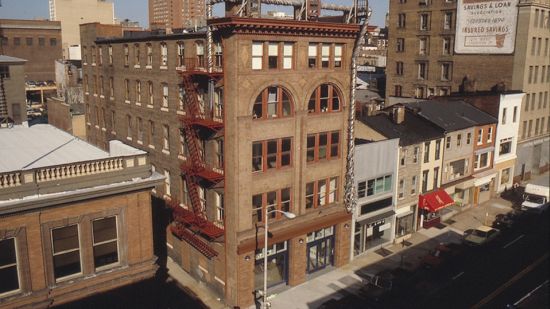 One major accomplishment at MAP thus far—and the one that took the most energy—was to move the organization back into its permanent home on Saratoga Avenue. The organization owns the entire five story building, using the first two floors for its own programming while renting out studio space to artists and creative businesses upstairs.  With 20,000 square feet devoted to art, Royce sees the building as a true incubation space; MAP's programming bears this out. Occupying the visual landscape between museum and commercial gallery, MAP's goal is to place emerging and mid-career artists in the spotlight with professionally-staged exhibitions and related programming. She notes that Baltimore has more "DIY" spaces than commercial galleries and MAP fills a crucial niche between those two models.
Royce's passion for the visual arts is palpable, and while her tasks these days may lean more towards the administrative, she relishes the opportunity to curate and jury (in fact, a juried show of Maryland artists opens at MAP later this month). Since she has been focused on the Baltimore area for the last several years, she is really looking forward to this opportunity to connect with artists in the DC area as well as Northern Virginia. Professionally, it is an excellent opportunity to, "stay on top the pulse of what people are creating," throughout the region. Royce notes that a lot of the art being produced in Baltimore these days has a very experimental quality to it, which she attributes to the city's DIY ethos of exhibiting. She is keen to find out if there are subtle differences across the region in how artists are approaching their work.
In our conversation, Royce is quick to note that jurying and curating, while complimentary, are not the same tasks. When curating, she often has time to spend one-on-one with an artist in discussions about their work. If working with multiple artists, often around a particular theme, she is often searching for a sense of balance or examining connected threads between works. For her, jurying is slightly more formulaic in that her task becomes more one of ranking each entry based upon a rubric. Cohesion between works is far less of a concern since there isn't a central theme (that is one reason why juried shows tend to display such a whirlwind of ideas). That is actually good news for prospective entrants. Portfolios are evaluated not on whether they "fit" a particular theme but on their own merit.
Because she will not have one-on-one, individual critiques with each artists, Royce shared two key considerations with me when she reviews the EMULSION 2016 entries. First, the quality of the images will be critical. EMULSION uses an online application, so Royce will be viewing images versus experiencing the works first-hand in a studio. Portfolios that contain crisp, appropriately-lit images are going to give her a better sense of the artist's work; if the images are blurry, it is likely that applicant will be out of the running. Secondly, she advises that artists spend time composing an artist statement that accurately portrays the thoughts behind their work. It does not need to be verbose or jargon-filled, but it does need to be descriptive. "Convey what you need to convey and say what you need to say," Royce notes, adding, "if I have questions [about your ideas] that I can't answer, you might pushed to the side."
In closing our interview, Royce highlighted that she's looking forward to diving into the entry pool without preconceived notions. Whether your work hangs on the wall, sits on the floor or takes the shape of performance she is keen to see your work. For her—and art lovers of all stripes—it is an opportunity to take a fresh look at the region's visual artists. For those artists, it's a chance to take home a nice cash prize. Just remember her final mantra: image quality!
---
EMULSION 2016 runs April 9 through April 16, 2016 with an opening on April 9 at Gallery O on H. The entry deadline is Monday, February 15 at 11:59pm. For more information and complete entry prospectus, visit the EMULSION website here.