Painter and muralist Rik Freeman accepted the East of the River Distinguished Artist Award at a ceremony held at Honfleur Gallery in Anacostia on July 18, 2015. Freeman is the fourth recipient of the award given annually by ARCH Development Corporation.
"I was very surprised and happy," said Freeman. "I had applied three times already so I had prepared myself not to get it; so it was a very pleasant surprise to have won!"   Freeman confessed that "this was one more thing to scratch off my bucket list!"
For Freeman, winning this award means receiving recognition from his community which is particularly meaningful since he has spent much of his career creating public artwork East of the River. "This is warm and fuzzy community recognition," explains Freeman.
Originally from Athens, Georgia, Freeman moved to the DC area in 1985 after attending Savannah State University and the University of Georgia by way of a slight detour in the US Army, where he worked as an illustrator.
Freeman's earliest recollection of drawing dates to childhood. He drew sketches on a reversible chalkboard in his Grandmother's kitchen erasing the chalk repeatedly and restarting anew. At school, Freeman admitted that he was, "One of those students who sat really quietly in the back of the classroom trying to look like he was paying attention but was drawing in his notebook—which would get me in trouble!" He reproduced popular comic book characters and created his own, telling stories with ink on paper.
His infatuation with visual storytelling led him to pursue a degree in fine art. However, in the mid-1970s and early 1980s, abstract art trended heavily rendering Freeman's narrative style out of favor.
In 1988, after a six-year hiatus from making art, a series of events including a break-up, a job-loss and the death of his father, led the artist to reassess his life. To alleviate his grief, the artist plunged back into his work and began a period of deep introspection out of which his artistic career would eventually flourish.
In the spring of 1989, DC Artworks accepted Freeman's application to run a program which worked with children to create a community mural over the course of a ten week period. Encouraged by the program's remuneration, Freeman decided to make a living almost exclusively as an artist. During the 1990s Freeman worked as a stage scenery painter for a number of theaters including Gallaudet's and Studio Theater. He also continued to work on a number of publicly funded murals.
Most recently, East of the River, Freeman painted the following murals: Knowledge at the Dorothy I. Height/Benning Library in 2011 and two murals inside H.D. Woodson High School, Learn from your Past and Honor Yourselves in 2011 and 2012 respectively.
Freeman rooted himself East of the River in 2003 when he and his wife bought their current home in Deanwood. Unassuming from the street, the fenced property hides an urban oasis, where, over the past twelve years, Freeman and his wife built two ponds, created a series of gardens and lovingly restored an old industrial building which frames the back of their property. The vine-covered, brick building which freeman uses as his studio provides ample work space to produce and store his large-sized oil paintings.
This bucolic setting provides an inspirational backdrop for Freeman's to paint his narrative-based work. Freeman contends that while his style has grown over time, it has not strayed far from its original form and aesthetic.
Freeman holds a profound and personal fascination with the African Diaspora in the Americas which has heavily influenced his work. In the 1990s, Freeman began a series depicting the blues, a genre he considers more his father's and grandmother's music but for which he has always had the greatest respect. His childhood contact with the blues, in places like his grandmother's backyard in Georgia, would later stoke his imagination in adulthood. He began to weave imagery out of the lyrics he heard, visually depicting the stories sung by blues musicians and, in some instances, even improvising visually just as musicians did instrumentally.
Figures depicting stories of struggle and hardship, resilience and perseverance fill Freeman's canvases. To this end, Freeman has created caricatures using the memory of people he knew in his childhood. For example, two of his father's hunting buddies, whom Freeman said quarreled perpetually, live on through his work. These characters, among others, reappear throughout his blues series, playing the same role only in different settings.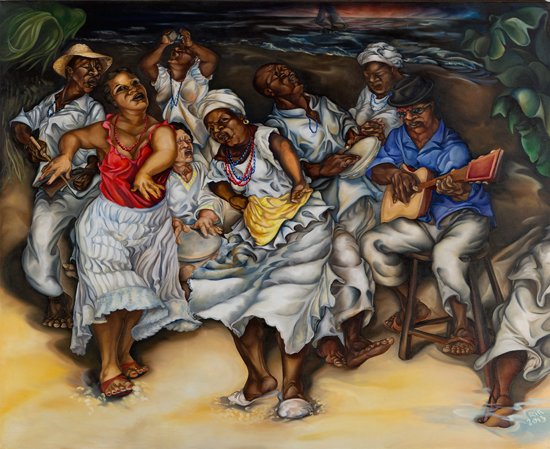 During a recent residency in Brazil, Freeman had a series of powerful experiences that inspired him to create a new body of work. One such experience occurred quite haphazardly while listening to an Afro-Brazilian musician sing a song from the 1920s. At that moment, Freeman made a greater connection to the African-Diaspora in the Americas—while the song may have been sung in Portuguese Freeman says "it sounded exactly like the blues and out of the African tradition of call and response." His time in northern Brazil led Freeman to launch his Bahia series. This new series of works, similar to the blues series, connects Brazil's past to the present through visual storytelling.
As an artist who paints from the point of view of his subject matter, the Bahia Series poses a different set of challenges for Freeman since his depictions of Afro-Brazilian culture come from observation rather than personal experience. Undaunted, Freeman has expressed an interest in conducting further research into Afro-Brazilian culture to fully develop the Bahia series and ensure it expresses the same sense of authenticity as his blues series.
For more information about Rik Freeman, visit his website at www.rikfreeman.com