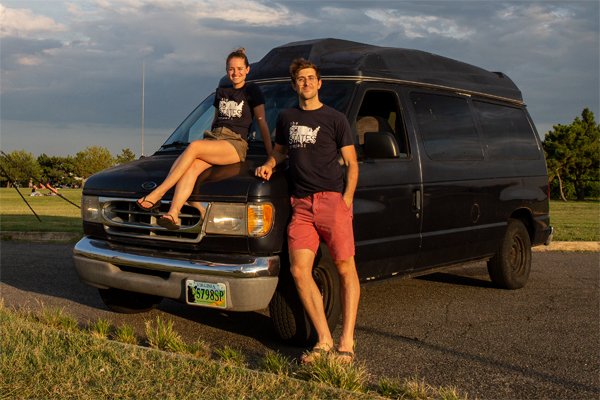 Aldous Huxley famously said "To travel is to discover that everyone is wrong about other countries."  Arguably, the same can be said about traveling through the United States— to travel through this vast and diverse nation is to discover that everyone is wrong about other states!
Artists Kate Fleming and Tom Woodruff are heirs to the North American propensity for continental wanderlust. Their 50 States Project follows a long-standing tradition of wanting to roam from coast-to-coast, through forests and deserts, cities and towns, in search of America.
Fleming, a painter, and Woodruff, a photographer, capture American life as it exists in the moment, exploring our commonalities and differences.  In cataloging their experiences, the artist duo has created a empirical visual record of the United States during a critical moment in history, capturing the moments prior to the 2020 elections and the global COVID-19 pandemic.
Capitol Hill Arts Workshop
After finishing a residency at Capitol Hill Arts Workshop in 2018, Fleming revisited an idea that had come to her and Woodruff a few years prior when traveling through Australia.  They realized how little they had seen of their own country.
Fleming approached CHAW's Executive Director Amy Moore about their idea of traveling across the US as artists and creating work. With great enthusiasm and encouragement, Moore jumped at the idea of collaborating with Fleming and Woodruff on their cross-country adventures.  One of the ways in which the artistic duo and CHAW have collaborated was through by teaching. While on the road, they taught 8-10 year old students at CHAW an arts-based curriculum inspired by their travels.  Another way CHAW has helped support the project is through fiscal agency.
A Tricked out van with Solar Panels
Thanks to a 2000 Ford Econoline van, the artists bought on Craigslist, the duo was able to realize their dream of cross-country travel.  With the help of Fleming's father and some friends, including an electrical engineer and a friend with a knack for working on cars, the group turned the vehicle into at a camper van that would have made host and rapper Xhibit from MTV's Pimp my Ride proud!  The van features a queen-sized bed that also folds into a couch. In addition, Fleming's father and his carpenter friends mounted three solar panels atop the van to power light fixtures, a small fridge, and a charging station for cellphones and Woodruff's photography equipment.  The only thing missing is a bathroom!
The Great American Road Trip
In the early twenty first century, the United States has a vast network of mostly toll-free Interstates and ubiquitous ATMs, gas stations, hotels and strip malls offering the traveler myriad creature comforts and conveniences along the way.  Wi-Fi and cellular broadband keep today's wanderers constantly connected and well-directed through GPS.  Many of these conveniences, particularly ease-of-access to the Internet and GPS, did not exist even five or ten years ago.
But over the last ten years, the nation has changed in other ways.  American society is more divided then ever along political lines. Despite the growing rift between Americans, the artists have come to appreciate our differences and believe that we have actually have a lot more in common than we think.
From the end of 2019 to early 2020, Fleming and Woodruff visited 17 states in the southern half the country. They crisscrossed the large and populous states of Florida, Texas and California. They also managed to squeeze-in a flight to Hawaii and back. During their time on the road, the duo created hundreds of works, a sampling of which can be found on their website and online exhibition.
How the Contemporaneous Becomes Nostalgia
So why repeat that which has been done before? Simply put, all renews in the moment and becomes important with the passage of time.  The reason Georgia O'Keefe, Robert Frank or Ed Ruscha's similar work has relevance today is that, in addition to being great art, the subject matter in their photographs benefit from the luxury of hindsight.  Ed Ruscha's Twentysix Gasoline Stations, a photographic series he took in 1962 during his trips between his native Oklahoma and adopted Los Angeles, have become American icons.  When first taken, the black and white images of service stations probably seemed banal.
So Fleming and Woodruff are in good company when it comes to their project.  Just as their predecessors' zeroed–in on a moment in American history, the duo has captured and created some remarkable images of contemporary America which can be seen in an online exhibition.   
The Pandemic Disrupts the Project
After four-and-a-half months on the road and as the COVID-19 pandemic hit the United States in the spring of 2020, the duo decided to quarantine at a farm house in Sperryville, Virginia before returning to their family.
Fleming recalls that "The project was interrupted and it gave us a lot of time to think about things and reflect on our experiences. There were lots of takeaways, but one in particular that stands out to me is how personal the project has become. We set out to learn more about the country as a whole—and we've learned lots of things about lots of places; this is a big and complex nation. But our project and our work itself has become documentation of not only this moment in time as a country, but also this moment in time for Tom and me as people. We're reflecting back something bigger, and also something smaller and I think that's a shared experience right now."
Woodruff added that "At the farm I was emotionally decompressing. I was thinking about the whole project through the lens of fear.  I was thinking about how our country was on the brink of this very specific moment of change with the election coming up.  We didn't know about Corona but it was about to happen.  There was this apprehension that I felt from the things we experienced and the stuff I felt.  It was this calm before the storm and a kind of waiting."
The Next 33 States in a Post-pandemic World
As of this writing, half of all adults in the United States have received at least one shot of the COVID-19 vaccine. As restrictions ease on gatherings and travel, the duo plans to fly to Alaska and take the solar-paneled Econoline van to New England, the Great Lakes and all the way to Cascadia.  After completing the second leg of their trip, the artists will exhibit their work in-person at CHAW later this year or by early 2022.
---
For more information about the 50 States Project visit:
https://www.the50statesproject.com/
To view the online gallery go to:
https://www.the50statesproject.com/wherewevebeen
To support "The 50 States Project", visit:
https://www.the50statesproject.com/donate