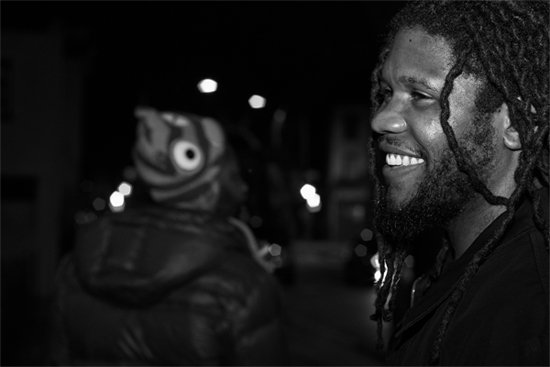 Commuters traveling along North Capitol Street are now greeted by a brand new "Welcome to Eckington" sign. However, when Tia Thompson moved to the neighborhood from her hometown of Fort Pierce, Florida in 2013, this was not the case. Between 2013-2014, Thompson serendipitously began to photographing her new neighborhood and, as she began connecting with her neighbors, Thompson quickly saw a larger story unfolding before her very eyes—one of a rapidly gentrifying neighborhood and a fear of displacement by long-term residents.
Unlike many of her peers who came of age during the advent of digital photography, Thompson incorporates the use of film in her work. Thompson explains that, "for me, I've been shooting film for six years or so. A couple years ago I was hitting a wall creatively and I wanted to challenge myself. I did not want to get bogged down by being in front of my computer. " Thompson shoots with  a Hasselblad, which is a medium-format film camera. She came to appreciate the deliberate nature of film photography which, in addition to patience, she believes "requires you to think about how you shoot as a photographer."
Progressing in her new medium, Thompson began taking pictures in her adopted neighborhood. A resident named Tank stopped her and asked if she could take his picture. He then grabbed his friend and Thompson took both of their pictures. "Many of the people in the neighborhood asked me to take a picture of them. So I got to know them, they got to know me" explains Thompson. In this predominantly working-class African American neighborhood several generations of native Washingtonians live side-by-side only steps away from the place where they grew up. However, as new development encroaches on the neighborhood and new residents move in, long-time residents perceive their own presence as a threat. While the fate of the long-term residents in the face of skyrocketing real-estate prices is uncertain, Thompson's series has captured the life and culture as several generations in Eckington have experienced it.