By Craig Kraft
Editing: Claudia Rousseau, Ph. D. Art History and  Jayne Wise, former editor for National Geographic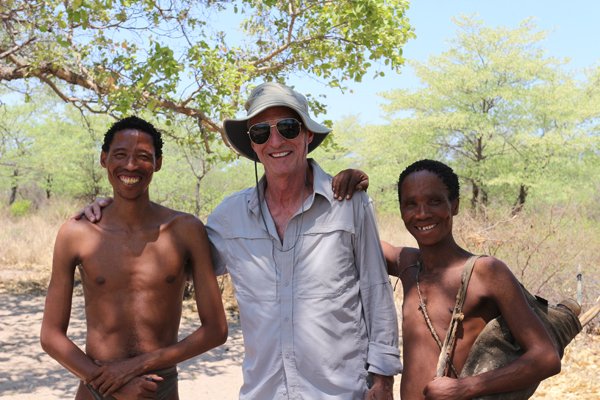 As an artist I have long been fascinated by the universal human urge to connect through mark making, particularly the ancient pictographs our ancestors created in caves around the world. Eager to learn more, in the summer of 2015 I traveled to Spain and France to view the ancient markings and etchings in 11 cave sites, including the Lascaux Cave, a UNESCO World Heritage Site. I continued the following year with a hard trip to Sulawesi, Indonesia, where I saw marks dating to nearly 40,000 BC, currently considered one of the oldest marks in the world. Most recently, I traveled in October 2017 to Namibia, Africa, to explore the culture of the indigenous San tribes and examine their rock art.
To date I have visited 26 important rock art sites on three continents, which I found to be the only way to truly understand them. The markings gain their sense from the environment from which they came. They are not flat but sculptural emerging out of hollows, fissures, bulges and overall contours of the cave wall.
The San are, by most accounts, the oldest surviving indigenous group in the world—making them perhaps the people we all originated from. Descendants of our Early Stone Age ancestors, these hunter-gatherers have roamed Southern Africa for 60,000 years or more, and have created most of southern Africa's rock art. According to the acclaimed archaeologist David Lewis- Williams the San are the key to understanding the true origins of ancient rock art.
Namibia's uniqueness turns out to be threefold: the enduring presence of the San, arguably the oldest indigenous people in the world; the rock art they created; and the wild animals that inspired it. The ancient San markings were meant to signal the presence of nearby game and water to other hunter-gatherer tribes as well as to connect the San people to the spiritual world. The San still practice their ancient traditions—from hunting and gathering to trance dancing—and, I would find, were eager to share their unique history. Unfortunately, most San tribes have lost their ancestral lands by government and private takeover and are considered poachers on their own land.
Africat Foundation and Okonjima Plains Camp: Day 1
Landing in Namibia's capital, Windhoek, after a 33-hour flight from DC, Libby Harris, my travel companion and I were escorted to the Galton House by our tour company, Ultimate Safaris. Here we unwound from our flights, ate well, and prepared for our adventure. The next day we packed our luggage into a Toyota Land Cruiser manned by our very knowledgeable guide, Jimmy Gariseb, and headed for the Okonjima Plains Camp, home of the Africat Foundation. The real travel challenges out in Namibia's back country are the dirt roads: They are deeply corrugated, resulting in an extremely rough ride that transferred directly through our loosely bolted truck and into our bodies. But the rewards are real too: We would lose count of the many leopards, cheetahs, wild dogs, and hyenas we spotted, some rescued, tagged, and let loose in the Africat Foundations' 200-square-kilometer (77-square-mile) private nature reserve. My heart beat fast when a leopard walked within 10 feet of our open-seat safari vehicle. Later we glimpsed a male and female leopard mating in the bush. Primal shrieking, howling, and thrashing—an eerie but realistic introduction to the wilds of Namibia.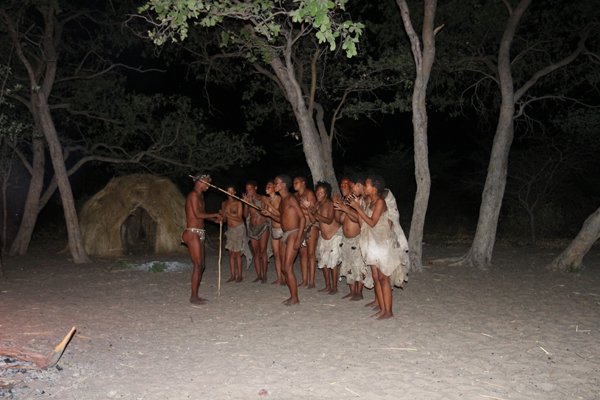 The San, their customs and rituals: Day 2-3
We headed to Fiume Bush camp, in the Otyozondjupa Region of Grootfontein, situated in the grasslands of the Kalahari Desert. The long entrance road was composed entirely of sand, which made the road passable only in the lowest gears. The lodging was modest but the experience profound. We watched San Bushmen make fire, craft tools and bows and arrows, practice tracking and trapping techniques, and, most importantly, perform the almost forgotten trance dance. Included in that was a local shaman.
According to acclaimed archaeologist David Lewis-Williams, the fundamental code to San rock art lies in the shaman's trance dance, and a large portion of San drawings were done by shamans inspired by that dancing. When the shaman painted a spirit animal, such as an eland, he did not just pay homage to the animal; he also harnessed its essence, called N!um. By putting paint to rock, the shaman opened portals to the spiritual world.
Happily, trance dancing is still performed, and often features a shaman surrounded by other shamans and a community of women. The rhythmic dancing, chanting, and clapping around a night camp fire creates a special, almost primal atmosphere. As our shaman approached a deep trance, he snatched a burning coal from the fire and tossed it back and forth between his hands—an action that soon seemed to bring him back to our earthly reality. We had just been privy to a ritualistic practice from long ago, a long way from home. Later, when I visited the rock-art sites of Twyfelfontein (a World Heritage Site), Small and Large Bushman's Paradise, White Lady, Golden Snake, and Paula's Cave, I realized that I was experiencing the "why" behind the rock art-making.
On our final morning at Fiume Camp I shared a delicious communal breakfast with an international group of adventurous travelers as the camp's owner, Joern Gressmann, extolled the virtues of the San culture and made a strong, heartfelt case for its preservation. His passion was exhilarating and contagious.
Etosha National Park: Day 4
At 8,600 square miles, Etosha is considered Namibia's greatest wildlife sanctuary. The park centers around the Etosha Pan, a large endorheic salt pan 75 miles long and half as wide that was formed by tectonic plate shifts that changed the flow of the Cunene River. It has the look of a desolate lunar landscape.
We arrived at Mushara Bush Camp, on the park's outskirts, after what became a half-day wildlife drive. There is but one main road and people are not allowed out of their vehicles, so animals here are accustomed to visitors. We saw large herds of elands, elephants, zebras, springboks, oryx, kudus, wildebeest, and giraffes. At times we spotted all of these species drinking from the same waterhole. We also saw hyenas, ostriches–and lions poised on a lookout for potential prey. A particular highlight was our sighting of rare white and rare black rhinos.
But perhaps my most memorable moment came when a 12-foot-tall, 13,000-pound elephant casually passed right in front of me. It was astonishing; for the first time I felt the power and the glory of Africa's wildlife, and began to understand the Sans' worship of the animals around them. The experience would inspire me to create a light-based artwork that imagines the spirit of the African Elephant, its mix of grace and power, its igniting of our senses as it reminds us of our place on the chain of life, teaching us humility. Yet to understand the San depictions of elephants I had to experience the power of that animal up close and in its natural habitat.
We spent the following morning driving through the park, many times blocked by herds of zebras, springboks, and elephants. The wildlife, complemented by the exotic African flora, lulled me into a kind of stupor; dormant feelings and sensations arose from deep within me, reminding me of our mutual past on this planet. At the same time I felt separate, a human outsider looking in on a vast animal kingdom.
Etosha Pan: Day 5-6
After winding our way through the park we arrived at the Etosha Pan, a 1,850-square-mile salt pan that looks like void of life but to me hummed with energy. For us, the white and greenish surface quickly became a vast playground for running and jumping, an otherworldly expanse that sparked my imagination. I soon found myself contemplating the transitional area between tangible and intangible, material and ephemeral.
Our next stop was the Okaukuejo watering hole, where hundreds of animals had gathered to drink and bathe. There may be no better place in Namibia to see a range of species at the same time. Especially captivating was a large family of 20 or more elephants playing in the water, splashing and spraying alongside their calves.
From Okaukuejo we headed to our lodge for the night, Safarihoek, a spacious, elegant safari camp nestled on a hill overlooking Etosha. That evening the local guide encouraged us to drive down to the lodge's photography blind to watch wildlife congregate at the area water hole. As we approached the blind we startled a large herd of hump-backed eland antelopes, "God's special animal," according to the San, and the most potent animal spirit of all. The herd thundered past our vehicle in a fury of movement—an awe-inspiring sight captured by our headlights.
Damaraland: Day 7
Our next base camp would be Doro Nawas, an outpost of thatched wood-and-stone cabins in Damaraland, a region 200 miles west of Etosha that abuts the arid Skeleton Coast and is characterized by majestic tabletop mountains and bizarre vegetation, including quiver and baobab trees. En route from Etosha we visited a remote Himba village, which we reached by deploying the full power of our 4-wheel-drive vehicle to climb over huge boulders. Living in such a harsh desert far from other civilizations, the indigenous Himba have retained much of their traditional lifestyle, from daily smoke baths fueled by smoldering leaves and branches of Commiphora trees to body decorations using red ochre paste. For us it proved an immersion into an ancient culture utterly removed from our own—which would be good preparation for Doro Nawas. The compound, locally owned and staffed by residents of surrounding villages, perches on a rugged, rocky hill on the edge of the Aba Haub River. The open sky above would blink alive at night with a profusion of stars and constellations, a visual symphony.
That night we were treated to a barbecue staged a mile's walk from our cabin. Under a canopy of twinkling stars, our group of 20-some guests was seated at a long table illuminated by torches, where we were served delicious African food, from grilled springbok and eland to seafood.This was followed by a moving performance by local singers. I was surprised at how much I felt at home in this desert deep in Namibia.
Twyfelfontein, a UNESCO World Heritage Site: Day 7
To escape the blistering desert heat and the throngs of visitors, the next morning we were up before dawn, bouncing our way down wilderness roads to Twyfelfontein, a 6,000-year-old World Heritage rock art site. It was with great anticipation that we began our exploration of the rugged terrain, climbing, crawling, and balancing on huge boulders to get the best and most up-close views. Importantly, Jimmy, our guide, stayed close at hand to ensure our safety. Making our way along a rocky pathway, we arrived at the ancient engravings just as the first rays of sunlight touched them. The rays crawled over the boulders, spotlighting the engravings. This was by far the most expansive set of engravings I'd seen—nearly 2,500 in all. They are considered the third key to deciphering the code behind rock-art drawings.
The most interesting works were the spirit etchings, which are part animal, part human. Especially compelling was the Dancing Kudu, an engraving that depicts a pregnant kudu antelope. This is surrounded by entropic or inner-eye images. The etching is ancient but had the feeling of a message from the future, or maybe from some form of outside intelligence. Also grabbing my attention: the Lion Man, an image that combines lion-paw features with human hands, most likely a shamanistic vision merging animal with human.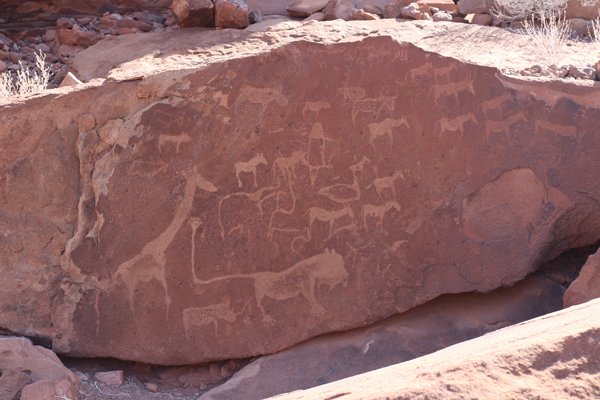 This made me wonder about my own creative process, which involves imagining something from the far recesses of my mind, even out of my mind. Many times it feels that out of chaos comes clarity. The art-making process requires a leap into terra incognita—not unlike the shamans having a vision and portraying that truth.
In the next hours we saw a mix of animals, along with markers—such as the etched circle within a circle—meant to alert future hunter-gathers to what animals were in the area and where to find water. By now the heat, combined with the ancient imagery, had made me lightheaded, and we still had a treacherous climb back to our vehicle. Still, I managed to snap hundreds of photographs, my assurance that I would never forget the wonders I had just seen.
White Lady Painting: Day 8
Our second day at Doro Nawas we visited the famous White Lady painting, a masterpiece in the Tsisab Ravine, which cuts into the Brandenburg Mountain range, home to Namibia's highest peaks. The work was named by archaeologist and ethnographer Henri Breuil, who made a connection to paintings he had seen in Greece. The title is curious: the work depicts male figures with erect penises. Located on a panel on a small rock overhang, the site required a 1 ½-hour hike that became much steeper as we ascended. Adding to the experience was our guide, who scouted ahead for a lone elephant bull that apparently had been expelled from its herd and could have been dangerous. Happily, our paths never crossed.
The White Lady drawings and paintings are spread across a huge shelter wall. Having seen photos of the artworks in my research, I was excited to examine them in person. They were beyond my wildest expectations. Dating back at least 2,000 years—and possibly up to 5,000 years—some of the images were singular and some in clusters. White shaman figures stood out, rendered in a kind of Egyptian style and holding what looked like champagne glasses. The glasses held the shaman's sweat, and blood that was thought to have magical, spiritual powers. The figures held antelope fly whisks, knee and arm straps, and dancing rattles—indications that they are pictured during a ritual. These paintings are most likely done by the hoise Sans tribe as well as other Sans tribes. They still showed great detail and color despite millennia of exposure to the elements. The usual cast of wild Namibian animals were portrayed with paints fashioned with red ochre, manganese, iron oxides, charcoal, and a white made from ostrich-egg whites, plant material, and nearby minerals. Figures were rendered with precision and sharp edges. The inclusion of both thin and full figures suggested that more than one tribe made the images. Some images, called therianthropes and inspired by trances, were part animal and part human, including an antelope with a human leg. These were trance inspired images induced by chanting, dancing and clapping mixed with dehydration and exhaustion. The artists were trying to connect to the spiritual world of their ancestors and beyond.
Bushman's Paradise, small Bushman's Paradise and Golden Snake Cave: Day 9
We stayed at the Spitzkoppen Lodge, where bouldered mountains meet the desert. The lodge is on the northern periphery of the Spitzkoope inselberg ("island mountain"), between huge granite boulders formed more than 150,000 years ago. Breathtaking views of the Brandberg and Erongo mountains revealed sunrise colors that blended subtle shades of oranges, violets, and ambers, conveying a sense of tranquility and harmony.
At Spitzkoppen the temperatures dropped a frightening 40 degrees between midday and midnight. I would sleep fully clothed and with three blankets pulled over my head—and still shivered all night.
We rose the following morning at dawn to arrive at the entrance to Bushman's Paradise, site of more rock art, before the government guides and their groups of visitors. This would prove to be the most difficult climb of my trip, a trek along a 60% incline on a smooth and textured surface. Luckily there was a chain rail to aid my ascent, but with my arthritis I was pushed to the limit. About halfway up I found myself wondering why I was risking my life for a view of San rock art. I considered turning back, but, having come so far, I pushed ahead and gave it my best. It was a decision I would not regret.
The first cave, Bushman's Paradise revealed depictions of myriad animals, including a strikingly sculptural bent-horn antelope. Our guide discovered pigments of red and yellow ochre near the paintings, and gave me samples to use in my art making. At Small Bushman's Paradise cave my eyes focused on a richly colored rhinoceros drawn with red iron oxides, and thinly drawn animals with human heads. Also here was a set of figures pairing human heads with animal legs—more trance-induced drawings. Our last stop was Golden Snake Cave. Upon making our way through a narrow opening, we were rewarded with the sight of a large drawing showing a startled shaman confronted by a long, segmented white snake.
Erongo Mountains and Paula's Cave: Day 10
We departed Spitzkoppen Lodge–a place, like so many in Namibia, where I could have stayed for weeks–for the Erongo Wilderness Conservancy and Lodge, a complex of luxurious tented accommodations that nestles in granite formations near an ancient volcano. The Erongo Mountains form a rare confluence of ecosystems that fosters a remarkable biodiversity of species endemic to Namibia. Late in the afternoon we took a guided safari through rugged terrain to Paula's Cave, which perches high above the valley below. The climb up was moderately steep over dirt pathways and large boulders. The final stretch involved traversing a 20-foot face of a massive boulder without the help of handrails, ropes, or chains. Stepping carefully, we arrived at the cave's wide-mouthed entrance. Inside, drawings and paintings featured a row of tall thin men holding hands, a large group of athletic-looking humans in dancing poses, along with antelopes rendered in red iron oxide.
Our trip back to the lodge delivered expansive views of a flaring sunset over the Erongo Mountains, with silhouettes of angled trees and bushes below. We were treated to the most brilliant orange sun I've ever seen, surrounded by wisps of light blue and white mixed with swirls of yellow and amber clouds. It was a transformed view of the natural world like I had never seen before; it will never be forgotten.
Closing thoughts- contemporary expressions of ancient art making
My final morning we returned to Windhoek and the Galton House, where my adventure began. Our guide treated us to a wonderful farewell Namibian meal, at which we reminisced about our fabulous adventure through northern Namibia and what it meant to us. What was clear: During our 12-day journey we had formed a powerful cross-cultural bond with our hosts and their remarkable homeland.
It would take most of a week to acclimate to my life back in Washington DC and several months to fully integrate my Namibian experience. Only then could I begin to answer recurring personal questions. Why go back to experience the very first marks made by homo sapiens and Neanderthals? Did the journey help me answer such questions as what drives our urge to make art? Is art decoration, communication with others, or connecting to a higher power? I had been leaning toward the latter, but now I knew it's a combination of all three motives.
Today my Namibia experience drives me to create contemporary artwork mindful of where and how art began. Exploring this historical process, I have tried to capture and depict the spirit of the African elephant, the largest of the San spirit animals, in a light blue-silvery neon sculpture of a half sized elephant head. Starting with a 3D scanned, sculpted elephant model, I created 60 cross- sections 1 inch apart allowing me to make neon tube patterns. These neon tubes were hung with translucent wires from an 11-foot-high, 8-foot-wide wall to represent the spirit of the African elephant. However, during the creative process the spirit of the African elephant evolved into the statement about the horrific poaching occurring around the world.
My very physical Namibian adventure has proved to be the inspiration for my light based sculptures. Other light sculptures inspired by ancient rock-art symbols found in Spain, France, and Sulawesi, Indonesia–has culminated in one-person exhibitions at the Cafritz Art Center, Silver Spring, MD (October 2018) and will be followed by a retrospective at the Susan Calloway Gallery in Georgetown December, 2018.
---
Acknowledgements: Travel Companion and Patron: Libby Harris